Race Report: Tillotson 225 Florida Cup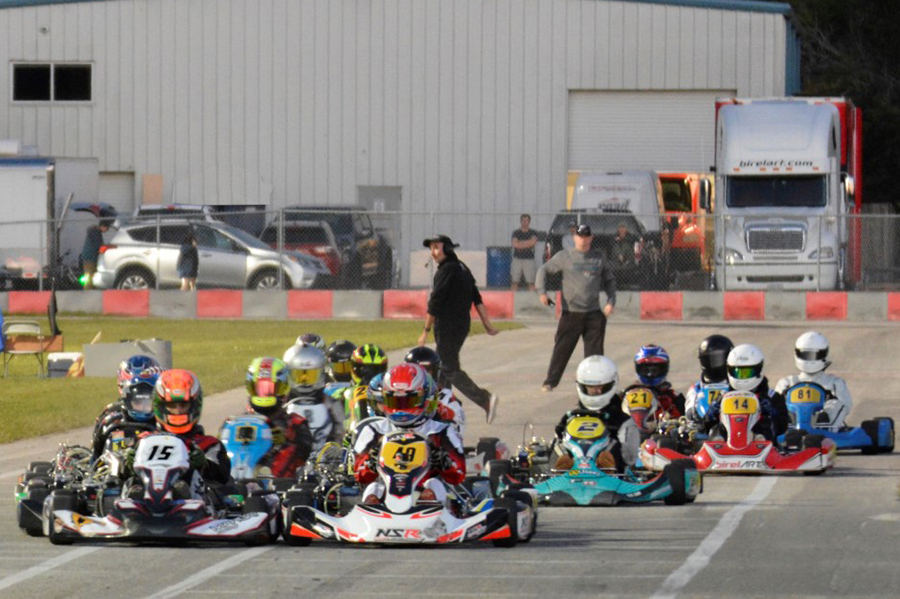 The inaugural Tillotson T225 Florida Cup was held at the Anderson Race Park facility in Palmetto, Florida. The circuit measures at just over 0.6 miles, featuring 13 turns, focused on providing a place for young and old, experienced and inexperienced, who all come together to enjoy the sport of karting at its purest. The T225 Florida Cup was established as a non-points, $2500 to win event focused around the Tillotson T225 engine platform, welcoming some of the best drivers from the around the country over the December 5-6 weekend.
A total of 20 drivers took part in the Tillotson 225 Senior class!  Competitors took to the track for Qualifying on Saturday with one round of heat races following the main event were held on under the lights Saturday night!
Qualifying saw multi time National 4 Cycle Champion Mick Gabriel (OTK/AEM Motorsports) taking the pole position followed closely by Tyler McIntyre (Birel Art/Mottaz Sport). The third place spot was taken by Jed Perkins (Margay/Perkins Racing), 4th Scott Saunders (DR/NSR) and Dylan Amundson (MGM/DP Racing) rounding out the top 5!
The pre final was very important as it slotted up our 225 racers for the final race of which $2500 cash was on the line for first, $1000 Skip Barber Racing Voucher for 2nd, and $750 Voucher towards Extreme Sim Racing for 3rd. Jed Perkins took advantage of a great start and was able to get away early to a 2 second pre final win over Scott Saunders in 2nd who put up a fight with 3rd place Dylan Amundson! Mick Gabriel 4th, Tyler McIntyre 5th, Hunter Fox 6th, Tyler Lloyd 7th, Jordan Bernloehr 8th, Jacob Duvall 9th, and Curtis Cantrell rounded out the top 10!
The Tillotson 225 Final race did not disappoint! With only 14 laps in the final and a small 48 second lap time track, the excitement was intense and racing super close.  Any of the drivers in the top 10, going into the final had a great chance at the $2500 first place! It came down to a top 5 battle for the win, with one lap to go! Jed Perkins took home the money with only a 0.2s margin of victory to second place Mick Gabriel. Tyler McIntyre was 3rd, with Dylan Amundson finishing on his bumper for 4th, and Hunter Fox rounding out the Top 5! What a great event with super close competition and all-around glowing reviews for the engine package.
It was also the first event running the 2021 spec Tillotson T225 engine with a new Float Bowl carburetor – FM22-1A. It proved to be a big success offering great performance but a much more user-friendly package overall. Tillotson would like to thank Anderson Racepark, Skip Barber Racing School, Extreme Sim Racing, Go Power Sports, and all of our racers for their support of this awesome event!