A-Maxx Racing Added to List of Ignite Karting Dealers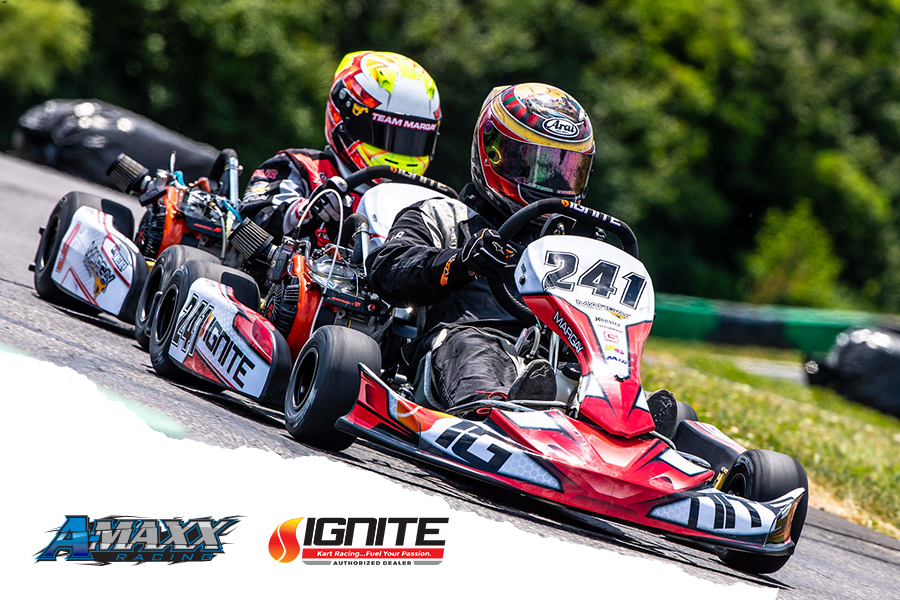 Margay Racing LLC is proud to announce A-Maxx Racing as its new Central Indiana Ignite dealership. Ignite spec karting provides a fast, fun and fair environment that puts an emphasis on driver development. The program is based around the K2 (8-12 years old) and K3 (12+ years old) chassis manufactured by Margay, powered by the popular Briggs & Stratton 206 and fitted with the spec Hoosier R80 tires.
"As our family of Ignite dealers continues to grow, we are excited to welcome the addition of A-Maxx Racing in central Indiana," stated Keith Freber of Margay Racing. "Brandi, Charles and their team are racers to the core. They are focused, they work hard, race hard and they get the results to show for their efforts. They are at a track somewhere virtually every weekend and their drivers are always at the front of the field.  We look forward to working with them to grow karting and further expand the base of Ignite racers."
Incepted by a family of passionate karters, A-Maxx has been a rapidly growing team based out of Indianapolis, IN. A-Maxx's main focus is bringing grassroots karters to the regional and national level by using a professional, friendly, experienced and affordable platform.
"We are really excited to partner with Margay," stated Brandi Maxwell of A-Maxx Racing. "We pride ourselves in offering the best options to our customers. Becoming the dealer for Indiana provides A-Maxx the opportunity to assist Margay with their already established and growing brand and continue to grow our team and vision to the karting community."
Their team plans to service Ignite drivers at WKA Manufacture's Cup and USAC Karting events in 2021. A-Maxx will begin its Ignite efforts at Daytona KartWeek in December with three drivers and plans to start selling Ignite packages to the public in January 2021.
The Daytona KartWeek event this December is the first of five Ignite Major events for the 2021 season. Margay Ignite will continue with the WKA Manufacturers Cup Series with events at the Charlotte Motor Speedway (April 15-18) and New Castle Motorsports Park (September 17-19). One-off events at the Quincy Grand Prix (June 12-13) and USAC Karting Battle at the Brickyard (July 2-4) compete the schedule.
For more information on how to purchase your Ignite K3 in Central Indiana, contact Brandi Maxwell at (317) 437-5886 or amaxxracing@yahoo.com
To learn more about the Ignite Karting platform, visit ignitekarting.com