Morning Coffee: A November Without Christmas
23 years of SuperNationals excitement put on hold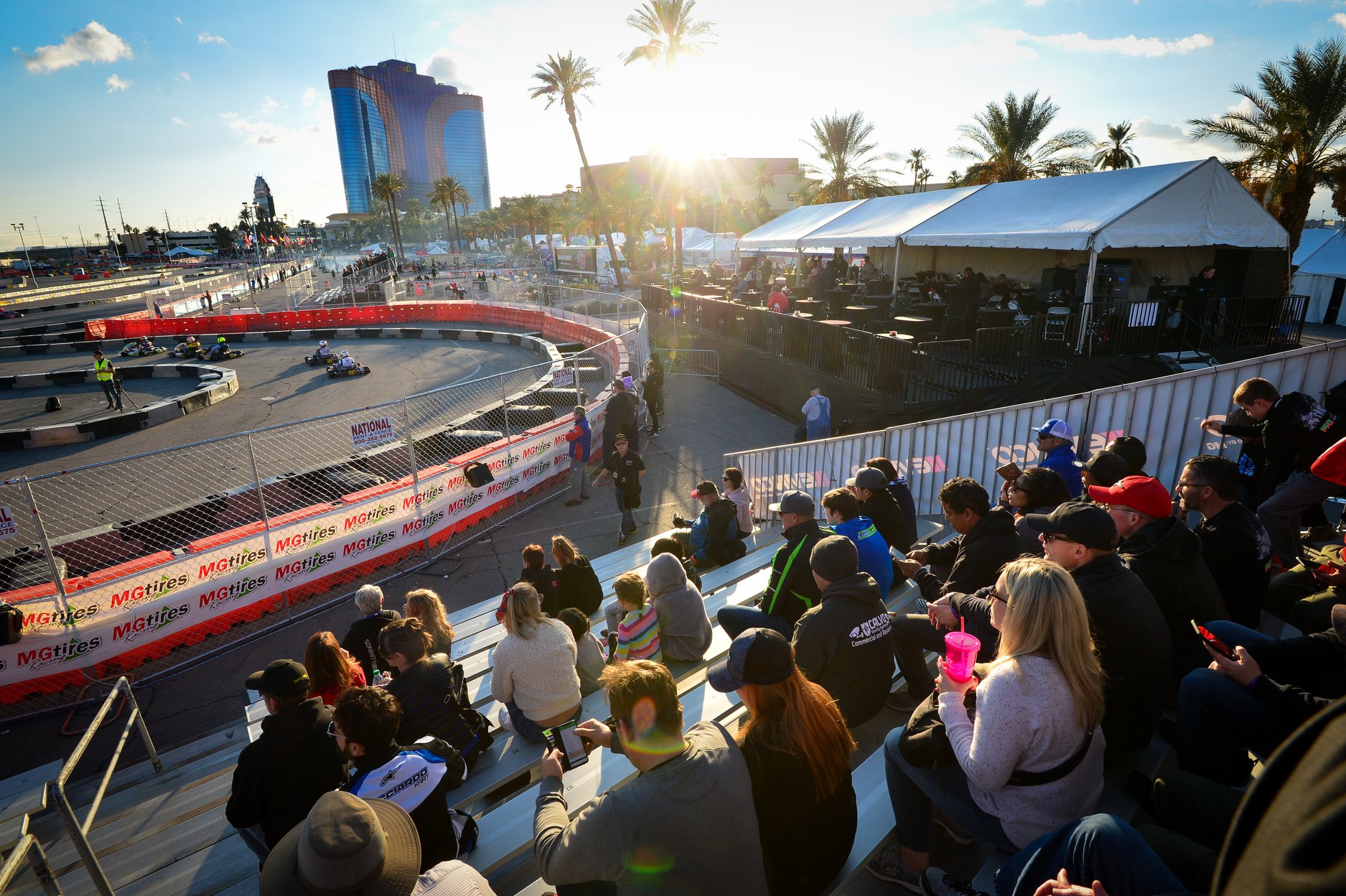 (Photo: On Track Promotions - otp.ca)
I can't say that I was surprised when Superkarts! USA made the announcement that they were canceling this year's SuperNationals. Las Vegas was quickly hit hard with cancellations and closures brought on by the COVID-19 pandemic, so I think we all expected that it was a possibility. That said, it was still tough to swallow once it all sunk in. Superkarts! USA CEO Tom Kutscher detailed in September the challenges they faced as they gauged their ability to hold this year's event. After looking at all their options, and in the face of realistic input from their long-time connections and supplies in Las Vegas, SKUSA elected to cancel the 2020 edition of the SuperNationals and reset their focus on 2021.
Knowing the massive investment that it takes to even turn the lights on at the SuperNationals, and taking into consideration the fact that the WinterNationals were shutdown during practice day on Friday back in March, I can understand why SKUSA did not want to go down to the road in an attempt to run this year's race in Las Vegas.
I get it, but it doesn't mean that I'm not disappointed. I've read a ton of social media postings this week by racers and families who are missing the fact that they're not traveling to Las Vegas for another SuperNationals. I completely get it.
Personally, I'm feeling a real hole in my world as we close in on the weekend. I've said this many times before, but the SuperNationals are my 'Christmas'. SuperSunday is my favorite day of the year and I simply revel in the excitement and magic that this event brings to our sport. There is just nothing like it in all of karting. Having been involved in all the previous editions of the event, not being in Las Vegas right now seems pretty surreal.  It's literally like someone canceled Christmas.
I think back to those early days out at the Las Vegas Karting Center in the late 1990s. It was a brand new event that was designed specifically for all of those 'outlaw shifterkart racers' of the time and it had such an awesome vibe. We all knew we were involved in something special. Super chilly desert mornings made way for the warmth of the midday sun, and by the time the sun started to set and we were into the Saturday night heat races, we all had our coats and hats back on.  I launched my first magazine – Shifter Kart Illustrated – at the second SuperNationals in Las Vegas in 1998 and we've been celebrating with an anniversary dinner with the staff every year since. I'm really going to miss that celebratory toast.
I think back to the first move into the city to the Rio in 2002 and how we all thought shifterkart racing had made it to the big-time. We had live TV coverage of the main events on both Saturday and Sunday in 2003 on HDNet, which brought the race into sports bars around the country.  We then moved to Sam Boyd Stadium and put on some amazing races on a track that was certainly a little sketchy, but it was at those events where big money was eventually offered up for the Pro ICC main event, and then the Europeans came to the party. Jason Bowles, Lorenzo Mandarino, Gary Carlton, and Marco Ardigo won on the track that was fashioned within the parking lots of the former home of the UNLV Rebels.
We then made a triumphant return to the SuperNats' spiritual home at the Rio for 2008 to 2014 before spending three years at the Las Vegas Convention Center. The move concluded with the track extending further west to finally fulfill the goal of being 'on the Strip' in 2017.  SKUSA brought the event back to the Rio once again in 2018 for the 22nd running of the race, and all was again right in the world.
I was scheduled to fly to Las Vegas this past Monday, and would have been making my rounds of the paddock before the lunch hour, watching karts being unloaded and prepped, pit stations being assembled with tools positioned purposefully.  The track prep would have been all but completed by the SKUSA crew with a few curbs still to be poured or painted, all ready for the anticipated track walk on Tuesday night. The silence would have been broken this morning when karts hit the track for the first time. Due to the COVID-19 pandemic, that's not happening this year, and it's still a tough pill to swallow.
I've been part of all 23 Superkarts! USA SuperNationals, working closely with Don Janowski and Jim Murley, then Joe Janowski and finally Tom and Patti Kutscher. It just doesn't feel right that I won't be making the trip to Las Vegas this year. David Cole and I won't be spending Wednesday getting our 'office' set up in what we'd again christen at the 'Cooper Tire Broadcast Center', and David won't be enjoying consecutive lunch time runs over to In-N-Out. And Sunday, November 22, will be anything but 'Super', and I won't get to shout out my favor line of the year….
"Welcome, to SUPER SUNDAY!".
I know that we all hope that there is an end in sight for this pandemic that has rocked our world. I'm so thankful for the organizations, series, promoters and clubs that put in countless hours riding the waves of government and health organization mandates to put together schedules and to develop procedures that allowed us to go racing. Kudos to Garett Potter and ROK Cup USA for somehow getting a race completed in Las Vegas, injecting some crucial Q4 revenue into the account of our national race teams, importers and shops.  As a sport and as a community, we did a lot more racing in 2020 than I expected we would, and I'll take this time to thank of the racers and families who spent money with their local shops, supporting these companies when they need needed our help, and who went racing when we got the green flag to do so. I think that it was good for all our collective souls to get back to what we love doing, and that's racing. Racing is a family sport and a family in and of itself.
With that said, I can still feel a little empty that an annual event that has become such a big part of my life, beginning with that first trip into the Nevada desert in 1997, won't happen in 2020. I'll miss the smell of two-stroke exhaust when I walk out of the hotel in the morning, and I'll miss doing everything I can to save my voice for SuperSunday.  Most of all, I'll miss the people, the competition, and the look on every winner's face when they first take off their helmet in victory, and high-five me before heading to the podium.
The SuperNationals is my Christmas, and I truly hope that we get to celebrate it again in 2021.