Birel ART North America Wins at ROK the RIO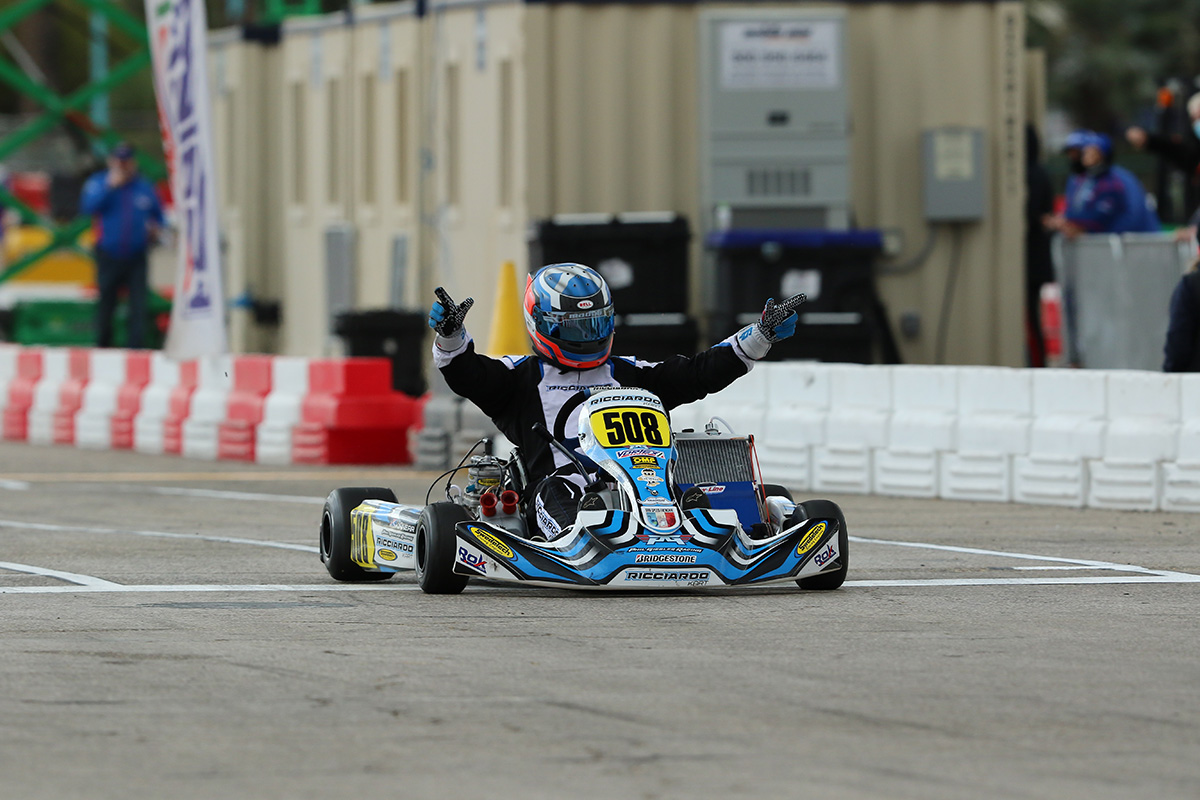 (Photo: CKN)
It was a winning weekend for Birel ART North America at the final ROK Cup USA event of 2020. Scoring pole positions, heat race wins and a main event victory, the Birel ART product line once again proved that they are one of the best in the karting market. With a 28-driver strong squad in Las Vegas among numerous Birel ART dealers, the competition was tough as the karting community wrapped up their 2020 season amid this unprecedented year.
It was Ryan Kinnear that dominated the Master Shifter ROK category scoring the pole position and multiple heat race wins on his way to his second consecutive ROK the RIO title. Competing out of the Phil Giebler Racing camp, Kinnear was the driver to beat as he went toe-to-toe with fellow Birel ART North America and PSL Karting / 3G Racing driver Jordon Musser, as the duo qualified first and second, won all four heat races, claimed three second place heat race results, a front row lockout for Championship Sunday's main event and scored the fastest lap in five of six official on track sessions. With Kinnear taking the top step of the podium, Musser crossed the line in fourth with Nicolas Bedard in the eighth position.
After qualifying in the sixth position in Shifter ROK and having three heat race results to forget, Jake French was able to secure a sixth-place result in heat four and start the main event in in twelfth. Looking to advance forward in the twenty-five-lap main event, French leveled up six positions to finish sixth. Joining French in the Shifter ROK class was Michael Stevens, who pushed his Birel ART to a third-place result in qualifying. Having three top-ten results in the heat races, Stevens was often one of the fastest Birel ART drivers. Bad contact in the main event ruined any chance of a good result.
In the Senior ROK class, Thomas Nepveu and Patrick Woods-Toth looked to have claimed a win and podium result at the end of Sunday as they were the first and third drivers across the stripe when the checkered flag flew. After a pole position run on Thursday and three of four heat race wins, Nepveu was the driver to beat and proved that in the main event aboard his Birel ART chassis. Unfortunately, a post-race technical inspection issue with a supplied engine took the win away. With Nepveu removed from the results, Woods-Toth was elevated from third to second courtesy of his consistent run through the heat races that netted him a top-five starting spot on Championship Sunday. Similar to Nepveu, Woods-Toth was also removed from the results for a similar engine related issue, both of which were nonperformance enhancing.
"It is a difficult pill to swallow after such a great week of racing," explained Dominic Labrecque in regard to his two Senior competitors who were removed from the results. "Rules are rules, but I think we proved the speed of the Birel ART product line this past week in Las Vegas."
After qualifying third, Mini ROK driver Caleb Gafrarar claimed one heat race win, two fourth place results and a second. Starting the main event from the outside of row two, Gafrarar scored one of the fastest laps of the race but failed to finish.
Labrecque continued, "A huge thank you to ROK Cup USA for all the hard work for doing this impossible. It was apparent that a lot of thought and effort went into the event in such a short period of time but allowing us to conduct business at a race event is what we need as a team and business within karting. Also, a big shout out to all of our drivers, mechanics and dealer network for a fantastic 2020 season. On to 2021."
For more information to become part of the Birel ART, Ricciardo or Charles Leclerc dealer networks or information on how to join the PSL Karting Race Team in 2021, please contact Dominic@PSLKarting.com.
Birel ART North America (PSL Karting) is the National Importer and Distributor of Birel ART products and accessories, including Ricciardo Kart, Kubica Kart, the Charles Leclerc chassis line and Freeline accessories. Visit www.pslkarting.com to find a retailer near you. Follow our racing team and product updates via our social media @pslkartingofficial.