Top Ten for CRG in Portugal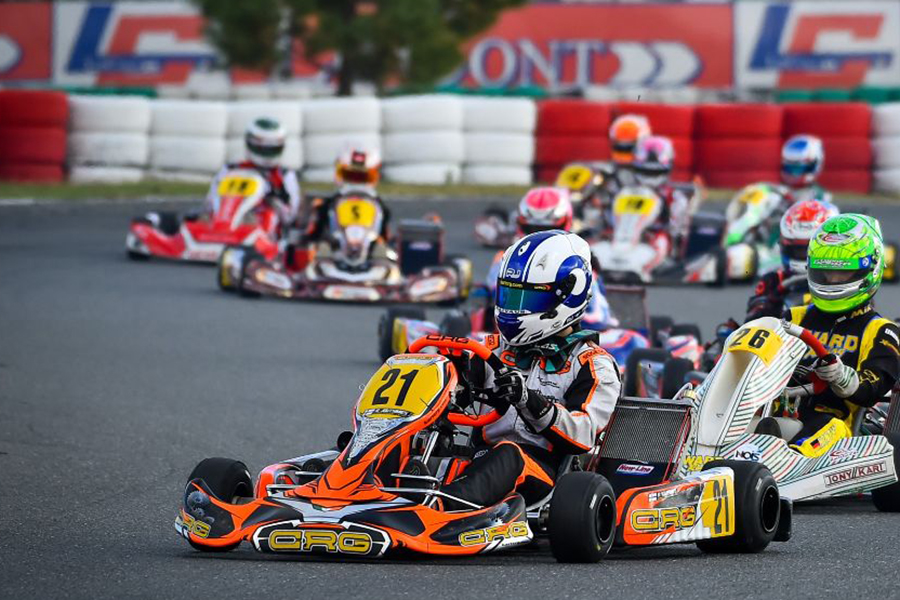 The FIA Karting World Championship for the OK and OKJ classes ended with a positive balance for the CRG colours. Despite a difficult weather, which alternated between dry and wet conditions several times over the weekend, Rasmuss Joutsimies and Rubén Moya López ended the Final in the top ten, in 8th and 10th place respectively. Both were protagonists of an amazing comeback from the back of the starting grid (where they had classified due to some problems in the heats) with a "race pace" equivalent to the race leaders. Bad luck for the Brazilian Olin Galli, instead, who was unable to express the performance shown in the heats for a technical problem in the Final. Still in the OK category, Genis Civico and Bruno Bertoncello did not qualify for the Final due to two accidents in the qualifying heats, so as Gabriel Gomez in OKJ.
Finally, regarding the OKJ, it must be said of the unpleasant episode happened to Simone Bianco. The Italian, in fact, was unable to take part to the race as he tested positive in the Covid tests set up on the circuit by the promoter, but was then negative in the second test carried out in Italy when it was too late to return to the track. This episode should make reflect on the prevention tools adopted by the FIA ​​for the future. Returning to the action on track, the positive factor that CRG brings home from the World Championship in Portugal is certainly the level of performance demonstrated both with dry and wet track, from qualifying to the Final. From a technical point of view, the updates brought to Portugal will be the basis of the 2021 series production.
Now that this important meeting for international karting is over, it is time for CRG to think about the next season. In this regard, it was decided not to take part in the WSK events at the end of the season to focus on tests and work for 2021, besides not considering appropriate to race other competitions due to the health situation worsening in Italy.
The comment of the drivers:
Rasmuss Joutsimies (OK): "In the Final, the mechanics did an excellent job and the chassis was perfect and fast from the first laps. In general, the performance level has been excellent all weekend and I must say that the technical updates have given us positive feedback and will be a good basis for next season."
Rubén Moya López (OK): "The balance of this experience can only be very positive for me: it was my first race in OK and with the direct support of the CRG factory team. I think I was ready and they trusted me. I was fast all weekend and if I hadn't missed the last heat on Sunday morning when the engine didn't start, I would have started close to the top ten and certainly I could have achieved a better result in the Final. But I am very happy anyway, I am enthusiastic about the team and the possibilities that will open to me for 2021 after this race."
Olin Galli (OK): "We weren't able to express our full potential due to many unfortunate episodes, the first of which happened in qualifying when the chain broke on the first lap. Although we started back in the heats, we were fast, often like the best, but then in the Final we didn't choose the best set-up and we also had a small technical problem so I couldn't recover as my team mates did. In any case, it is always amazing taking part in the World Championship with a team like CRG and we will try again next year."