FIA Karting World Championship: Fantastic Battles in Portimão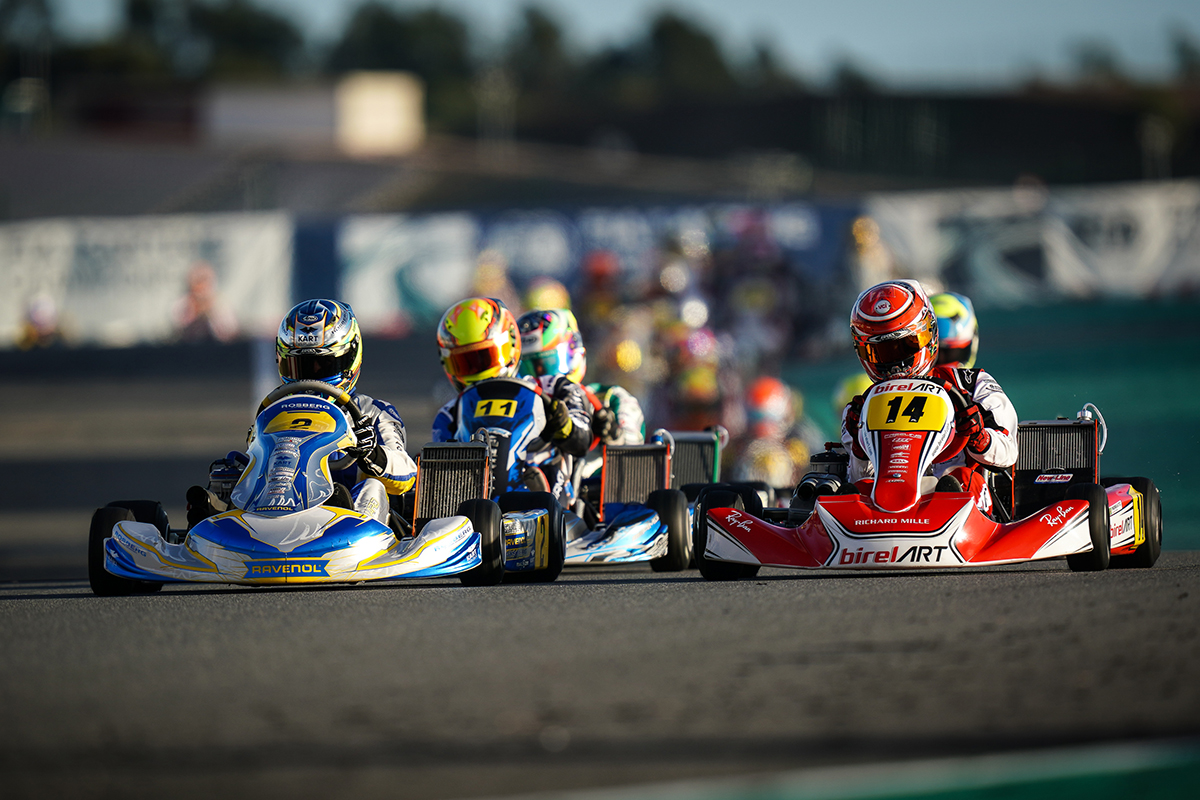 (Photo: KSP)
On Saturday, 7th November, the second day of the 2020 FIA Karting World Championship – OK & Junior gave rise to intense confrontations at all levels on the Kartódromo Internacional do Algarve. Under the Portuguese sun, the twenty Qualifying Heats on the schedule proved to be full of adventures. British driver Taylor Barnard has put his mark on the OK category, whereas Singaporean Christian Ho took a very slight advantage in the Junior category.
The Junior drivers had four races each on their programme, whereas their elder ones were competing in three of them. All competitors will have to participate in their last Qualifying Heat on Sunday morning before the revelation of the composition of the two Finals with 36 drivers leading to the two World titles.
The LeCont slick tyres in OK and MG in Junior were put to good use after the humidity from the night was quickly wiped away by pleasant weather. Track exploits, mechanical problems, crashes and penalties also spiced up this very busy day. Without going so far as to say that the predictions have been thwarted, we have to admit that there have been a lot of surprises, good and bad, and that it would have been impossible to predict the provisional hierarchy on Saturday evening. In any case, no Driver has shown indisputable superiority in either category and all the results have been achieved after constant efforts. Even Taylor Barnard, triple winner in OK, was never the fastest in his class. The diversity of the equipment and teams that distinguished themselves attests to the formidable opening of this World Championship.
One explanation is to be found in the Portuguese track, which offers multiple opportunities for overtaking, in the slipstream, braking or in the sequences. In order to take advantage of this, first of all it is a question of negotiating the start well and in particular the first braking zone at the end of the fast sector. Several incidents have considerably compromised the chances of some by forcing them to perform unorthodox tricks or to visit the margins of the circuit. Although some favourites encountered difficulties, new names appeared at the top of the result sheets.
---
Wide distribution of chances in Junior
Five Junior drivers were able to take advantage of the day to position themselves favourably. With one victory each, Christian Ho (SGP) and the poleman Brando Badoer (ITA) are in a good position, slightly ahead of double winner Evan Giltaire (FRA) and the strong Tymoteusz Kucharczyk (POL). Although he didn't succeed as well as he wanted, European Champion Ugo Ugochukwu (USA) is nevertheless still in the leading group, thanks to his two victories in the last heats that allowed him to move up from 14th position. Then come the Drivers who have recovered well from their qualification further back, like the Britons Freddie Slater, Arvid Lindblad, the most offensive, and Harry Burgoyne or the Emirati Keanu Al Azhari, without forgetting the consistent Bulgarian Nikola Tsolov. Tukka Taponen (FIN) and Ean Eyckmans (BEL) haven't lost contact with the leaders. But it is obvious that the progress expected from several delayed drivers during the Qualifying Practice didn't happen as expected.
USA drivers Ugo Ugochukwu and Connor Zilisch are on a path to put themselves into the main event. Two wins in four heat races have the Ugo in the overall hunt. FIA Academy Trophy champion Zilisch has shown the pace to be a contender as well, suffering a bad result in the opening heat race after the engine would not fire. Four-time SKUSA Pro Tour champion Carson Morgan also has the pace, just not the racing luck today with only one solid finish in his four heat races.
#101 – Ugo Ugochukwu (USA) – Sauber Karting Team – KR / IAME
Qualifying Practice: 14th
Heat Group: B (Row 3)
Warm-up (Session 1): 24th – 1:14.213
Heat BvsD: 6th +3.485
Heat BvsC: 4th +5.751
Heat BvsF: 1st +1.360
Heat BvsE: 1st +0.853
#149 – Connor Zilisch (USA) – Ward Racing – Tony Kart / Vortex
Qualifying Practice: 26th
Heat Group: B (Row 5)
Warm-up (Session 2): 1st – 1:13.042
Heat BvsD: 24th +18.926 (+5 second pushback bumper)
Heat BvsC: 3rd +2.008
Heat BvsF: 2nd +1.360
Heat BvsE: 3rd +1.226
#181 – Carson Morgan (USA) – Ricky Flynn Motorsport – Kosmic / Vortex
Qualifying Practice: 64th
Heat Group: D (Row 11)
Warm-up (Session 3): 3rd – 1:13.597
Heat BvsD: 28th +46.689
Heat DvsE: 11th +7.026
Heat AvsD: 23rd +24.690 (+5 second pushback bumper)
Heat DvsF: 23rd +9.946
---
Barnard's clear round in OK
If there is one driver who stands out from the crowd this Saturday evening, it is unquestionably Taylor Barnard (GBR). The European vice-champion was able to take three good victories without being the fastest on the track. This says a lot about his determination and his ability to manage the races to come back from 8th place in Qualifying. Lorenzo Travisanutto (ITA) has also driven well, worthy of his achievements, by taking a top three position ahead of Callum Bradshaw (GBR). The Estonian Markus Kajak was a revelation with a solid course including a victory. The poleman Matheus Morgatto (BRA) fought hard to stay in contact with the leaders, together with his compatriot Rafael Chaves Camara, 32nd in Qualifying, and the Spanish Champion Pedro Hiltbrand who hasn't had his last word. The young Russian Nikita Bedrin also made a remarkable comeback. After a disappointing second Race, Andrea Kimi Antonelli (ITA) reminded everyone that he wasn't there to make up the numbers by clearly dominating his last Race. His amazing potential could well make sparks fly in the next race.
As of now, it is tough to see either of the two USA drivers in the main event tomorrow. After three heat races, only Arias Deukmedjian – the EKN TaG Driver Rankings #1 driver, has a top-10 finish. Deukmedjian had to DNFs to close out an up and down day while Cole Morgan, the older brother of Carson, has a best result of 15th in his opening manche.
#55 – Arias Deukmedjian (USA) – Kart Republic – KR / IAME
Qualifying Practice: 56th
Heat Group: A (Row 12)
Warm-up (Session 3): 5th – 1:12.038
Heat AvsE: 8th +5.437
Heat AvsB : 29th DNF
Heat AvsC: 27th DNF
#72 – Cole Morgan (USA) – Ward Racing – Tony Kart / Vortex
Qualifying Practice: 63rd
Heat Group: C (Row 13)
Warm-up (Session 3): 20th – 1:13.228
Heat CvsE: 15th +12.747
Heat CvsD: 27th +17.591 (+5 second pushback bumper)
Heat AvsC: 23rd +17.544 (+5 second pushback bumper)
---
Provisional program of the Portimão Competition
Friday 6th November
08:00 – 13:15: Free Practice
14:00 – 16:28: Qualifying Practice
Saturday 7th November
08:00 – 09:40: Warm-up
09:55 – 16:55: Qualifying Heats
Sunday 8th November
09:00 – 10:40: Warm-up
10:45 – 12:20: Qualifying Heats
13:35 – 15:25: Finals
The Portimão Competition can be followed on the official FIA Karting Championship app for mobile devices and on the website www.fiakarting.com.