19 Drivers to Compete for 5 Mazda Scholarships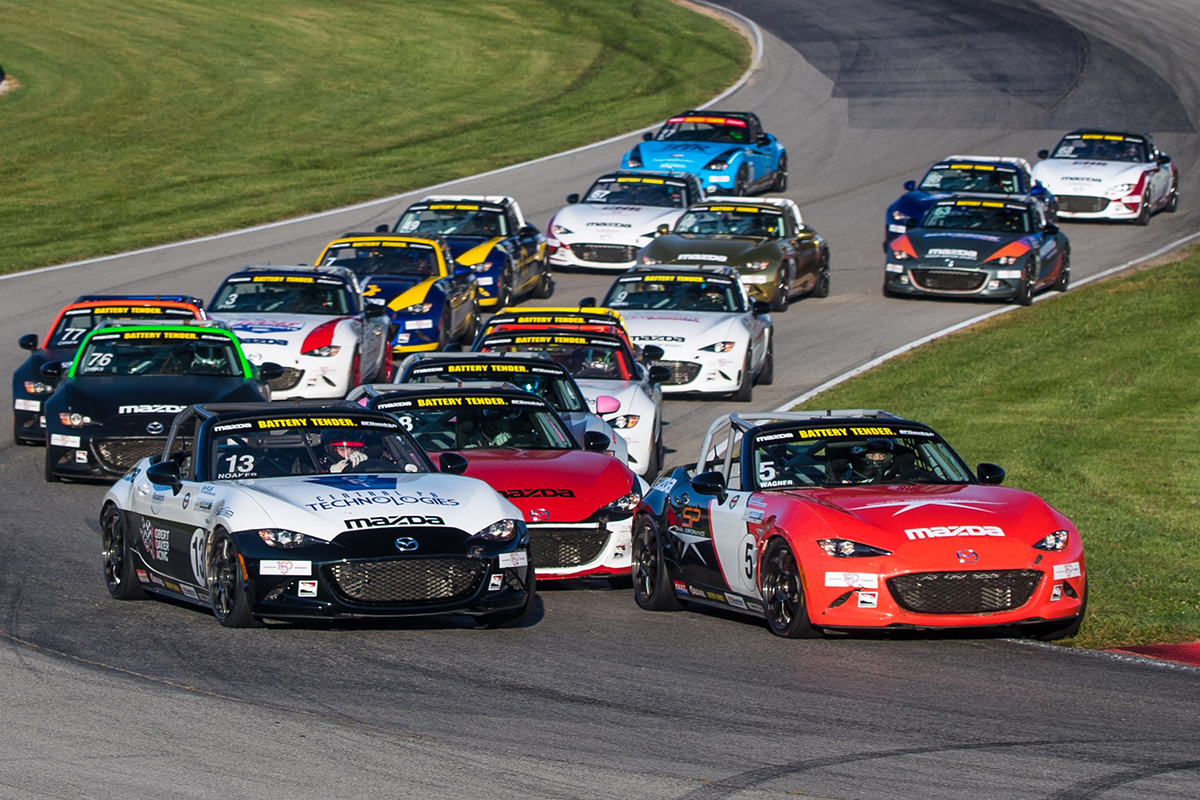 Scheduled for November 16-17 at Michelin Raceway Road Atlanta in Braselton, Georgia, the two Shootouts, running congruently, shine a light on the breadth of Mazda's and its partners' support in the world of sports car racing.
"2020 marks the 15th year of the MX-5 Cup Shootout, with this being the first year we expanded to offer karters the opportunity to join us in sports car racing through a Shootout selection process," commented David Cook, business development manager for Mazda Motorsports. "We've supported karters before, but not to the level of a factory team effort in club racing. (Two racers be selected as NASA Teen Mazda Challenge racers in the 2021 Spec MX-5 Challenge Series.) In addition to this effort, our director Nelson Cosgrove tasked our team to build our support for our top club racers interested in moving to MX-5 Cup presented by BFGoodrich® Tires as it will be an IMSA-sanctioned series starting in 2021. That's why we are excited to announce that there will be three scholarships awarded to the club racers vying to compete in MX-5 Cup. It's all about providing opportunities."
The MX-5 Cup Shootout competitor deemed by the judges to be the most complete package on- and off-track will earn a scholarship valued at $110,000; two more competitors will each earn a scholarship valued at $75,000 to also compete in Mazda's Soul Red Crystal MX-5 Cup cars in 2021.
"One of the reasons we expanded our MX-5 Cup Shootout this year was due to our desire to enhance our support for women in motorsport," commented Jonathan Applegate, operations manager for Mazda Motorsports. "We have many special racers, and wanted to ensure we provided at least one female with the support to climb the ladder to our premier sports car series, MX-5 Cup. We expanded the number of finalists this year, and added two great women to compete. It is entirely possible that both women prove to be the most talented overall, earning two scholarships. But to demonstrate to women interested in this sport that opportunities exist with Mazda, one of these women will be given the opportunity to drive in MX-5 Cup next year."
2020 MX-5 Cup Finalists:
Michael Borden – SCCA T4 National Champion
Bryce Cornet – Spec MX-5 Challenge Series
Konrad Czaczyk – SCCA Spec Miata
Aiden Fassnacht – Spec MX-5 Challenge Series
Hannah Grisham – NASA's Teen Mazda Challenge, Spec Miata
Aaron Jeansonne – Spec MX-5 Challenge Series
Savanna Little – Spec MX-5 Challenge Series
Chris Nunes – NASA's Teen Mazda Challenge, Spec Miata
Tyler Quance – Spec MX-5 Challenge Series & SCCA Spec Miata
2020 Spec MX-5 Finalists:
Alexander Berg, Calgary, Alberta
Alex Bertagnoli, Village of Lakewood, IL
Oliver Calvo, Stockton, CA
Hayden Jones, Weddington, NC
Matthew Mockabee, Dayton, OH
Bryson Morris, Mt. Juliet, TN
Evan Stamer, Glen Carbon, IL
Alex Stanfield, Dallas, TX
Westin Workman, Charlotte, NC
Connor Zilisch, Charlotte, NC