eKartingNews.com Driver of the Month: September 2020 – John Bonanno
New Jersey driver earns second trip to Rotax Grand Finals beating the best in Masters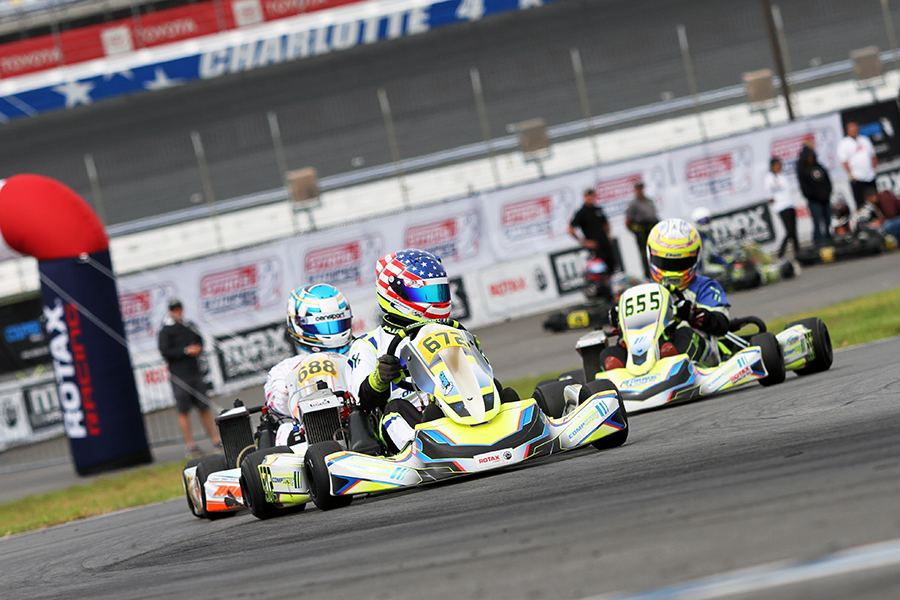 John Bonanno was the only driver at the US Rotax Grand Nationals to lead wire-to-wire throughout the event, scoring the title in Masters Max (Photo: EKN)
In a continued effort to highlight the many outstanding performances by drivers around the country, eKartingNews.com is proud to introduce the 'Driver of the Month' program. Each month, the staff at EKN will determine the one driver who stood out above the rest and give the viewers a chance to know exactly what they accomplished and who they are.
The Capri Tools US Rotax Grand Nationals made its return, with J3 Competition hosting the 2020 edition at the Charlotte Motor Speedway. Since 2001, the annual event was a welcoming of Rotax racers from all over the country to compete against one another to claim the Rotax national championship. Absent from the 2019 calendar, J3 brought the event back, and held it for the first time inside the newly repaved CMS kart circuit in Concord, North Carolina. Originally scheduled for the Fourth of July weekend, COVID-19 pandemic forced the move of the event to September 17-19 where nine tickets to the Rotax Max Challenge Grand Finals in Portugal were awarded.
Among those categories fighting for a ticket was the Masters Max division. The winner of the US Rotax Grand Nationals would receive a spot in the DD2 Masters category at the 'Olympics of Karting'. Coming into the event, 16 different drivers won the previous 17 Rotax Grand Nationals in the Masters category, with David Odenthal the only two-time winner (2005-2006). Among those former winners in the field for this year was 2016 winner Derek Wang, a nine-time Team USA member. In 2018, John Bonanno was the highest finishing USA driver, losing to Brazil's Antonio Pizzonia at the US Open/Rotax Grand Nationals in New Jersey. The category was not offered at the Stars & Stripes Open event last year, where Tim Shutt won the DD2 Masters division.
Wang, Shutt and Bonanno came into the 2020 US Rotax Grand Nationals as favorites to battle for the victory and RMCGF ticket. Bonanno set the bar in qualifying on Friday, posting a 43.024 lap to clear the field by nearly two tenths with Shutt second and Wang third. Bonanno went perfect through the first two heat races, leading each circuit of the 10-lap motos to wins of 2.7 seconds ahead of Shutt and then 1.1 seconds over Wang. Saturday began with a third straight victory in Heat 3, winning by 2 seconds with Wang second and Shutt third. Bonanno retained the pole position for the Super Heat race, where the margin was cut down. Wang put on the pressure with fast laps of the race, with Bonanno winning by only three tenths after 10 laps.
Bonanno was able to get away at the start of the 16-lap main event. Wang and Shutt fought for the second position early, giving Bonanno a solid advantage early. Wang eventually secured the second spot, and began inching closer to Bonanno lap by lap. By the final circuit, Wang was setting up an opportunity to work past Bonanno for the lead. In the penultimate corner, the tight right hairpin, Wang attempted on over-under move with Bonanno running a defensive line. The two went side by side toward the final corner with Wang jumping over the curb. Bonanno was able to manage the outside line and hold on to score his first US Rotax Grand Nationals victory. Of the six different winners at the event, Bonanno was the only driver to finish P1 in every session, while leading all 56 laps of competition.
The victory gives Bonanno a ticket to the 2020 Rotax Max Challenge Grand Finals, set for January 23-30, 2021 at the Kartodromo Internacional Algarve in Portimao, Portugal. This is Bonanno's second trip to the RMCGF, having been part of the 2018 Team USA squad. Bonanno finished 57th out of 72 following the heat races and Prefinals in DD2 Masters in Brazil.
September 2020 EKN Driver of the Month – John Bonanno
Bio
Born: Syosset, NY
Hometown: West Deptford, NJ
Marital Status: Married (Jamie)
Children: Sheridan (24) / Jack (14)
Height/Weight: 5'10" / 165lbs.
Education: BS Mechanical Engineering / The College of New Jersey
Occupation: Channel Sales Manager / Honeywell
Racing Resume
Chassis: CompKart
Engine/Engine Builder: Rotax / J3 – FulKrum Competition Services
Sponsors: FulKrum Competition Services
Series You Compete In: 2020 has been a crazy schedule.  Every year I try to support local in region racing and do a few of the bigger events.  For 2020, it's been Marco Oldhafer's F-Series State Championship and Gearup programs plus Rotax Stars & Stripes Trophy and USRGN.
Years Karting: 16 – 6 years back in the 80's and now 10 the last 10 years.
How did you get started in karting?  My parents were looking for hobbies we could do with them.  I got my first kart when I was 12 and drove my first laps at Oakland Valley Raceway Park, now owned and operated by Tim Hannen.  I just shared this story with him this weekend while competing up there.
What has been the high point in your racing career? Definitely experiencing the 2018 Rotax Grand Finals in Brazil was a highlight.  The event is so unique, even though people tell you what to expect, it far exceeds anything I could have imagined.
What are your goals in racing?  My goals in racing are about being a good ambassador for the sport. I get a lot of satisfaction helping pull in new racers so they can have a positive experience from the beginning and avoid some of the challenges associated with getting into karting.  At 48 years old, I no longer have dreams of being an F1 superstar, but as a competitor, I would like to remain a podium threat at any event I attend.
In a few words, how would you describe your driving style?  Patiently aggressive, is that a thing?
Funniest moment at the racetrack? Wow, 16 years of great memories and way too many fun times to pick just one.  I can tell you there is one person I still think about and miss every time I go to a racetrack and that's Scott Paape.  He helped me get back into karting after a 20-25 year layoff and anyone that knows Paape knows just how much fun he was to be around.  He was always so proud and supportive of his guys and our success in racing and there was no one more fun to crack a cold one with.  RIP #88 I miss you!
Likes
Favorite Track:  I have a feeling this answer will be different after competing in 2020 Rotax Grand Finals…I have heard from many Team USA members that Portimão is unbelievable.  We have a lot of great facilities in the northeast.  New Jersey Motorsports Park is my home track and has a great combination of highspeed straights, flowy sections and tight technical turns.
Favorite form of professional motorsports: F1, but I have to admit seeing familiar names in IndyCar Series is pretty cool and it looks like more and more will be joining them.
Favorite karting driver:  This is probably going to surprise a few people, but I am a huge Bas Lammers fan.  I had the opportunity to meet him in 2018, when he was technical advisor for the SODI DD2 karts we used in Masters and he was just super humble, engaging and the dude just never ages.  He is a tireless advocate for the sport and I think he's a great role model for karting.
Favorite professional driver: I'm gonna show my age here, but I was always a huge fan of Mario Andretti (for the younger kids that's Marco's grandpa).  You can't be an Italian kid from the northeast and not want Mario to pull off another 500 win and his wine isn't bad either…check out his vineyard next time you get out to Sonoma.
Favorite website:  Is this a test?  Does anyone not say ekartingnews.com???
Favorite movie: Family tradition, we watch ELF every year to get us in the Christmas spirit
Favorite actor/actress: I guess I don't really have one
Favorite music/group: Of all time…Nirvana.  I listen to a little bit of everything now, but when Nevermind came out it changed music for me for a while.
Favorite vacation/activity spot:  We enjoy our Caribbean vacations, but my favorite vacation was probably Sonoma.  We went early and hiked Yosemite, I finished runner up to Derek at the USRGN event and then wrapped it up with a few days in Napa sampling wine.
Favorite food: Yes please…I pretty much inhale everything I eat.
The Real Deal
What do you do when not at the track? Work (karting isn't cheap), I also enjoy my wife's hobbies (hiking, kayaking and camping) …we stay plenty busy.
What are your goals outside of karting? I'm just trying to enjoy every single day and appreciate the here and now.  I am fortunate that both my personal and professional life have never been better, and I am thankful to be in such a positive place.
What type of street car do you drive? It's not flashy, but I'm telling you I am getting complimented all the time from the 20 somethings…my daily driver is my F-350 dually that I show up to the track in.  Apparently, diesels are cool and hash taggable. #rollingcoal
What type of street car would you like to drive? I wouldn't turn down a Ferrari.
What are your pet peeves or things that irritate you? People that don't return their shopping carts and leave them sitting in the middle of a parking lot.  Drives me crazy!
What do you think could be done to improve the sport of karting? This is such a complex topic and one that after years of trying to be a part of a solution, I am not sure we can solve.  It starts with the barriers to entry.  Unlike, most stick and ball sports there is not a lot of exposure or information on how to get involved in the sport.  There is also an enormous price tag associated with getting involved.  We need to make it easier and cheaper for starters.  Perfect example is back in the 80's, we ran one set of tires for a season, now we are running 4-5 sets per event.  The next problem is the fragmentation that exists throughout the country and even the regions.  Are you sprint racing, road racing, speedway, lawn mower, there are many different types of racing.  I'm a sprint guy, but I've tried all the others (except lawn mowers, but I know a guy Chris McGinley).  At the sprint level within a region there is very little alignment between class structures from track to track or series to series or promoter to promoter.  It might be simpler to operate from a single rule book, maybe with some local option rules.  Engines? My head is spinning.  The bottom line is by the time you take a region and divide the customer base across all the different types of racing, tracks, series / promoters, team owners, engine choices, you end up with a really diluted and fragmented community and the competition and racing suffers.  I would love to see tighter alignment across all roles involved in the region to drive larger class sizes.
What are your favorite aspects about the sport of karting?  There are many things I love about this sport.  Karting has always represented quality time with my Dad (Pop) at the track building memories that will last forever. I also get a lot of support from the rest of my family.  My wife, Jamie, recently took on responsibilities for running the parts side of FulKrum Competition and having that extra support trackside and getting that extra time together is special too.  I also enjoy the comradery and the competition that pushes you to do better, many of my best friends are people I met through karting.  I still learn something at every single race to improve my performance which is cool after all these years.  And finally karting motivates me to maintain a level of fitness I am not sure I would if the results didn't depend on it.  Whenever I don't feel like running or working out all I need to do is imagine myself in second place trying to catch the leader and I am fired up.
September 2020 Driver of the Month – Honorable Mention:
* Diego Contecha: USPKS Badger State Grand Prix – 1 Win (X30 Pro)
* Brent Crews: USPKS Badger State Grand Prix – 2 Wins (X30 Junior and KA100 Junior)
* Max Garcia: USPKS Badger State Grand Prix – 2 Wins (Mini Swift)
* Brandon Lemke: USPKS Badger State Grand Prix – 4 podiums in X30 Pro and KA100 Senior (1st, 2nd, 3rd, 3rd)
* Ben Maier: US Rotax Grand Nationals – Mini Max champion
* Isaac Malcuit: US Rotax Grand Nationals – Micro Max champion
* Luca Mars: US Rotax Grand Nationals – 2 Wins (Senior Max, Pro 4-Cycle)
* Frankie Mossman: US Rotax Grand Nationals – Junior Max champion