GFC Karting Strengthened Despite COVID Hurdles
Gary Carlton has grown his team and program throughout 2020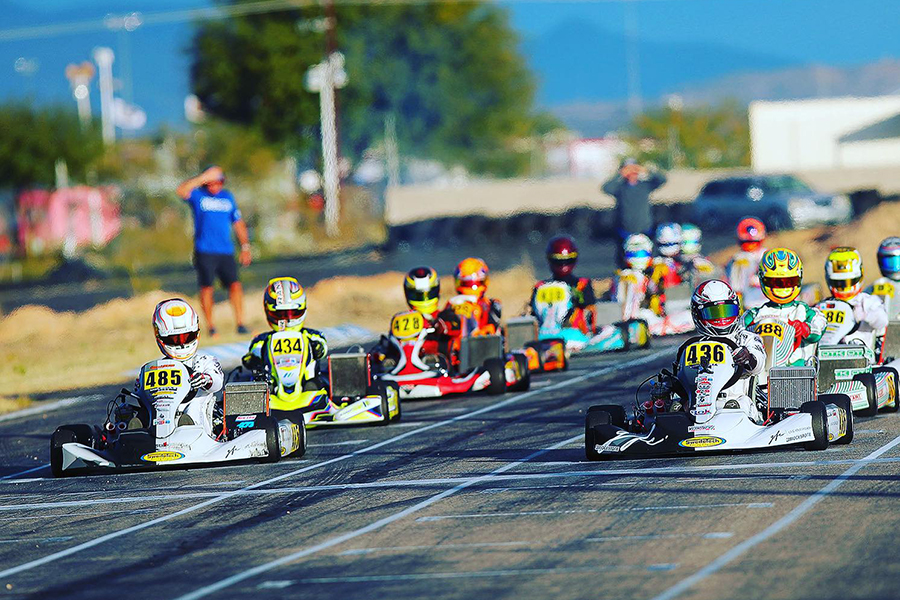 Team GFC has made a major statement in 2020, winning races and championships along the way
(Photo: COTA - Sean Buur)
In 2018, veteran American karting star Gary Carlton took all his knowledge, experience and pedigree from a decade-plus as the country's top shifterkart driver and only European factory pilot, and bet his future on his new eponymous brand – GFC Karting. Anchored by top quality material and Gary own designs and component choices, Carlton's company and brand is fueled by his 24-7 non-stop commitment and effort. Through this surreal year of COVID-19 restrictions, GFC Karting has pressed on and has won races and championships and, maybe more importantly, Gary's dedication to driver training and development has taken his team and his customers to a new level of success.
For 2020, amidst of a flu pandemic, GFC Karting kept its focus close to home as Carlton centered his team's competition on Andy Seesemann's Challenge of the Americas and California ROK Championship, and the Sanzaru ROK Sonoma series at the Sonoma Karting Center. Before the COVID-19 pandemic shut things down in mid-March, GFC was kicking ass and taking names at the Challenge of the Americas and, in addition, Gary ventured east to work with Rivera Racing, one of his East Coast dealers, to put the GFC brand front and center at the Florida Winter Tour.
In the COTA winter program, which saw the late March finale cancelled due to the pandemic, seven different GFC drivers stood on the podium, including a sweep of the Senior Shifter podium at the first round in Tucson in January. All told, the team scored five wins, eight poles and 15 podiums enroute to series championships for Hunter Pickett (Senior Shifter) and Nico Sarphati (Micro Rok). Jason Campbell added a vice-champion award in ROK Masters Shifter.
In the California ROK Championship, Team GFC swept the Senior Shifter class, taking the top three in the final point standings with Cole Shade, Hunter Pickett, and Kol Bailey. The ROK Sonoma series has its season finale coming up this weekend (October 24-25) and Carlton's GFC driver are in the title fight in multiple classes.
TEAM GFC YOUNG DRIVER DEVELOPMENT PROGRAM
Coming into 2020, Carlton officially launched his 'Team GFC Young Driver Development Program', which began with young Californian Nico Sarphati in the Micro categories. The program centers on an intensive coaching program, that encompasses all aspects of being a competitive driver.
"My Young Driver Development Program is Team GFC's first step in becoming the complete driver," Carlton explains. "With our 25 years of karting experience and many of those at the world level of the sport, we can offer our clients that 'factory team' feel and knowledge without leaving the United States. Not only do we work with drivers on improving their driving abilities, we also work very hard in improving our drivers' mental strength, fitness, and work ethic. We push our drivers to the absolute limit in all aspects and have them race hard with our instructors so, when it comes race day, they're ready."
This year, the GFC Young Driver Program enjoyed several new additions who are following in the footsteps of Sarphati. In the Micro Swift class, seven-year-old Julian Sanchez graduated from Kid Kart to Micro with Gary this year, and eight-year-old Marco Lombardo also entered the tent and the program alongside Sarphati and Sanchez in Micro. Taylor Carson is moving up from LO206 to a KA100 Junior with the team, and the 14-years-old will race the KPX Karting Championship in 2021. All three drivers are NorCal natives with very little experience, so they provide a blank canvas for Carlton to train and mold. Also new to the young driver development are both Cypress Andruss and Marthin Ramirez. Andruss has been running major national events this year and will aim for more in 2021, and Ramirez is new to the sport and is the younger brother of top-ranked shifter driver Mathias Ramirez.
Growth and expansion of the GFC Karting brand is a core component of the business plan, and Carlton is pleased to have added a pair of dealers in 2020. SoCal-based Formula Works has added the GFC line to their program. Tony Siragusa's LA-based program is a core team in the Los Angeles Karting Championship, Tri-C Karters and the SKUSA ProKart Challenge.
"To say that I'm happy to have Tony Siragusa and his Formula Works team running/selling GFC equipment would be an understatement," Carlton admitted. "Their trackside support at the ground level of karting is second to none and I am honored to have them representing the GFC brand. Along with Formula Works taking on the GFC brand, we are working together to provide GFC customers a place to go to receive quality support during SoCal events when our factory team cannot be present."
Led by his own factory team, Carlton's addition of Formula Works has certainly helped to blanket the California karting scene for GFC, but he's also expanded into Utah this year, beginning a new relationship with Ayrton Littel of Scuderia Little in Tooele.
"I am excited to expand my relationship with Gary beyond driving and into my profession of motorsports services," offered Littel. "Scuderia Littel will be offering trackside support, parts and chassis sales based on site at Utah Motorsports Campus. I think this is a great opportunity to not only grow the brand, but kart racing in Utah as a whole. Our first new karts are already showing incredible potential for the brand out here, and have definitely peaked everyone's interest."
A LITTLE BLACK AND YELLOW
A big part of Carlton's advancement in the sport was fueled by his time with Trackmagic, where he was the lead factory and development driver for owner Fausto Vitello. Following the tragic passing of Vitello, the Trackmagic program faded into the history books after a pair of failed attempts to continue the brand. In an extremely positive turn of events, the Trackmagic colors re-emerged last year thanks to a Facebook group of past owners committed to restoring old Trackmagic chassis, and the momentum from the shared excitement and the restoration of many vintage Trackmagic chassis led to the launch of Squadra Trackmagic.
This program began with Mathias Ramirez behind the wheel, but the single-kart program run under the Team GFC tent is now being steered by new driver Cole Shade, and is backed by many from the Trackmagic Owners Group. In a throwback to the storied days of Carlton sleeping on a cot in the Trackmagic shop as the factory driver, Shade is currently working in Gary's shop several days of the week to earn his keep, and he'll also be helping the team's young drivers with coaching and mentorship. This will be a story that we'll follow throughout 2021 as the GFC-managed Squadra Trackmagic program evolves.
Despite the fact that the shortened and compressed season is almost over, there is still work to be done for Team GFC. Carlton has the ROK Sonoma finale this weekend, and will then look forward to the November 4-7 weekend and the ROK the Rio event in Las Vegas. Gary has 15 drivers signed up to be under the GFC tent for the race, and all will be gunning to end the season on a winning note.
For 2021, Carlton will focus GFC Karting's efforts on the Florida Winter Tour and the Challenge of the Americas to begin the year and will again center his drivers' on the California ROK Championship, ROK Sonoma and KPX Karting Championship programs. Thanks to his new association with Formula Works in southern California, Gary will also attend selected LAKC and Tri-C Karters events to support his brand and his customers.
Related GFC Karting Links:
Website: http://gfckarting.com/
Facebook: https://www.facebook.com/gfckarting
Instagram: https://www.instagram.com/gfckarting/