2020 Rok Cup Superfinal – Saturday Report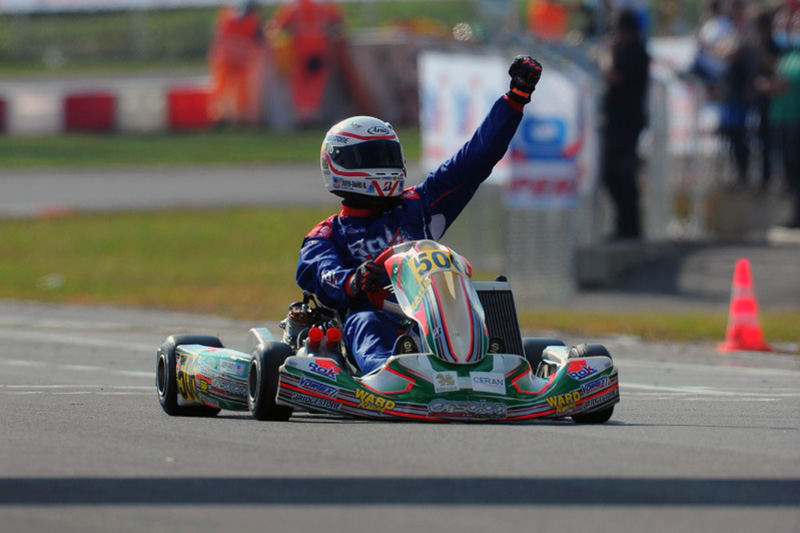 Renato Jader-David scores the victory in Expert Rok (Photo: Rok Cup Global)
The final day of competition was completed on Saturday for the 2020 edition of the Rok Cup Superfinal. Despite the move to Franciacorta Karting Track in northern Italy just one week prior to the event taking place, the event went off smoothly for the over 200 drivers in attendance, competing in the seven different Rok divisions. Team USA drivers came into the final day of action with three pole positions, leaving with one victory and two runner-up results for the best performance to date.
Renato Jader-David became the first USA driver to win the Expert Rok division. The 2020 Florida Winter Tour champion made it a sweep on the entire event, never relinquishing the top position, capping the performance off with a wire-to-wire victory in the 20-lap Final. Since the category was added in 2018, USA has had at least one driver finish on the podium each year with Renato finishing second in 2019 and Erik Jackson third in 2018.
Challenge of the Americas champion Enzo Deligny secured the pole position for the Junior Rok Final. Deligny set the pace for the first 11 of the 18 laps in the main event, until a charging Riccardo Ianniello from Italy took over after starting 14th. The two ran 1-2 to the checkered flag with Deligny coming up just eight tenths short at the line. The result is the best ever by a USA driver in the category, surpassing the former best result of third done by Ugo Ugochukwu in 2018 along with a fifth place from Connor Zilisch last year.
All four of the North American drivers in the Mini Rok class made the main event. All eyes were at the front with USA driver Kai Sorensen leading the field to the green flag. The 12-lap Final was action-packed, with a busy lead group. Sorensen lost the top spot on the opening circuit and would only lead one lap total. USA driver Caleb Gafrarar was able to climb his way forward, leading for a brief moment before slipping back. He fell further down the order with two laps remaining with a dislodged rear bumper. Sorensen took over for USA, and was able to make a great move in the final corner to steal the second position. His finish makes it six straight years for a USA driver on the podium. Gafrarar crossed the line in 10th, but a five-second penalty dropped him to 11th in the final order. Tristan Young improved 12 spots in 12 laps to finish 21st while Canadian Jensen Burnett gained three spots in the race to finish 24th.
Canadian Andrew Maciel was the lone North America driver in the Senior Rok class. Maciel started the main event from 24th, and nearly reached the top-15 but was classified 16th after the 20-lap Final.
Mini ROK
#613 – Kai Sorensen (USA) – 2019 Florida Winter Tour Champion
Qualifying: 1st – 1:07.275
Series 1 Points: 1st – 4 points
Final Grid: 1st
Final: 2nd +0.287
#631 – Tristan Young (USA) – Challenge of the Americas Champion
Qualifying: DNS
Series 1 Points: 17th – 27 points
Final Grid: 33rd
Final: 21st +14.298
#640 – Caleb Gafrarar (USA) – Florida Winter Tour Champion
Qualifying: 15th – 1:08.241
Series 1 Points: 6th – 12 points
Final Grid: 11th
Final: 11th +6.733
#647 – Jensen Burnett (Canada)
Qualifying: 62nd – 1:09.840
Series 2 Points: 14th – 24 points
Final Grid: 27th
Final: 24th +15.130
Junior ROK
#848 – Enzo Deligny – Challenge of the Americas Champion
Qualifying: 2nd – 58.942
Heat Points: 1st – 8 points
Final: 2nd +0.861
Senior ROK
#237 – Andrew Maciel (Canada)
Qualifying: 15th – 58.547
Heat Points: 24th – 35 points
Final: 16th +11.073
Expert ROK
#506 – Renato Jader-David – Florida Winter Tour Champion
Qualifying: 1st – 58.760
Heat Points: 1st – 0 points
Final: 1st +2.359