MRFKC Finale at Mosport – Sunday Recap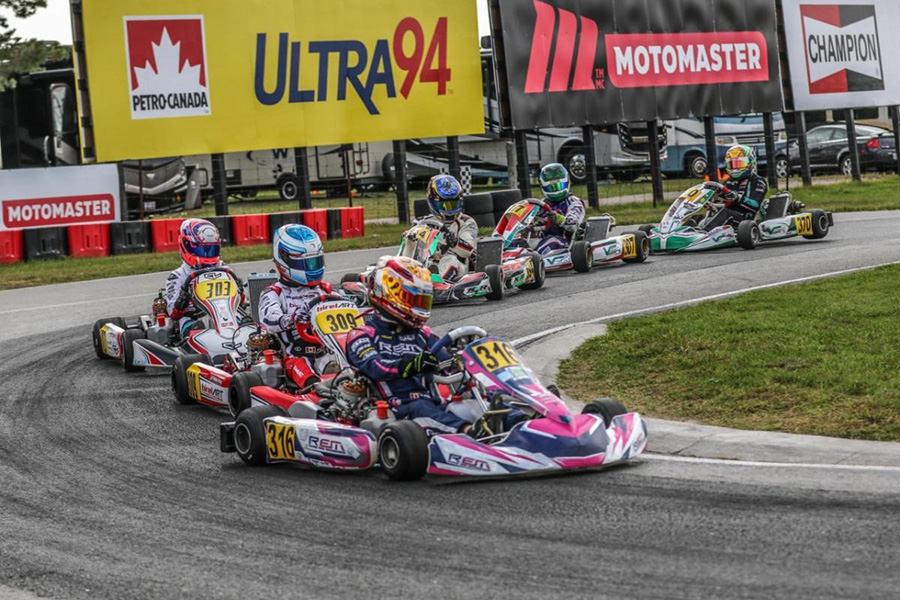 Championship Sunday kicked off this morning at Mosport Karting Centre on the Canadian Tire Motorsport Park facility near Bowmanville, ON.
With several championships still up for grabs it proved to be another exciting day of racing, and with two new competitors registering overnight the weekend entry total reached 114 karts.
Up for grabs for ROK Championship Winners was a full paid entry to the 2021 ROK Florida Winter Tour, and for runners-up a ticket to the ROK the Rio karting shootout set to happen later this year in Las Vegas, Nevada. All Briggs & Stratton Championship winners were awarded a $500 cash prize courtesy of MRFKC and the series sponsors.
Briggs Senior: Cowden Takes Sunday Win, Adam Ali Wins Championship
Adam Ali had done enough on Saturday to win the Briggs Senior championship for 2020 when he finished second place to series veteran Pearce Herder. With the championship out of reach for the rest of the field, it was anybody's race on Sunday at Mosport. It was an incredible 16-lap affair not unlike the exciting finish on Sunday at Canadian Mini Indy, with both races being decided on the last corner of the last lap.
Jordan Prior and Jonathon Treadwell were at the front with Adam Ali, Maddox Heacock, and Jake Cowden all within arm's length. Into the final set of esses Prior and Treadwell came together, Ali tried to duck into the lead and was pushed into the grass. Cowden emerged from the melee to win and Ali managed to gather up his kart and finish second.
"I just kept my head up, tried to do fast laps and make sure I was with the leaders in the last corner … and when they got together I just managed to get around," said Cowden. "It was about being at the right place and the right time … I want to thank my mom and dad, Karts and Parts, my teammates and all my fellow competitors." Cowden was awarded the $350 cash prize as Pfaff High Performer on the day for Senior drivers.
It was yet another podium finish for Adam Ali who was clinical and strategic all season, and was rewarded with the Briggs & Stratton Senior Championship in the end.
"I felt that the keys to this season were consistency and the great support from my team," said Ali. "I couldn't have done it without Nick (Hornbostel), he really helped me especially this weekend and also to Derek Michaud."
Ali added a thoughtful sentiment regarding Saturday's Briggs Senior race winner saying, "I heard Pearce (Herder) is leaving, that he might not be racing next year … if that is the case I just want to say that it was a great experience to get to drive with him. He's a great driver."
ROK Senior: Curran Takes Wild Sunday Win, Woods-Toth Takes Title
Everyone knew it was going to be a wild race. With Patrick Woods-Toth ahead in the points by a large margin, several drivers saw an opportunity to take an MRFKC win on Sunday afternoon. At one point or another Woods-Toth, Ryan Macdermid, Robert Soroka, and Dale Curran all lead laps in the exciting race. With the race winding down it was Woods-Toth in the lead followed closely by Curran and Soroka. Into Turn Six Curran dove to the inside and into the lead, Soroka attempted to follow suit and came together with Woods-Toth. Soroka ended up in the tire barrier, and Woods-Toth was handed a penalty for the incident which dropped him off the podium.
"It was a fun race, I fell back to sixth on the start but I just put my head down and picked them off one by one and managed to come through to the win," said an elated Curran post-race. "I'd like to thank Darryl Timmers and Curtis Fox at PRO as well as Richard Boake and the series for putting on a great event, and thanks to my parents of course."
At the end of the day though it was Woods-Toth who walked away as MRFKC ROK Senior Champion, even though the feeling was slightly bittersweet for the St-Lazare, Quebec driver.
"It was a dominant season for us up to the last race," said Woods-Toth. "Dale made a good pass on me into six … I lost momentum from that and I think Soroka could have passed me easily in the next corner if he had been more patient, but instead we came together and we both lost our shot at winning the race."
"It's frustrating, I wanted to leave on a better note than that. But at the same time we still won the championship so I'm happy of course. I'd like thank Prime Powerteam, Ken O'Keefe, AM Engines, and everyone on the team who helps."
Sunday results aside, it was a dominant season for Woods-Toth who was the driver to beat all year and won the Pfaff High Performer Senior award twice this season for his spectacular drives. Woods-Toth's MRFKC title gets him a ticket to the ROK Florida Winter Tour, with runner-up Curran receiving a ticket to the ROK the Rio karting shootout scheduled for later this year.
Briggs Junior: Logan Pacza Wins Close Points Battle, Navratil Sweeps Weekend
Steven Navratil made it back-to-back wins in the Briggs & Stratton Junior category this weekend. His strategy on Sunday was nearly a carbon copy of his win on Saturday. Staying patiently behind race-leader Logan Pacza for the entire race, Navratil jumped to the inside at Turn Five on the very last lap.
Unlike on Saturday there was no defence from Pacza, who just needed to finish ahead of Daniel Ali to cement his championship in the class.
"I knew we had a gap to my main rival in the points, Ali, I felt there was really no point going for the race win. I just wanted the championship today and we got it," said Pacza.
For his strategic and measured racing performance this weekend Pacza was awarded the Pfaff High Performer and $350 cash prize to Junior drivers on the day.
"I need to thank my parents massively they've helped so much being my mechanics and supporting me in this. Also thanks to Prime Powerteam, Trevor Wickens, and everybody on the team who helped me so much this year."
ROK Junior: Baxter Sweeps Weekend, Ali Takes Championship
Callum Baxter, the young driver from Hammonds Plains, Nova Scotia was the class of the field in Races Five and Six. Both races the driver was able to check out from the rest of the field and take two dominant wins.
"It feels pretty good … the weekend was just really fun. Today I dropped down to third off the start and I just did the best I could to get back into the lead and try to drive away," said Baxter. "I want to thank Prime Powerteam and PSL Karting and I also want to thank my tuner William Orsini."
The weekend may have belonged to Callum Baxter, but the season belong to Daniel Ali who went home from Mosport as MRFKC ROK Junior Champion for 2020.
"I still can't believe it, at the beginning of the year I was just hoping to be top five," said Ali. "I'm so happy we got first place. I have to thank everyone at Racing Edge Motorsports … a really special thank you to Gerald Casely, and to Nick Hornbostel who has been coaching me and kept pushing me to get to this point."
Drivers Titles Decided On Championship Sunday
For many it was a day of triumph at Mosport, and for some it was a day of tough losses. All ROK championship winners walked away with a ticket to the ROK Floria Winter Tour, with runners-up getting a ticket to the ROK the Rio karting shootout scheduled to go in Las Vegas, Nevada later this fall.
The Champion Fine Tuned Award, a $500 cash prize presented to a competitor and their tuner/mechanic/parent deemed to have made outstanding preparation and teamwork, was awarded to Anthony Raducanoiu who crashed in practice this morning and went on to win the race in Briggs & Stratton Cadet later in the day thanks to a great family and team effort off-track.
Your remaining champions for MRFKC 2020 are:
Briggs & Stratton Cadet: Major Makovskis
Briggs & Stratton Jr. Lite: Elias McKenzie
Briggs & Stratton Masters: Stephen Goebel
ROK Mini: Ryan Maxwell
Please stay tuned for upcoming info and details on our 2021 MRFKC season! Thanks to all our competitors, staff, volunteers, and everyone who made this year possible!
For full series championship results as well as race results please visit our results page by clicking here.