MRFKC Finale at Mosport – Saturday Notebook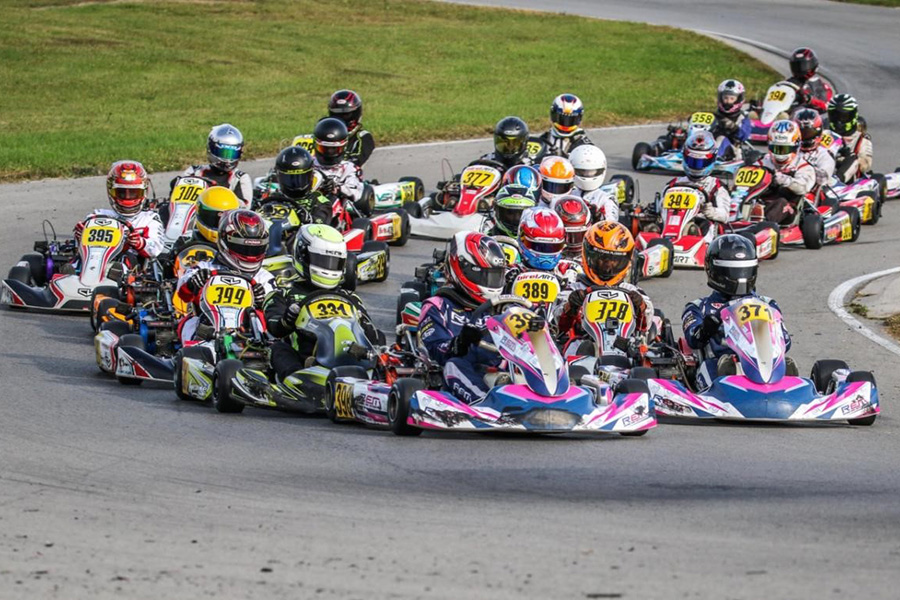 The season finale for the Motomaster Ron Fellows Karting Championship (MRFKC) got officially underway today at Mosport Karting Centre on the Canadian Tire Motorsport Park facility near Bowmanville, ON. This is the third and final race weekend in this 2020 racing season shortened by COVID-19.
At close of registration 112 karts were entered in eight classes for the two-day championship event.
Herder Takes The Checkers In Briggs Senior
It was an up and down day for a familiar name in the MRFKC paddock. Pearce Herder is one of the most senior, and most respected, drivers in the Briggs & Stratton Senior class with his karting experience dating back to the glory days of the Sunoco Ron Fellows Karting Championship. After a hectic day where he had a mechanical failure in qualifying, the veteran driver finished off Saturday with a victory in the competitve Briggs Senior category.
"It's been an exciting day," said Herder. "We didn't have a lot of speed in practice, then we had a bit of a mechanical failure in qualifying … but was still in a decent spot for the pre-final and managed to finish third there."
Off the hectic start Herder had to split the Racing Edge Motorsports teammates of Adam Ali and Nicholas Hornbostel. After successfully getting past the latter, Ali and Herder leaped ahead of the field together and into a comfortable lead.
"(Ali) and I had a big gap back to third so there was a lot of breathing room. I had a lot of time to sit back and watch where he was strong and where I could take advantage."
On the penultimate lap of the race Herder made a decisive move for the lead, and managed to hold off an attacking Ali for the win.
"It feels great. My family has done a lot for me, bringing me into this sport. My dad is always here working with the team and looking after everyone under the tent … my dad is number one to thank, but the whole team is a great group. Great support from everybody and a big thanks to them."
Herder also went home with a $350 cash prize as the Pfaff High Performer for Senior drivers on the day. Adam Ali's second place finish was key in the points hunt for tomorrow's championship Sunday as he goes into the day with a handy lead in the class.
Woods-Toth Inherits ROK Senior Win On Saturday
In a shortened 2020 season that has been mostly dominated by Prime Powerteam's Patrick Woods-Toth, it was Mississauga's Robert Soroka for Kevin Glover Racing who took the checkered flag on Saturday after an exhilarating 18 lap battle against the series points leader Woods-Toth.
The race saw both drivers swap the lead on multiple occasions in a competitive 20-kart field, with Soroka managing to hold off the assault from Woods-Toth in the latter part of the race to cross the finish line first. Soroka was the only other driver to win a race this year in the category, with a win on opening weekend at Mosport in rainy conditions.
"Honestly it was a great battle, we were swapping spots and when I managed to get by him I just focused on getting into the zone and pounding the laps away."
Unfortunately, following technical inspection, Soroka's kart was excluded from the event and the win was handed to Woods-Toth. The driver from St-Lazare, Quebec had this to say following the update to the official finishing order:
"We were really fast but seemed to be losing a lot on the straights, we battled a bit but I felt it wasn't my day and decided I better play it safe and keep the points for second … we managed to get the win anyway and it's not exactly how you want to win, but a win is a win and we'll take that."
With Soroka's technical exclusion, Woods-Toth now has a commanding lead in the ROK Senior driver points going into championship Sunday tomorrow.
"We've had a really good season so far … we don't want anything silly to happen of course, but it doesn't stop us from still going for a win tomorrow."
Steven Navratil Wins Briggs Junior & Champion Award
Twenty karts lined up on Saturday afternoon to take the green flag in a competitive Briggs & Stratton Junior class. Logan Pacza, who was fourth on the grid and almost did not start because of a spark plug issue, was able to jump into the lead ahead of Steven Navratil. The 15 year-old driver from Little Britain, ON was biding his time until late in the race to make a move.
"The race felt like it took forever," Navratil said jokingly post-race. "Logan (Pacza) did a great job … we were out front but Daniel (Ali) and Ari (Korkodilos) were catching us slowly … so I knew it wasn't going to be a walk in the park."
On the final lap Ali and Korkodilos, both for Racing Edge Motorsports, got close enough to make it a four kart race. Pacza made a great effort to defend from the attacking karts behind, but a decisive inside move in Mosport's difficult bowl section saw Navratil into the lead and onto the top step of the podium for the win.
"It feels great to win, it was a nice and clean race. Tomorrow we'll try and do the same thing … I'd like to thank Karts and Parts for their continued sponsorship, my father for always having my kart ready, and Ron Fellows for putting on the championship," said Navratil.
For his great drive and all around family effort on Saturday, Navratil and his team received the Champion Fine Tuned Award, a $500 cash prize presented to a competitor and their tuner/mechanic/parent deemed to have made outstanding preparation and teamwork.
Other winners on the day included Callum Baxter in ROK Junior who also went home with the $350 prize as the Pfaff High Performer for Junior drivers for his dominant win in ROK Junior. Remaining class victories went to Ryan Maxwell in ROK Mini, Marc Stehle in Briggs Masters, Elias McKenzie in Briggs Jr. Lite, and Anthony Raducanoiu in Briggs Cadet.
Championship Sunday will begin at 9:00 AM Sunday morning and should be another beautiful day of sunshine in Bowmanville, ON, Canada.
Full results from Saturday, September 26, 2020 can be found by clicking here.