2020 US Rotax Grand Nationals: Wet Tire Notification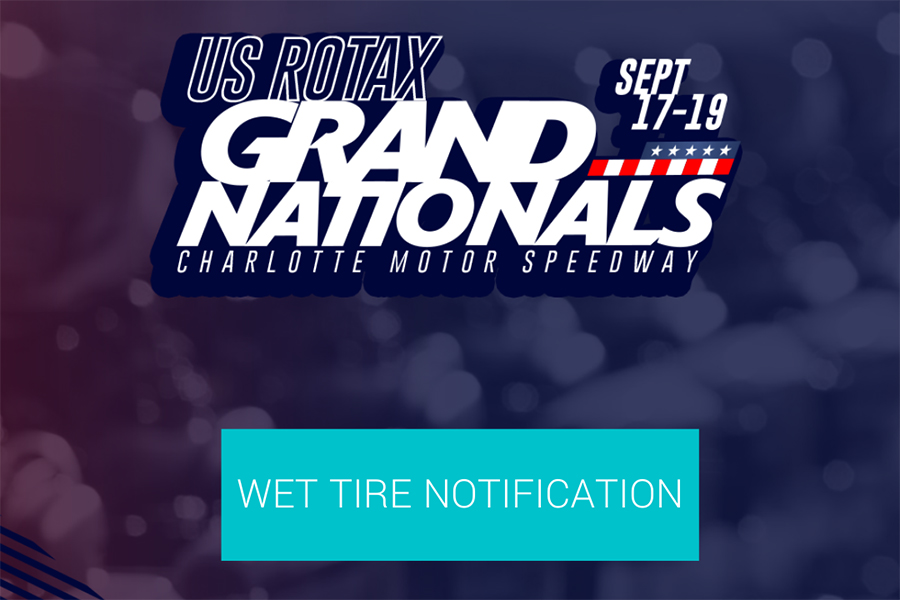 With rain imminent throughout the 2020 US Grand Nationals it will be a true test for the drivers as they will have to confront mixed weather conditions.  The supplemental regulations which have been posted for months clearly define the regulations for wet tire usage.  However, in order to better service the competitors we have further simplified the clarification to ease concerns as well as ensure strong communication below:
Practice (Thursday) "Wet Track" Regulations
All categories (Rotax and Briggs 206) are allowed any rain tire for the entire day including MoJo tires, the official wet tire of the event.
Official Race Days (Friday Qualifying – Sunday Final) Regulations
In the event the race director declares a "Wet Race" all competitors must be compliant per the technical regulations for official sessions defined as (Qualifying – Final).
Thus, all wet tires must be MoJo branded per the regulations for each category. Competitors are allowed ONLY one set of OFFICIAL wet tires, which are to be clearly marked on their pre-tech form and handed in at technical inspection prior to qualifying during these sessions, compounds defined below.
Pro Briggs 206, Micro Max, Mini Max
MoJo W3 bar-coded tires | W5 tires are not allowed
Junior Max, Senior Max, Masters Max
With few competitors ordering wet tires ahead of time, J3 Competition has ensured that they will have at least one set of wet tires per the regulations for each competitor entered.   All competitors will be required to purchase their wet tires as in any normal case unless they already own the correct make and compound of tires.  Competitors can purchase their tires either through the online shop at RaceRotax.com or directly at registration on Wednesday.  We strongly suggest all competitors purchase wet tires ahead of time to ensure a smooth registration process, a VERY limited amount of practice wet tires will be available on a first come first serve.
Full event Supplemental Regulations are available on www.racerotax.com