Luke Lange Shows Top-Ten Pace in Pro Class at the United States Pro Kart Series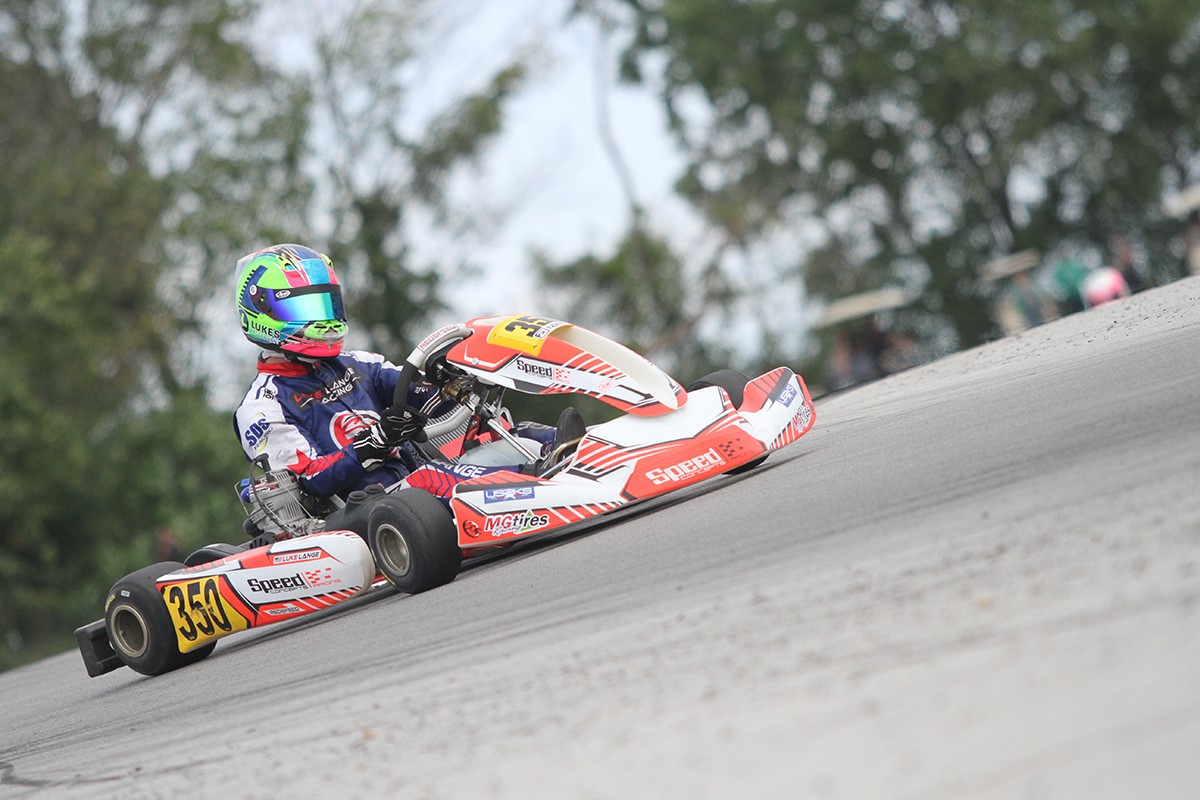 Luke Lange battles hard in X30 Pro this past weekend at the United States Pro Kart Series (Photo: eKartingNews.com)
A winner at Road America at the annual SCCA June Sprints behind the wheel of a Hyundai Veloster, Luke Lange returned to the famed facility this past weekend for the second event weekend in the 2020 United States Pro Kart Series (USPKS). Competing with the potent Speed Concepts Racing (SCR) program, Lange showed great pace in only his second national event since returning to karting as he battled in the top-fifteen but showed pace to compete in the top-five throughout the four days on track.
Taking on the CTECH Manufacturing Motorplex, Lange competed in a pair of classes to maximize track time and experience on the circuit that he had never competed on. With a pair of practice days to get up to speed, the young Texan ended Friday confident as one of the drivers to beat.
"The track here is cool with a lot of elevation change," expressed Lange. "It is pretty fast and flowing which makes passing somewhat difficult and with the competition level, it will definitely be tough, but I am up for it."
Saturday's X30 Pro qualifying would be one of the sessions on the weekend where Lange showed the pace to compete at the front of the field. Turning the fifth quickest time, Lange would start his prefinal from inside row three before finishing ninth. In an aggressive X30 Pro main event, Lange would lose three more positions before having to settle for 12th in the nearly thirty kart field. Competing in the KA100 Senior class, Lange steadily improved from his 19th place qualifying effort to take the final checkered flag in the main event in P11.
Back to the track on Sunday, Lange found himself in similar positions. Advancing forward two spots from his prefinal result in X30 Pro to finish 15th, Lange secured the 11th fastest lap of the race and crossed the line 13th before a post-race front bumper penalty dropped him two positions in the final classification.
Lange added, "This is a new track for me, and we are racing against drivers and teams who have been here year after year. I think in the end, the results were not what we would have liked, but I was able to add some more experience and knowledge to my efforts and that will only help me as a driver in the future."
Luke Lange would like to thank his partners for their continued support. A huge thanks to LukesFastBreaks.org, America's Auto Auction, Progressive Powersports, Strategic Dealer Services, and Speed Concepts Racing. Be sure to follow and stay tuned to the Luke Lange Racing social media pages for news, information, photos and results from future events.
For more information on Luke Lange, please visit him online at www.LukeLangeRacing.com or www.LukesFastBreaks.org or contact RTD Media & Management via email to Info@RaceTechDevelopment.com