$1,000 to Win PRO Briggs 206 at 2020 US Rotax Grand Nationals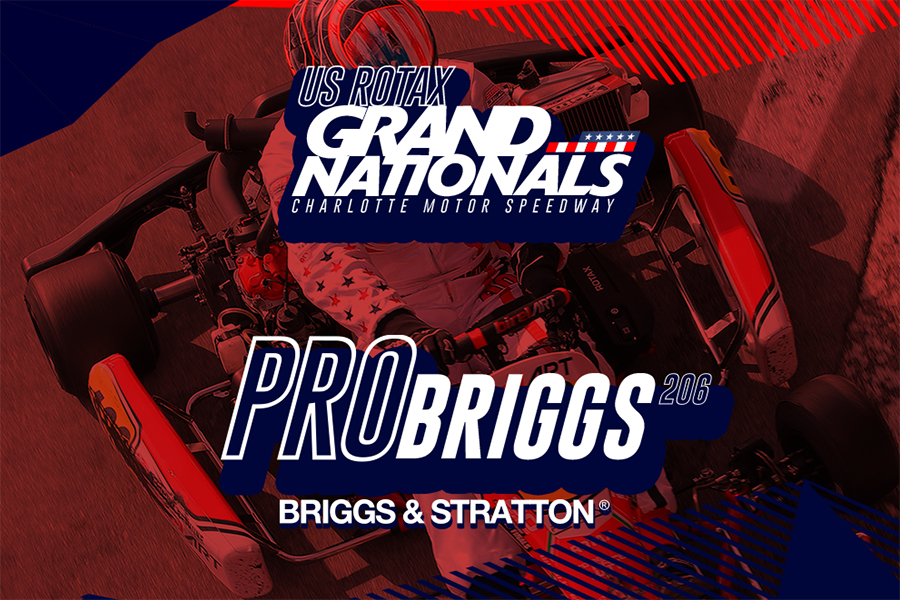 The Pro Briggs 206 category is set to run alongside the Rotax categories at the 2020 US Rotax Grand Nationals!  The popular 4-cycle category will run on the same Charlotte Motor Speedway circuit for a cash purse with $1,000 going to the WINNER!
The class will run over the three days of action with unprecedented track time and racing all the while utilizing only one set of race tires.  The category will use the friendly nationwide Briggs and Stratton 206 technical regulations to ensure quality and user-friendly competition.  The Briggs 206 category marks a near replication of the Rotax Racing platform except in a 4-cycle engine configuration.
"Some people have applauded for the inclusion of the Briggs 206 program while others have asked why?  The simple answer is that we strongly feel the Rotax platform is the backbone and future of two-cycle racing moving forward and thus the correct stepping-stone if 206 competitors chose to move to higher horsepower two-cycle racing.  With a sealed engine platform produced by the worlds largest two-cycle engine manufacture coupled with 60+ hours of use before maintenance, 1 year warranty, and backed by world-renowned corporate brand (BRP-Rotax) its easy to see the similarities between the two makes.   Both platforms premise is simple – reduce operating costs to competitors and drive a long-life and "FUN" experience, which are absolutely paramount to the future of the industry." — Justin Stefani
Event Highlights
Three Days of Action
$1,000 TO WIN [Cash Purse]
Thursday Practice (All Day)
Friday – Saturday Racing (One Final on Saturday)
One set of barcode race tires — MoJo D2XX (available for pre-order or onsite)
Spec Fuel
Consistent Regulations Event Highlights
ENTER AND WIN YOUR $1,000 >> HERE
Rotax & Briggs Alignments
Sealed Engine Concept
Lowest Cost of Ownership in each sector [two-cycle & four-Cycle karting engines]
Corporate Backed Brands [Consumer Confidence]
World-Wide Consistent Technical Regulations
Long-Life Engine Platform
Recreational and Racing Platforms
World-Wide Partnerships
Product Warranties/Support