Several Drivers Managed to Pull Off the "Sweep" by at MRFKC on Sunday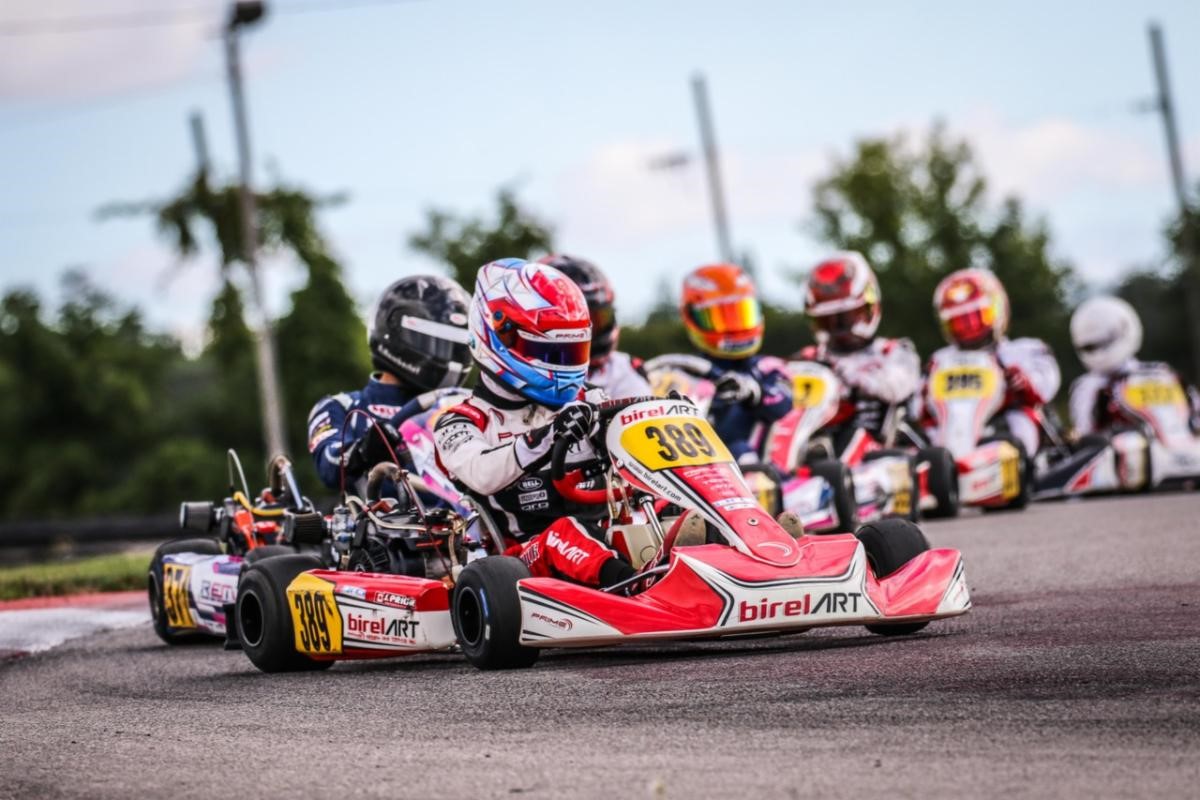 The Motomaster Ron Fellows Karting Championship (MRFKC) finished off its Race 4 event on the second weekend of series competition in this 2020 shortened season.
Just over 100 competitors were entered to race on the weekend, which saw perfect weather on race-day Sunday. The story of the weekend was the "sweep," with several competitors taking wins on both days of competition.
Barnes Slices Through Last Lap Chaos To Sweep Briggs Senior
The 29-kart Briggs & Stratton Senior class was again the one to watch on Sunday at the Canadian Mini Indy MRFKC. The top 10 karts were all separated by less than a few seconds throughout the entire 25-lap feature race with multiple drivers jumping into the lead throughout the race including Jake Cowden, Johnathan Treadwell, and Nicholas Hornbostel. But it was on the very last laps where things really got spicy, and coming into the final chicane at Mini Indy it seemed like anyone in the top 10 might take the win.
Leaving the chicane several karts came together, and with drivers spinning in the melee it was David Barnes – Saturday's winner – who emerged from the chaos with the lead and took the checkered flag. Barnes had been in eighth place at the beginning of the last lap, an incredible turn of events for the race winner. "Anything can happen in Briggs Senior," was the quote from Barnes on Saturday, and it certainly rang true after Race 4.
"Right from the beginning I knew it was going to be crazy, there were so many good drivers dicing up front, I was just trying to be patient and keep rolling with the pack," said Barnes.
He continued, "I didn't even lead a lap, everything just happened on those last few corners … there was no time to think I was just trying to get through … Briggs Senior always brings a crazy finish and that's what it was."
Having swept the class this weekend Barnes took away maximum points in the championship hunt for Briggs Senior as MRFKC looks towards the season finale in Bowmanville and the driver said, "Mosport is one of my favourite tracks for sure and I'll say it again but anything can happen in Briggs Senior."
Woods-Toth Eyeing ROK Senior Championship With Mini Indy Sweep
Patrick Woods-Toth looked unbeatable this weekend at Canadian Mini Indy in the ROK Senior class. The young driver from St-Lazare, Quebec was fastest in every session, and almost led every lap of every race save for a few laps of Sunday's pre-final. Woods-Toth was shuffled back to third on the start, but quickly fought back into the lead and cemented his pole position starting spot for the final race later on Sunday.
In the final, the Prime Powerteam driver was again the class pace-setter, finishing with a six second lead over second place Dale Curran and third place Gianluca Savaglio.
"We got unlucky at Mosport in Race 2 when we chose the wrong tires for the final, but I felt this weekend that we just had amazing speed and we managed to win both races which made for a pretty awesome weekend for Prime Powerteam on our home track," said Woods-Toth.
In this shortened MRFKC season, the championship now comes down to the finale at Mosport scheduled for the end of September. Woods-Toth said, "We all know we have the pace from Race 1 at Mosport and so we're hoping we can go back and win two more races."
Woods-Toth added, "Thanks again to Kenneth O'Keefe, Trevor Wickens, Rev Performance Materials, all of Prime Powerteam, it was an awesome weekend."
For his outstanding performance this weekend Patrick Woods-Toth received $350 from Pfaff Motorsports for his outstanding performance sweeping the highly competitive class as the Pfaff High Performer for Senior drivers.
Ryan Maxwell Sweeps Birthday Weekend In ROK Mini
Ryan Maxwell, son of Canadian racing great Scott Maxwell, turned 12 years old this weekend and gave himself a birthday present … a weekend sweep in ROK Mini.
"I wasn't expecting to win both races so it was a nice birthday," said a smiling young Maxwell. "It was really fun but really hard, I want to thank my teammate Jensen (Burnett) because we raced really close and it was awesome. Also thanks to my mom and dad and my mechanic Marco (Signoretti)."
With Burnett finishing P2 on Sunday the Energy Kart Team left Canadian Mini Indy with a One-Two finish in ROK Mini. Mayer Deonarine rounded out the class podium on the day. For his fantastic performance this weekend Maxwell received the $350 award from Pfaff Motorsports as the Pfaff High Performer for Junior drivers.
Other winners on the day included Pearce Wade in Briggs Cadet, Logan Pacza in Briggs Junior, Stephen Goebel in Briggs Masters, and Daniel Ali in ROK Junior. Elias McKenzie earned the Champion Fine-Tuned Award, a $500 prize presented to a competitor and their tuner/mechanic/parent deemed to have performed outstanding preparation and teamwork. McKenzie swept the weekend races in Briggs Jr Lite; both him and his family showed an outstanding effort and great spirit of competition to earn the award.
The MRFKC season finale is set for the September 28/29 weekend at Mosport Karting Centre (MKC). Stay tuned to @MRFKCofficial on social media for any updates as we count down the days until we go racing once more!
Full results from the day can be found by clicking here.