Exciting Racing Kicked Off Today at the Second Event of the MRFKC Season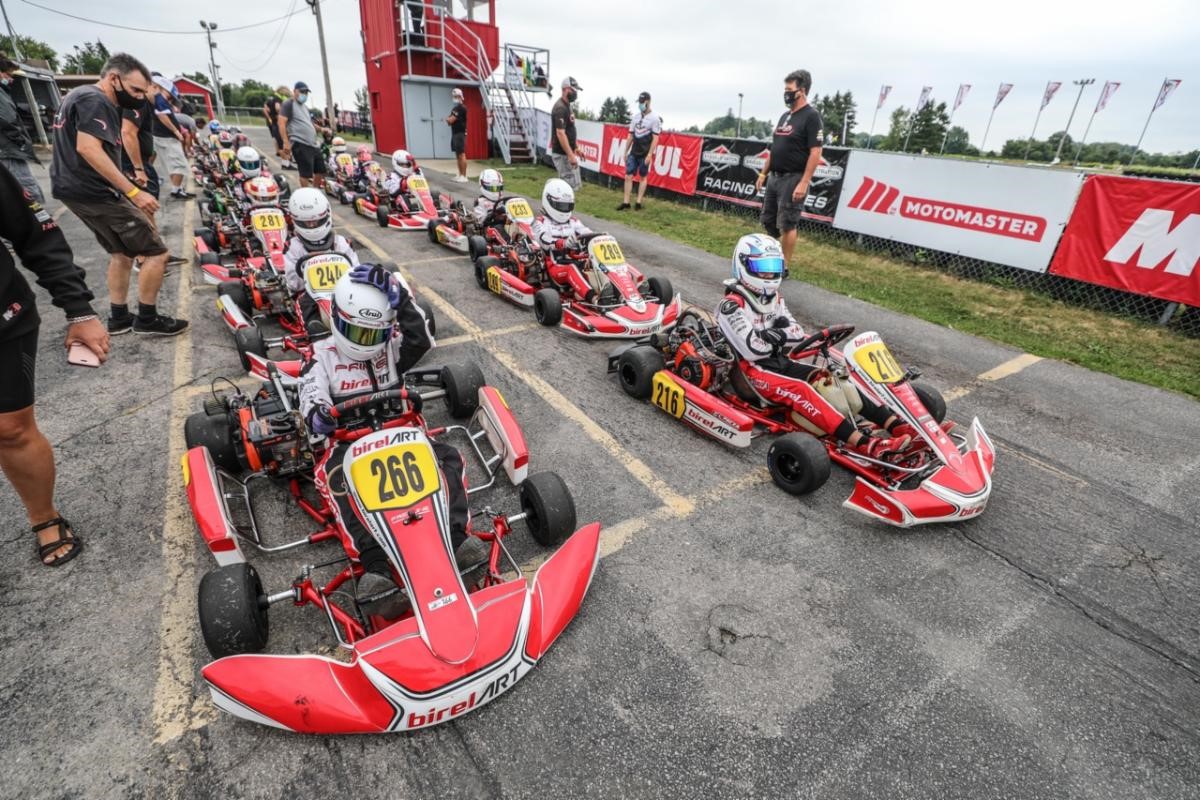 Racing kicked off today for Event Two of the Motomaster Ron Fellows Karting Championship (MRFKC) at Canadian Mini Indy near Hamilton, Ontario.
Just over 100 competitors were entered in the two-day national event with eight different classes competing. After Event One at Mosport Karting Centre, MRFKC officials decided to remove Super Pole qualifying from the schedule and in turn make both pre-final and final races longer to allow drivers more track time.
Threatening clouds brought small spats of rain throughout the day, and although MRFKC officials declared it a wet day, the rain was never heavy enough to force drivers onto rain tires. Prime Powerteam displayed a dominant performance throughout the day, taking four One-Two finishes on the day.
Woods-Toth Drives Away With ROK Senior Win
Patrick Woods-Toth was once again the pace-setter in ROK Senior. Much like his opening victory at Mosport Karting Centre, the driver from St-Lazare, Quebec, got off to a cautious start before breaking away from Professional Racing Ontario (PRO) driver Dale Curran and building a significant lead on the field. Around the halfway mark, Curran was forced to retire with mechanical trouble.
"Dale lost his chain and then we had a huge gap back to the next kart so I just concentrated on saving my tires for tomorrow," said Woods-Toth. "So far it's been a great weekend for the team, we've been fastest in every session so I'm hoping we can keep it up for tomorrow."
David Barnes Wins Wild Briggs Senior Final
Probably the most exciting race of the day was the hectic 29-kart Briggs & Stratton Senior final which saw an intense five-kart battle for most of the race between David Barnes, Jordan Prior, Jonathan Treadwell, Adam Ali, and Pearce Herder. All five karts swapped spots throughout the 25-lap final with David Barnes finding his groove late in the race to streak away from the rest of the battling four karts.
"I went from fourth to second, to the lead, back to fourth, it was typical Briggs Senior," said Barnes jokingly. "I'd like to thank my dad, Trevor Wickens, and Prime Powerteam, I definitely couldn't have done it without them."
When asked about his thoughts for Sunday's event Barnes joked: "Like I said it's Briggs Senior and anything can happen. I'm happy with my pace from today so we'll try and just build on that and see what happens."
Logan Ferguson Makes Last Lap Move For First National Win
The story in Briggs & Stratton Junior was a tale of two Logans. Logan Pacza and Logan Ferguson were nose-to-tail, and in that order, for the entire 25 lap final; until the last lap that is. The Prime Powerteam teammates worked together from the beginning of the long race to build a gap to third place Steven Navratil. On the very last lap, Ferguson made a decisive, and clean, move on his teammate to take the win. Both drivers showed great sportsmanship as they congratulated each other after passing the finish line.
"I had in my mind the whole time to just push and not look back. We pulled away and in the last laps I got really nervous that Logan (Pacza) was going to get away," said Ferguson. "I'd like to thank Hamilton Home Builder Supplies, Turkstra Lumber, my mechanic (who is Logan's grandpa), and my mom and dad too, and of course Prime Powerteam."
For his outstanding drive, Ferguson earned the Pfaff High Performer award for Junior drivers. The Pfaff High Performer for Senior drivers went to David Barnes for his exciting win in Briggs Senior. Each driver received $350 from Pfaff Motorsports for their outstanding racing performance.
The Champion Fine Tuned Award, a $500 award presented to a competitor and their tuner deemed to have performed outstanding preparation and teamwork, went to Briggs Masters winner Zachary Boam.
Frankie Esposito Dominates ROK Junior
Prime Powerteam continued their winning ways on Saturday in the ROK Junior class where 13-year-old Frankie Esposito dominated the race from start to finish taking his second MRFKC victory of the season.
"I was super proud of my consistency and pace…I knew consistency was going to be the thing that would win the race," said an enthusiastic Esposito after the long 30-lap final. "I'd like to thank Anthony Tolfa, Trevor Wickens, AM Engines, and my parents for their support."
Other winners on the day included Anthony Raducanoiu in Briggs Cadet, Elias McKenzie in Briggs Junior Lite, and Ryan Maxwell in ROK Mini.
The second day of competition for MRFKC at Canadian Mini Indy begins at 9:00 AM Sunday morning. The weather report is sunny, partly cloudy, and a high of 22 degrees Celsius.
Full results from Saturday, August 1, 2020 can be found by clicking here.