Holden Joins Trinity Karting Group Driver Roster for SKUSA Pro Tour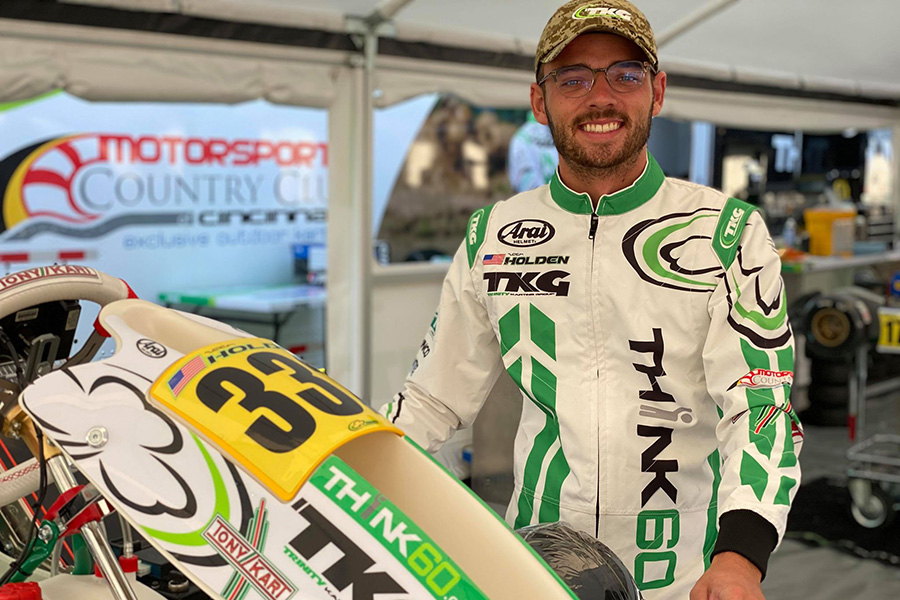 Trinity Karting Group is taking on the 2020 season with full steam. Since the end of May, the race team has been traveling around to regional and national events, including the Stars Championship Series, United States Pro Kart Series and the recent USAC Karting Battle at the Brickyard. Victories and podiums across the board have brought early success, with the focus now turning to a busy two-week period at the New Castle Motorsports Park for the Superkarts! USA Pro Tour double weekend program. Helping to round out the driver roster is the addition of former SKUSA Pro Tour race winner Zach Holden in the X30 Senior category.
"Zach has been working with us all summer long as a driver coach with our club and regional drivers," stated Shawn Bayliff of Trinity Karting Group. "He's a talented driver and has been very helpful in our recent success. Our goal heading to the SKUSA Pro Tour event is to land on the podium and contend for race wins. Zach brings us that experience as we know our race team has the right products to put him at the front of the field."
Twenty-year-old Zach Holden calls the New Castle Motorsports Park home, beginning his karting career in Kid Karts at the New Castle, Indiana facility. Holden has several victories and championships in WKA, USPKS, and SKUSA competition. His last few seasons was focused on competing in the Road To Indy Cooper Tires USF2000 Championship. This summer, Holden has been trackside and at the TKG headquarters working with the drivers under the tent.
"I'm incredibly happy to be back at the track with such a well-organized and quality team like Trinity, added Holden. "I am very thankful for Shawn to give me an opportunity to get back behind the wheel of my Trinity Karting Group Tony Kart with Allison Racing Engines backing us. It's time to put our heads down these next two weekends and see what we can achieve."
Holden joins Finnegan Bayliff in the X30 Senior category aboard TKG Tony Kart machines, with Bayliff coming off victory at the USAC Karting Battle at the Brickyard. Gavin Bayliff was P3 in the IAME SSE 175 class at IMS and is the lone TKG driver in the Pro Shifter 2 division, piloting a Birel ART with support from PSL Karting. Ryan Miller and Evagoras Papasavvas fly Trinity colors in Mini Swift while Seth Lucas and Mateo Naranjo compete in the KA100 Junior class – all aboard a Tony Kart. Naranjo was a top-five finisher this past weekend. Completing the TKG drivers is KA100 Senior driver Jonah Hanrahan.
Trinity Karting Group provides trackside support and arrive-and-drive programs at many of karting's biggest East Coast events with full product sales and service, and professional coaching from their experienced staff. TKG is a full-service operation based at the Motorsports Country Club of Cincinnati, which provides access to their custom-designed driver training facility.
Head over to www.trinitykartinggroup.com to learn more.