EKN Trackside: 2020 Superkarts! USA Pro Tour – Weekend One Preview
Historic two weekend schedule at New Castle Motorsports Park to complete 11th season of program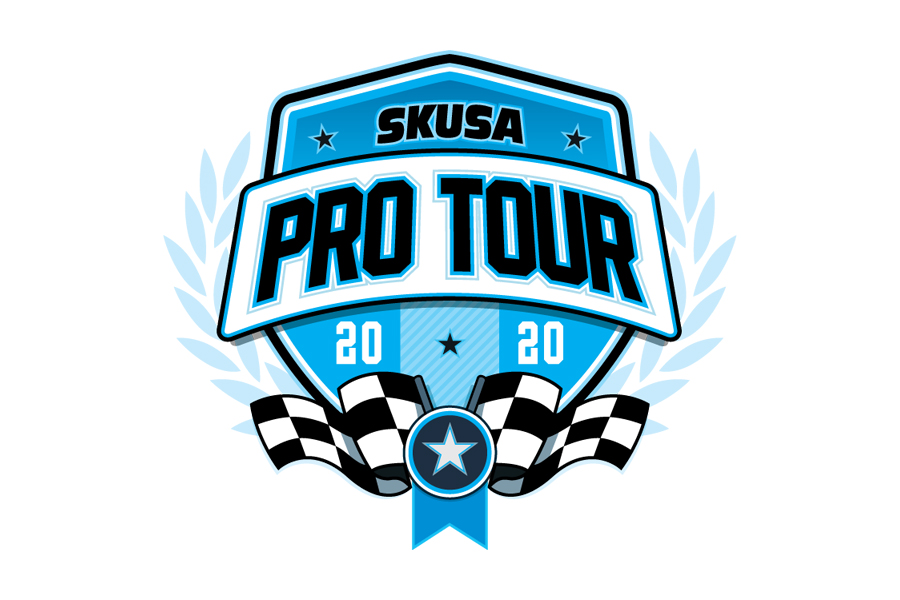 The 2020 Superkarts! USA Pro Tour has been delayed by five months due to the COVID-19 pandemic. What was set to begin in March in New Orleans saw only four rounds of practice completed for the start of the WinterNationals before the government shut down the facility and sent everyone home for what was unknown at the time to be a stay-at-home order. Hopes of the SpringNationals in May at the Utah Motorsports Campus diminished as there was still the unknown about traveling and the state's status for large gatherings. Now into August, Superkarts! USA has condensed the six rounds of the Pro Tour into two weekends, with each pair of dates hosting three rounds of racing.
The New Castle Motorsports Park in New Castle, Indiana has been working with local and state officials to help provide a safe and social distance environment. That allows SKUSA to conduct the two weekends of racing that will decide the 2020 SKUSA Pro Tour champions. Rounds One, Two and Three are set for August 6-9, all conducted on the 'Super Mile' layout that was utilized at the SummerNationals 2019. Rounds Four, Five and Six are scheduled for August 13-16 around the 'Reverse National' layout.
Superkarts! USA has stepped up on the prize package for the SKUSA Pro Tour Summer Festival. For each of the six rounds of racing for the Pro Shifter, X30 Senior and X30 Junior categories, SKUSA is putting up a $5,000 cash purse for the top-five. Each race winner takes home $2,500 with runner-up a $1,250 payday. The remainder of the top-five earns $625, $375, and $250. If one driver were to sweep all six rounds, that would equate to a $15,000 payday on the two weekends. Categories with 30 drivers or more are also in the running for a cash purse for each of the six rounds. Each winner earns $250, with second $150 and third $100. In total, a $3,000 cash purse for those categories reaching the 30-driver mark.
The unique double weekend also sets the stage for the SKUSA Pro Tour championship awards. The top three drivers in each of the categories will be racing for another amazing prize package. Each class champion earns a spot on the SKUSA Circle of Champions program to return racing in 2021 with free entries, tires, fuel and oil for the SKUSA Pro Tour and entry / tires to the SuperNationals 24. For those in the X30 Senior, X30 Junior, X30 Master and Mini Swift, tickets to the IAME International Final will also be awarded. Vice-champion earns race entry and tires to the SKUSA SuperNationals 24 while third is provided $500 in MotorsportReg.com credit toward any 2020/2021 SKUSA event.
eKartingNews.com has been broadcasting the SKUSA Pro Tour since the program began in 2010. EKN is happy to provide full Trackside Live coverage throughout the historic two weekends in New Castle with EKN's own Rob Howden on the mic. Those unable to attend can listen in to the live broadcast – presented this weekend by Acceleration Kart Racing, Leading Edge Motorsports and Rolison Performance Group. Bookmark www.ekartingnews.com/live and follow the EKN social media channels for more throughout the opening weekend at New Castle.
The X30 Senior field is loaded with talent once again, set with 44 drivers ready to do battle around NCMP. It begins with the two winning drivers from last year's SummerNationals who are also the top two from the 2019 championship standings; four-time SKUSA Pro Tour champion Ryan Norberg and three-time USPKS title winner Brandon Jarsocrak. Norberg begins the 'Drive for Five', looking to earn a fifth straight title in the category, third with Rolison Performance Group / Kosmic. Jarsocrak returned with Mike Doty Racing in May 2019 and it rekindled his performance on track. He and Norberg each won at the SummerNationals last year with Jarsocrak earning the SKUSA #2 plate for 2020.
Coming into the weekend with success are Arias Deukmedjian and Phil Arscott. Each put the KartSport North America / Will Power Kart package to the top of the podium in July for the USPKS event at New Castle. Each are hoping to turn that into success on the 'Super Mile' course. Brandon Lemke (Franklin / Merlin) was among one of the quick drivers all weekend at SummerNats 2019, as was Trey Brown, who makes his debut with the Solo Kart USA operation.
Trinity Karting Group is coming in with two bullets, welcoming former SKUSA race winner Zach Holden under the tent to run alongside recent Battle at the Brickyard winner Finnegan Bayliff. Team Nitro Kart has a couple as well with now veteran Ashley Rogero (Kosmic) working alongside Senior rookie Hayden Jones (Tony Kart). RPG is again stacked under their tent with Hannah Greenemeier, Jacob Gulick, Jace Denmark-Gessel, along with Senior rookies Bryson Morris, Branyon Tiner and Jonathon Portz. Watch for fellow young guns Thomas Nepveu (PSL / Birel ART), Pauly Massimino (MDR / Kosmic), and Luca Mars (SCR / Redspeed).
A total of 12 drivers are set to compete in the Pro Shifter division, welcoming the first event of mixed engines. The IAME SSE 175 and KZ powerplants will go head to head in all shifterkart divisions for the first time at the SKUSA Pro Tour. The last four SKUSA champions lead the Pro Shifter field with defending champion Kyle Wick (RPG / Tony Kart), 2018 champ AJ Myers (Checkered / Magik), 2017 title winner Jake French (PSL / Birel ART) and Danny Formal (ANSA / CL Kart) who claimed SKUSA Pro Tour glory in 2016. Wick and Myers finished 2019 1-2, both aboard new rides for 2020. French has come on since moving to PSL at the end of 2019 and Formal is back full-time in the USA with his new position at ANSA Motorsports. Throw in SKUSA #3 Andrew Bujdoso (Checkered / Magik), four-time SKUSA SuperNationals winner Billy Musgrave (Yesnick / Factory Kart), last year's Pro 2 title winner Race Liberante (HMG / Race Factory) and 2020 Battle at the Brickyard winner Devon Smith-Harden (HMG / CompKart). Only four are slated to run the KZ powerplant – Musgrave, Liberante, Formal and Pierce Baldus (LEM / Formula K).
Pro Shifter 2 is split with 5 KZ and 5 SSE. No returning drivers from the top-three are in the field, opening it up for new names at the front. Four-time SKUSA Master champion Jordon Musser (PSL / Birel ART) is moving back to Pro 2, set to battle young guns Gavin Bayliff (Trinity / Birel ART), Kyle Apuzzo (Rivera / GFC), Annie Rule (Checkered / Magik), and Vicente Salas (Musgrave / Factory Kart). Former IMSA driver Gustavo Yacaman (PPM / Parolin), a former champion in the Stars of Karting program in the late 2000s, is making his SKUSA Pro Tour debut on the weekend.
A field of 34 drivers will battle in the KA100 Senior class on the weekend. Defending champion Austin Osborne (IRM / Kosmic) has his work cut out for him with a stacked field for the 2020 championship chase. Double duty drivers include Arias Deukmedjian (KSNA / Kart Republic), Brandon Lemke (Franklin / Merlin), Luca Mars (SCR / Redspeed), Bryson Morris (RPG / Kosmic), Joey Brienza (Nash / FA Kart) and more. Local driver Garrett Adams (Comet / Tony Kart) is always fast at home. SKUSA #2 Nick Ramirez (RPM / Tony Kart) is part of the west coast contingent that includes Oliver Calvo (LEM / Praga), Ethan Ho (APM / Tony Kart) and Blake Nash (Nash / FA Kart) set to be among those vying for contention all weekend.
The championship space in KA100 Junior is wide open with defending champion Connor Zilisch racing in Europe. A number of familiar names are set to be in the hunt all weekend long, including Brent Crews (KSNA / Will Power Kart), John Burke (Supertune / Tony Kart), Carson Morgan (Tony Kart), Westin Workman (TimmyTech / CompKart). Logan Adams (Comet / Tony Kart) and Mateo Rubio-Luengo (Supertune / Tony Kart) won during the USPKS weekend in July. Rookies Christian Miles (KSNA / Kart Republic), Austin Jurs (Franklin / Merlin), Graham Trammell (RPG / Kosmic), and Cameron Weinberg (Nitro / Tony Kart) can be a factor throughout the weekend along with others returning from 2019.
The top spot in the championship is open as well in X30 Junior with defending champion Freddie Slater staying in Europe to race. Only Josh Pierson (RPG / Kosmic) is returning from the championship podium in 2019. Pierson is not on the entry list but is scheduled to compete. A field of 30 drivers will be competing all three days with several top drivers on the grid. Many of the same in KA100 are racing X30 – Crews, Burke, and Morgan, Rubio-Luengo. Some of the best from the east – Jeremy Fletcher (Team Benik / EOS), Thomas Annunziata (TF / Kart Republic), Paul Bocuse (SCR / Redspeed) – take on those coming over from the west – Max Opalski (RPM / FA Kart), Logan Toke (PKS / Birel ART), Frankie Mossman (Nash / Tony Kart). Throw in drivers from the middle of the country – Alex Stanfield (Crosslink / Exprit), Jace Park (SCR / Redspeed), Noah Baker (Supertune / Tony Kart) – and the weekend will be busy at the front in X30 Junior.
Master numbers have dropped significantly for the Summer Festival across the board. G1 has four drivers with Bermuda's Scott Barnes (HMG / Intrepid) and Joe Ruch (Race Factory) set to do battle. G2 has SKUSA #2 Ken Schilling (Aluminos) up against SKUSA Winter Series champion Justin Peck (RPG / Kosmic) and SuperNationals winner Nathan Stewart (Full Gas / Birel ART). Only six drivers are slated to race in X30 Master with Scott Roberts (SCR / Tony Kart) the early favorite. Solo Kart USA drivers Adam Pettit and Salatore Sparacio hope to contend for victories along with California driver Jonathan Silva (CompKart). It is not a big turnout for the KA100 Master class with only three drivers on the entry list. Last year's X30 Master champion Matt Johnson (Nash / FA Kart), former SKUSA champ Nick Tucker (Nitro) and Ron Jenkins (Nash / EOS) make up the roster. There are zero entries for the X30 Super Master category on the weekend.
The Mini Swift category is another class with the championship up for grabs with no returning drivers from the title podium in 2019. The focus is on top contenders returning for a piece of hardware for the SKUSA Pro Tour 2020. Parker DeLong (Nitro Kart), Cooper Shipman (IRM / Tony Kart), Caleb Gafrarar (PSL / Birel ART) finished in the top-10 in 2019. Shipman is coming off a victory at the USPKS weekend. Add in former Micro Swift champion Max Garcia (KSNA / Will Power Kart), Cameron Brinkman (Franklin / Merlin), and Ben Maier (Nitro Kart) will be in contention all weekend. Matias Orjuela (PPM / Parolin) won at the USPKS weekend as well, and should be one of the new names in the fight along with Mini rookies Spencer Conrad (Nitro Kart), Kai Johnson (AKT / Energy), and the Wheldon brothers Oliver and Sebastian (JC / Kosmic).
New names are expected to rise up in the Micro Swift category throughout the weekend. One name will remain toward the front with defending champion Jack Iliffe (IRM / Tony Kart) returning. Iliffe is coming off a double win weekend for the USPKS event in July, set to begin his title defense with more wins. Cameron Weinberg (Nitro Kart) was Iliffe's top contender last month, and won at the SKUSA SummerNationals last year. 2019 USPKS champion Aryton Grim (Nitro Kart) could be one of the top contenders along with James Moss (IRM / Tony Kart), and Sarah Bradley (Nitro Kart). Asher Ochstein (Benik) and Vivek Kanthan (MDR / Kosmic) are new names that have shown success this summer.
---
X30 Senior Entry List
| No. | Driver | Team | Chassis | Hometown | Country |
| --- | --- | --- | --- | --- | --- |
| 313 | Jenson Altzman | Ruthless Karting | Exprit | Phoenix AZ | US |
| 357 | Phil Arscott | KartSport North America | Will Power Kart | Portland OR | US |
| 349 | Finnegan Bayliff | Trinity Karting Group | Tony Kart | Batavia OH | US |
| 373 | Dylan Beckwith | Mike Doty Racing | Kosmic | Riverside CT | US |
| 325 | Aaron Benoit | URace | Tony Kart | Jupiter FL | US |
| 335 | Joey Brienza | Nash Motorsportz | FA Kart | Golden CO | US |
| N3 | Trey Brown | Solo Kart USA | Solo Kart | Lakeside CA | US |
| 344 | Reilly Cann | Crosslink Competition | Exprit | Van Alstyne TX | US |
| 377 | Diego Contecha | Orsolon Racing | Tony Kart | | CO |
| 305 | Renato Jader David | | Tony Kart | North Miami FL | BR |
| 312 | Pablo Perez De Lara | RPL | Ricciardo | | MX |
| 318 | Jace Denmark-Gessel | Rolison Performance Group | Tony Kart | Phoenix AZ | US |
| 300 | Arias Deukmedjian | KartSport North America | Will Power Kart | Merritt Island FL | US |
| 336 | Matthew Duncovich | Mike Doty Racing | Kosmic | Islip Terrace NY | US |
| 355 | Lucas Fecury | Piquet Sports | CRG | | BR |
| 374 | Aidan Fox | Mike Doty Racing | Kart Republic | Redding CT | US |
| 314 | Olin Galli | Piquet Sports | CRG | | BR |
| 308 | Hannah Greenemeier | Rolison Performance Group | Kosmic | Parker CO | US |
| 315 | Jacob Gulick | Rolison Performance Group | Kosmic | Vancouver WA | US |
| 337 | Brennan Hanville | Comet Kart Sales | Kosmic | Franklin IN | US |
| 340 | Jake Heavlow | Solo Kart USA | Solo Kart | Galena MD | US |
| 368 | Ethan Ho | APM Racing | Tony Kart | City of Industry CA | US |
| 332 | Zach Holden | Trinity Karting Group | Tony Kart | Greenfield IN | US |
| N2 | Brandon Jarsocrak | Mike Doty Racing | Kosmic | Reading PA | US |
| 316 | Hayden Jones | Team Nitro Kart | Kosmic | Matthews NC | US |
| 310 | Brandon Lemke | Franklin Motorsports | Merlin | Eagle WI | US |
| 341 | Luca Mars | Speed Concepts Racing | RedSpeed | Sewickley PA | US |
| 309 | Pauly Massimino | Mike Doty Racing | Kosmic | Indian Trail NC | US |
| 333 | George Megennis | Orsolon Racing | Tony Kart | Cortlandt Manor NY | US |
| 327 | Robert Megennis | Orsolon Racing | Tony Kart | Cortlandt Manor NY | US |
| 366 | Matthew Mockabee | Mike Doty Racing | Tony Kart | Dayton OH | US |
| 302 | Cole Morgan | Morgan Racing | Tony Kart | Anahaim CA | US |
| 339 | Bryson Morris | Rolison Performance Group | Kosmic | Mount Juliet TN | US |
| 324 | Thomas Nepveu | PSL Karting | Birel ART | | CA |
| N1 | Ryan Norberg | Rolison Performance Group | Kosmic | Orlando FL | US |
| 372 | Sam Paley | Energy Kart Midwest | Energy Kart | Fort Mitchell KY | US |
| 399 | Jonathon Portz | Rolison Performance Group | Kosmic | Corvallis OR | US |
| 362 | Jorge Quiroz | RPL | Ricciardo | | MX |
| 320 | Emiliano Richards | RPL | Ricciardo | | MX |
| 338 | Ashley Rogero | Team Nitro Kart | Kosmic | Landis NC | US |
| 376 | Ryan Shehan | Crosslink Competition | Exprit | New Caney TX | US |
| 369 | Branyon Tiner | Rolison Performance Group | OTK | Angleton TX | US |
| 323 | Santiago Trisini | Nash Motorsportz | Tony Kart | Key Biscayne FL | US |
| 334 | Dante Yu | J3 Competition | CompKart | Temple City CA | US |
Pro Shifter Entry List
| No. | Driver | Team | Chassis | Hometown | Country |
| --- | --- | --- | --- | --- | --- |
| 176 | Pierce Baldus | Leading Edge Motorsports | Formula K | Leawood KS | US |
| N3 | Andrew Bujdoso | Checkered Motorsports | Magik Kart | Girard OH | US |
| 137 | Danny Formal | Ansa Motorsports | Charles Leclerc | | CR |
| 106 | Jake French | PSL Karting | Birel ART | Sanger TX | US |
| 132 | Jordan Johnson | Johnson | Croc Promotions | New Bedford IL | US |
| 119 | Kyle Kennedy | Harden Motorsports Group | CompKart | St. Peters MO | US |
| 134 | Race Liberante | Harden Motorsports Group | Race Factory | Pittsburgh PA | US |
| 117 | Billy Musgrave | Yesnick Racing | Factory Kart | Riverside CA | US |
| N2 | AJ Myers | Magik Kart USA | Magik Kart | Palm Harbor FL | US |
| 128 | Devon Smith-Harden | Harden Motorsports Group | CompKart | Nashville IN | US |
| 129 | Rory van der Steur | Checkered Motorsports | Magik Kart | Chesapeake City MD | US |
| N1 | Kyle Wick | Rolison Performance Group | Tony Kart | Auburn WA | US |
Pro Shifter 2 Entry List
| No. | Driver | Team | Chassis | Hometown | Country |
| --- | --- | --- | --- | --- | --- |
| 203 | Kyle Apuzzo | Rivera Racing | GFC | North Scituate RI | US |
| 281 | Gavin Bayliff | Trinity Karting Group | Birel ART | Batavia OH | US |
| 245 | Ayden Fisher | Harden Motorsports Group | CompKart | Lima OH | US |
| 269 | Anthony Freese | Cambrian | Birel ART | Salinas CA | US |
| 222 | Baylor Griffin | Orsolon Racing | | Tampa FL | US |
| 207 | Jason Henrique | Rivera Racing | GFC | Brockton MA | US |
| 216 | Jordon Musser | PSL Karting | Birel ART | Dallas TX | US |
| 247 | Annie Rhule | Checkered Motorsports | Magik Kart | Pittsburgh PA | US |
| 214 | Vicente Salas | Musgrave Racing Co. | Factory Kart | Temecula CA | US |
| 244 | Gustavo Yacaman | Pole Position Motorsports | Parolin | Key Biscayne FL | CO |
KA100 Senior Entry List
| No. | Driver | Team | Chassis | Hometown | Country |
| --- | --- | --- | --- | --- | --- |
| 904 | Garrett Adams | Comet Kart Sales | Tony Kart | Greenfield IN | US |
| 907 | Brandon Adkins | Adkins Speed Center | Kosmic | Port Washington OH | US |
| 924 | Brooke Berry | Crosslink Competition | Tony Kart | Katy TX | US |
| 912 | John Berry | Crosslink Competition | Tony Kart | Katy TX | US |
| 905 | Joey Brienza | Nash Motorsportz | FA Kart | Golden CO | US |
| 978 | Oliver Calvo | Leading Edge Motorsports | Praga | Stockton CA | US |
| 910 | Greg Campos | DRT North America | DR Kart | Pelham NH | US |
| 943 | Gia Cicero | Rolison Performance Group | Tony Kart | Pound Ridge NY | US |
| 942 | Nathaniel Cicero | Rolison Performance Group | Tony Kart | Pound Ridge NY | US |
| 906 | Arias Deukmedjian | KartSport North America | Kart Republic | Merritt Island FL | US |
| 935 | Wes Duchak | Piquet Sports | Tony Kart | Jupiter FL | US |
| 915 | Daniel Eaton | HRT Driver Development | Kosmic | Carlsbad CA | US |
| 902 | Connor Ferris | Team Ferris Racing | Kart Republic | Hackettstown NJ | US |
| 948 | Gavin Griffin | Checkered Motorsports | Tony Kart | Avon IN | US |
| 926 | Jonah Hanrahan | Trinity Karting Group | Tony Kart | New Richmond OH | KZ |
| 994 | Kendall Hedge | Comet Kart Sales | Tony Kart | Indianapolis IN | US |
| 968 | Ethan Ho | APM Racing | Tony Kart | City of Industry CA | US |
| 998 | Alejandro Jaramillo | Crosslink Competition | Exprit | Dallas TX | US |
| 947 | Abby Keyes | Alex Keyes Racing | FA Kart | San Clemente CA | US |
| 901 | Brandon Lemke | Franklin Motorsports | Merlin | Eagle WI | US |
| 931 | Emory Lyda | Team Nitro Kart | Nitro Kart | Concord NC | US |
| 999 | Luca Mars | Speed Concepts Racing | RedSpeed | Sewickley PA | US |
| 969 | Nathan Martin | J3 Competition | CompKart | Westminster CO | US |
| 911 | Christopher Martin | HRT Driver Development | OTK | Daly City CA | US |
| 966 | Matthew Mockabee | Mike Doty Racing | Tony Kart | Dayton OH | US |
| 939 | Bryson Morris | Rolison Performance Group | Kosmic | Mount Juliet TN | US |
| 934 | Blake Nash | Nash Motorsportz | FA Kart | Riverside CA | US |
| 956 | Nathan Nicholson | Checkered Motorsports | Tony Kart | Unionville IN | US |
| N1 | Austin Osborne | Iron Rock Motorsports | Kosmic | Houston TX | US |
| 949 | Dylan Peck | Rolison Performance Group | Kosmic | Sandy UT | US |
| N2 | Nick Ramirez | Ryan Perry Motorsport | Tony Kart | Riverside CA | US |
| 980 | Brian Rettig | BTR Racing | FA Kart | Springfield IL | US |
| 928 | Eric Sepulveda | | Tony Kart | Harlingen TX | US |
| 921 | Caleb Shrader | Rolison Performance Group | Kosmic | Tigard OR | US |
KA100 Junior Entry List
| No. | Driver | Team | Chassis | Hometown | Country |
| --- | --- | --- | --- | --- | --- |
| 828 | Logan Adams | Comet Kart Sales | Tony Kart | Greenfield IN | US |
| 805 | Thomas Annunziata | Team Ferris Racing | Kart Republic | Colts Neck NJ | US |
| 849 | Noah Baker | Supertune | Tony Kart | Pinehurst TX | US |
| 808 | Alexander Berg | Ryan Perry Motorsport | Tony Kart | | CA |
| 844 | John Burke | Supertune | Tony Kart | Carrollton TX | US |
| 801 | Brent Crews | KartSport North America | Will Power Kart | Denver NC | US |
| 886 | Ava Dobson | Franklin Motorsports | Merlin | Franklin WI | US |
| 888 | Danny Dyszelski | Syntech Racing | Kosmic | Charlotte NC | US |
| 810 | Austin Jurs | | Merlin | Union IL | US |
| 881 | Cole Kleck | | Tony Kart | San Antonio TX | US |
| 800 | Aiden Levy | Team Felon | Tony Kart | Charlotte NC | US |
| 812 | Seth Lucas | Trinity Karting Group | Tony Kart | Delaware OH | US |
| 870 | Christian Miles | KartSport North America | Kart Republic | Paloma IL | US |
| 887 | Carson Morgan | Morgan Racing | Tony Kart | Anaheim CA | US |
| 851 | Mateo Naranjo | Trinity Karting Group | Tony Kart | Edwards IL | CO |
| 802 | Maximilian Opalski | | FA Kart | Conifer CO | US |
| 807 | Peyton Phillips | Iron Rock Motorsports | Tony Kart | Austin TX | US |
| 809 | Camryn Reed | Iron Rock Motorsports | Kosmic | Youngsville LA | US |
| 896 | Mateo Rubio-Luengo | Supertune | Tony Kart | Atlanta GA | US |
| 883 | Cole Schroeder | Syntech Racing | Exprit | Bozeman MT | US |
| 882 | Hallie Schroeder | Syntech Racing | Exprit | Bozeman MT | US |
| 825 | Jacob Smith | Jacob Smith Racing | FA Kart | Cicero IN | US |
| 866 | Graham Trammell | Rolison Performance Group | Kosmic | Springfield OR | US |
| 818 | Jake Walker | Forty7 motorsports | Kosmic | Phoenixville PA | US |
| 819 | Cameron Weinberg | Team Nitro Kart | Tony Kart | Carrollton GA | US |
| 813 | Westin Workman | Timmy Tech | CompKart | Charlotte NC | US |
X30 Junior Entry List
| No. | Driver | Team | Chassis | Hometown | Country |
| --- | --- | --- | --- | --- | --- |
| 715 | Thomas Annunziata | Team Ferris Racing | Kart Republic | Colts Neck NJ | US |
| 749 | Noah Baker | Supertune | Tony Kart | Pinehurst TX | US |
| 708 | Alexander Berg | Ryan Perry Motorsport | Tony Kart | | CA |
| 701 | Paul Bocuse | Speed Concepts Racing | OTK | Orlando FL | US |
| 710 | Donovan Bonilla | Orsolon Racing | Tony Kart | | MX |
| 744 | John Burke | Supertune | Tony Kart | Carrollton TX | US |
| 723 | Michael Costello | Team Benik | Benik | Dallas PA | US |
| 767 | Elliot Cox | Syntech Racing | Tony Kart | Indianapolis IN | US |
| 711 | Brent Crews | KartSport North America | Will Power Kart | Denver NC | US |
| 702 | Andres Perez De Lara | RPL | Ricciardo | | MX |
| 716 | Alessandro de Tullio | Pole Position Motorsports | Parolin | Doral FL | US |
| 748 | Danny Dyszelski | Syntech Racing | Kosmic | Charlotte NC | US |
| 722 | Jeremy Fletcher | Team Benik | EOS | St. Cloud FL | US |
| 720 | Artie Flores | AM | Tony Kart | Spring TX | MX |
| 759 | Rowan Gill | Mike Doty Racing | Kosmic | Fairfield CT | US |
| 733 | Jack Jeffers | Speed Concepts Racing | RedSpeed | San Antonio TX | US |
| 788 | Carson Morgan | Morgan Racing | Tony Kart | Anaheim CA | US |
| 777 | Frankie Mossman | Nash Motorsportz | Tony Kart | La Verne CA | US |
| 725 | Samuel Ng | Team Ferris Racing | Kart Republic | Sringfield VA | SG |
| 721 | Maximilian Opalski | Ryan Perry Motorsport | FA Kart | Conifer CO | US |
| 756 | Jace Park | Speed Concepts Racing | RedSpeed | Overland Park KS | US |
| 712 | Pablo Quiroz | RPL | Ricciardo | | MX |
| 789 | Camryn Reed | Iron Rock Motorsports | Kosmic | Youngsville LA | US |
| 709 | Emiliano Rodriguez | Orsolon Racing | Tony Kart | | MX |
| 773 | Octavio Rosales | | Exprit | | MX |
| 798 | Mateo Rubio-Luengo | Supertune | Tony Kart | Atlanta GA | US |
| 703 | Kyriakos Sioukas | Alex Keyes Racing | FA Kart | Sacramento CA | GR |
| 705 | Alex Stanfield | Crosslink Competition | Exprit | Argyle TX | US |
| 757 | Logan Toke | PKS | Birel ART | San Luis Obispo CA | US |
| 704 | Jake Walker | Forty7 motorsports | Kosmic | Phoenixville PA | US |
G1 Entry List
| No. | Driver | Team | Chassis | Hometown | Country |
| --- | --- | --- | --- | --- | --- |
| 709 | Skitchy Barnes | Harden Motorsports Group | Intrepid | | BM |
| 753 | Joe Ruch | Race Factory | Race Factory | Frankfort IN | US |
| 775 | Amr Sinada | Checkered Motorsports | | Brooklyn NY | US |
| 712 | Anthony Stiffler | Harden Motorsports Group | CompKart | Indianapolis IN | US |
G2 Entry List
| No. | Driver | Team | Chassis | Hometown | Country |
| --- | --- | --- | --- | --- | --- |
| 449 | Justin Peck | Rolison Performance Group | Kosmic | Sandy UT | US |
| N02 | Ken Schilling | Aluminos | Aluminos | | US |
| 421 | Nathan Stewart | Full Gas Motorsport | Birel ART | Justin TX | NZ |
X30 Master Entry List
| No. | Driver | Team | Chassis | Hometown | Country |
| --- | --- | --- | --- | --- | --- |
| 505 | Kim Carapellatti | Carapellatti Racing | CompKart | Olean NY | US |
| 502 | Scot Carapellatti | Carapellatti Racing | Formula K | Olean NY | US |
| 572 | Adam Pettit | Solo Kart USA | Solo Kart | Mullica Hill NJ | US |
| 543 | Scott Roberts | Speed Concepts Racing | Tony Kart | Winter Park FL | US |
| 500 | Jonathan Silva | JS500 motorsports | CompKart | Corona CA | US |
| 503 | Salvatore Sparacio | Solo Kart USA | Solo Kart | Vincentown NJ | US |
KA100 Master Entry List
| No. | Driver | Team | Chassis | Hometown | Country |
| --- | --- | --- | --- | --- | --- |
| 250 | Ron Jenkins | Nash Motorsportz | EOS | Morgan Hill CA | US |
| 217 | Matt Johnson | Nash Motorsportz | FA Kart | Corona CA | US |
| 210 | Nick Tucker | Team Nitro Kart | Nitro Kart | Kannapolis NC | US |
Mini Swift Entry List
| No. | Driver | Team | Chassis | Hometown | Country |
| --- | --- | --- | --- | --- | --- |
| 193 | John Antonino | Race Factory | Race Factory | Bakersfield CA | US |
| 161 | Dylan Archer | Team Nitro Kart | Nitro Kart | Henderson CO | US |
| 163 | G3 Argyros | Speed Factory | Nitro Kart | Newport Beach CA | US |
| 199 | Cameron Brinkman | | Merlin | Springfield IL | US |
| 100 | Cristian Cantu | RPL | Ricciardo | | MX |
| 120 | Corbin Collins | Comet Kart Sales | Kart Republic | Springfield MO | US |
| 177 | Spencer Conrad | Team Nitro Kart | Nitro Kart | Suffolk VA | US |
| 106 | Levi Copass | Franklin Motorsports | | Middletown IN | US |
| 127 | Parker DeLong | Team Nitro Kart | Nitro Kart | Glendale AZ | US |
| 176 | Santiago Duran | Team Montoya | Kart Republic | League City TX | US |
| 144 | Caleb Gafrarar | PSL Karting | Birel ART | Midland NC | US |
| 104 | Valentino Garbarino | Leading Edge Motorsports | Formula K | Martinez CA | US |
| 159 | Max Garcia | KartSport North America | Will Power Kart | Coconut Grove FL | US |
| 188 | Salim Hanna | Team Montoya | Tony Kart | | CO |
| 126 | Ava Hanssen | Franklin Motorsports / DNJ Intermodal | Merlin | Elkhorn WI | US |
| 180 | Ashton Henckel | PSL Karting | Birel ART | Rochester Hills MI | US |
| 117 | Oscar Iliffe | Iron Rock Motorsports | Tony Kart | Austin TX | US |
| 107 | Kai Johnson | AKT Racing | Energy Kart | Gulfport FL | US |
| 155 | Fernando Luque | Supertune | Tony Kart | | MX |
| 197 | Ben Maier | Team Nitro Kart | Nitro Kart | Stevensville MD | US |
| 123 | Helio Meza | Iron Rock Motorsports | FA Kart | Spring TX | US |
| 113 | Ryan Miller | Trinity Karting Group | Tony Kart | Batavia OH | US |
| 139 | Joey Moss | Iron Rock Motorsports | Tony Kart | Houston TX | US |
| 137 | Casey Moyer | Leading Edge Motorsports | Formula K | Brentwood CA | US |
| 167 | Cameron Myers | | Kart Republic | Blue Springs MO | US |
| 169 | Matias Orjuela | Parolin Factory Team | Parolin | Miami FL | US |
| 170 | Evagoras Papasavvas | Trinity Karting Group | Tony Kart | Cincinnati OH | US |
| 164 | Cash Perkins | | Merlin | Bristol WI | US |
| 101 | Cadence Presley | JC Karting | Kosmic | Longmont CO | US |
| 112 | Christian Quijano | Pole Position Motorsports | Parolin | Saint Cloud FL | US |
| 124 | Indy Ragan | Franklin Motorsports | Merlin | Eagle Lake MN | US |
| 102 | Ivanna Richards | | Kart Republic | | MX |
| 146 | Edgar Rodriguez | | Parolin | | MX |
| 140 | Cooper Shipman | Iron Rock Motorsports | FA Kart | Austin TX | US |
| 133 | Ethan Thomason | Iron Rock Motorsports | Tony Kart | Southlake TX | US |
| 195 | Enzo Vidmontiene | URace | CompKart | Boca Raton FL | BR |
| 110 | Oliver Wheldon | JC Karting | Kosmic | St. Petersburg FL | US |
| 194 | Sebastian Wheldon | JC Karting | Kosmic | St. Petersburg FL | US |
| 196 | Tristan Young | VemmeKart | Vemme | Mesa AZ | US |
| 109 | Brayden Zirves | Franklin Motorsports | Merlin | Trevor WI | US |
Micro Swift Entry List
| No. | Driver | Team | Chassis | Hometown | Country |
| --- | --- | --- | --- | --- | --- |
| 26 | Cypress Andruss | AKR Racing | | Sebastopol CA | US |
| 17 | Jackson Baldus | Leading Edge Motorsports | Formula K | Leawood KS | US |
| 29 | Alan Bonilla | Orsolon Racing | Tony Kart | | MX |
| 41 | Sarah Bradley | Team Nitro Kart | Nitro Kart | Fishers IN | US |
| 39 | Max Cristea | Parolin Factory Team | Parolin | Bufford GA | US |
| 13 | Jaime Garcia | HRI | Parolin | | MX |
| 21 | Aryton Grim | CRP Racing/Nitro Kart | Nitro Kart | Hilliard OH | US |
| N1 | Jack Iliffe | Iron Rock Motorsports | Tony Kart | Austin TX | US |
| 22 | Vivek Kanthan | Mike Doty Racing | Kosmic | Westport CT | US |
| 56 | James Moss | Iron Rock Motorsports | Tony Kart | Houston TX | US |
| 11 | Tristan Murphy | Formula Works | CompKart | San Clemente CA | US |
| 20 | Luis Fernando Nunez | HRI | Kart Republic | | MX |
| 49 | Asher Ochstein | Team Benik | Benik | St. Petersburg FL | GB |
| 92 | J.J. O'Neil | Team Nitro Kart | Nitro Kart | Hudson OH | US |
| 16 | Alexander Procuna | Orsolon Racing | Tony Kart | | US |
| 10 | Gianmatteo Rousseau | Team Nitro Kart | Nitro Kart | | PA |
| 55 | Caleb Tarter | Team Nitro Kart | Nitro Kart | Winchester IN | US |
| 14 | Augustus Toniolo | Piquet Sports | CRG | | BR |
| 33 | Jackson Tovo | Team Nitro Kart | Nitro Kart | Warrenville IL | US |
| 31 | Ethan Tovo | | | Warrenville IL | US |
| 99 | Alessandro Truchot | Pole Position Motorsports | Parolin | Miami Beach FL | US |
| 84 | Carson Weinberg | Team Nitro Kart | Nitro Kart | Carrolton GA | US |
| 95 | Ashton Woon | DDW Partners Auto Sales | Nitro Kart | Scottsdale AZ | US |