MRFKC Opening Weekend – Sunday Recap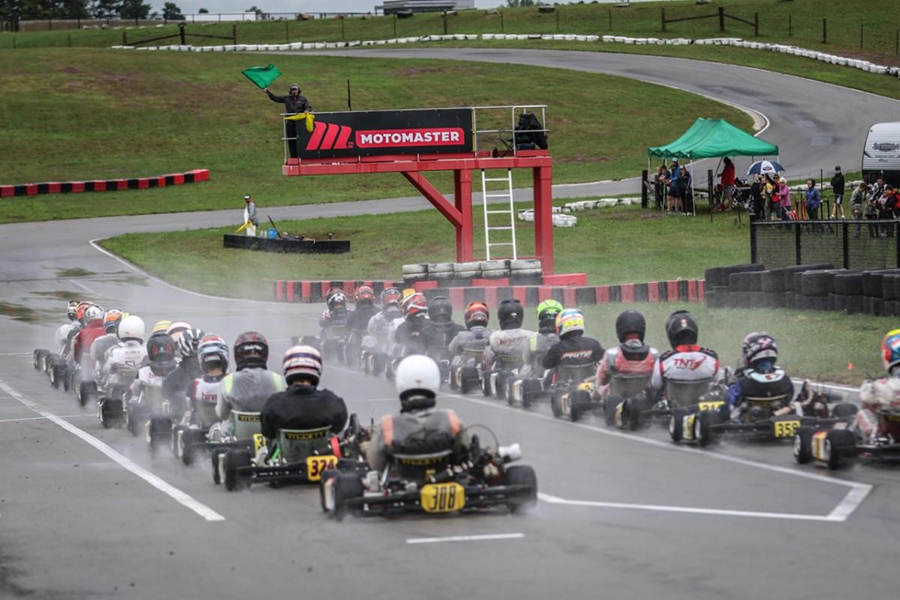 Day two of competition for the shortened 2020 season of the Motomaster Ron Fellows Karting Championship (MRFKC) went green today from Mosport Karting Centre (MKC) in tricky and changing conditions that saw competitors taking gambles at times on different tire compounds.
Morning practice was damp with steady precipitation, and harder rain fell around mid-day forcing a 40-minute delay. Though challenging, rainy conditions give young developing drivers a great opportunity to hone their car control skills and practice different techniques to find grip on a wet course.
Due to the inclement weather the Super Pole format was removed and the grids for Pre-Finals were set using the standard five-minute qualifying sessions.
Adam Ali Rebounds From Saturday Penalty To Sunday Win Briggs Senior
Approaching the scales on Saturday afternoon Adam Ali thought he had won the opening MRFKC final for Briggs & Stratton Senior. An MRFKC series official promptly delivered the news that he had been docked one position for initially jumping the race start, giving the win to Khloe Drummond.
But on Sunday, Ali rebounded from that disappointment to a commanding win in the last race of the day on a drying Mosport circuit.
"I knew we had the pace based off of the results yesterday so it was really great to get a win today after getting that penalty on Saturday," said Ali.
With a second place on Saturday, and a win on Sunday, Adam Ali leaves Mosport with a good haul of points towards the 2020 championship.
"Mosport is my home track, we're here a lot so it was important to get good points here. Some of the guys like Treadwell and Prior are really quick at Hamilton so I'm expecting it to be a challenge but definitely looking forward to it."
For his outstanding performance on Sunday, Adam Ali received $350 for the Pfaff High Performer Award for Senior competitors.
Robert Soroka Powers To ROK Senior Win From P14 On The Grid
Rain stopped around 3:30 PM just in time for the ROK Senior Final, with competitors mixed on whether to stay on wets or take dry tires. Patrick Woods-Toth, who had dominated the weekend in the class coming into the Sunday Final, opted for dry tires along with a good portion of the field. At the start Nicky Palladino streaked into the lead and began building a gap to second place Robert Soroka who had moved all the way up from fourteenth on the opening laps. Both drivers had stayed on the wet tire compound.
But Soroka began to slowly reel in Palladino and made a decisive move for the lead with just two laps to go, holding off Palladino's last turn attack for the win. Jared Ramnarayan finished third, also benefitting from wet tires.
"It was an insane race," said Soroka. "I knew most of the field was on slicks. I wanted to go as hard as I could and I was chipping away at Nicky's lead trying to set purple laps… I want to thank my father and everybody at the Kevin Glover Racing Team and all the competitors who made it a fun weekend."
Daniel Ali Paces The Field In Commanding Briggs Junior Win
Getting away from the field nicely at the start of the race, Ali was consistently fast and smooth; building his lead more and more with every lap. By the end Ali had a lead of 15 seconds.
"I was able to find the rubber, keep calm, experiment with grip. Everything went to plan. It feels great, this was probably my best race ever," said Ali. "I want to thank everybody at Racing Edge Motorsports, Gerald Casey, Derek Michaud, Kevin Monteith, and all my teammates too."
The Pfaff High Performer Award for Junior competitors was a tough decision between Daniel Ali and Frankie Esposito, who went from last to first in a spectacular ROK Junior Final. In the end, the MRFKC team decided to give the $350 award to Esposito for his hard-charging performance.
ROK Mini competitor Jensen Burnett and team earned the Champion Fine-Tuned Award for an outstanding team call in putting wet tires on Burnett's kart with a drying track. But when rain came out shortly after the start, Burnett streaked to the lead and won by over 45 seconds.
Other winners on the day included Elias McKenzie in Briggs & Stratton Junior Lite, Major Makovskis in Briggs & Stratton Cadet, Joshua Conquer in ROK Shifter, and Darren Kearnan in Briggs & Stratton Masters.
Complete events from the day can be found by clicking here.
Next up for the MRFKC is Canadian Mini Indy near Hamilton, Ontario, for Races 3 & 4 of the 2020 season. The event is set to take place on August 29 & 30.