MRFKC Opening Weekend – Saturday Notebook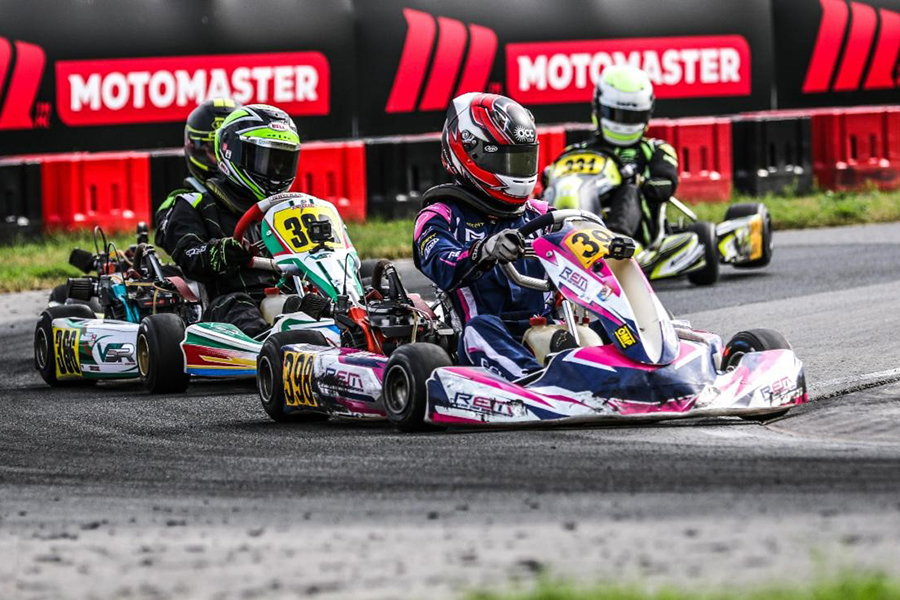 Racing kicked off today at Mosport Karting Centre (MKC) for the first round of races of the Motomaster Ron Fellows Karting Championship (MRFKC).
The weather was nearly perfect on the opening day of competition in this shortened season, which was set to begin in May but was pushed back until this first weekend of August. At close of registration on Saturday morning 115 drivers were entered for the weekend in 10 different classes.
Khloe Drummond Wins Action-Packed Briggs & Stratton Senior Final
Briggs & Stratton Senior had the most entries at 30, with an action-packed Final that saw Adam Ali cross the line in first, but relegated to second due to a one-place finishing penalty for jumping the start. The win was handed to Khloe Drummond who crossed the line only 0.045 seconds behind Ali in the 16 lap final; the very last race of the day. Jake Cowden rounded out the podium.
"I'm super excited. It feels really great to win," said Drummond. "Adam and I were working together all race to try and break away. I didn't know about the penalty but for sure I was trying to go for (the win), but I definitely feel bad for Adam because he drove a great race."
Drummond and her team earned the Champion Fine-Tuned Award on the day for their outstanding performance.
Patrick Woods-Toth Dominates The Day In ROK Senior
ROK Senior was the class with the second biggest entry list. Patrick Woods-Toth took the win in the 18 lap race. Robert Soroka finished second, with Dale Curran third.
"I didn't get the best start but somehow made it out to first place by Turn 2 and managed to stay there, " said Woods-Toth, who had a mistake-free day winning both the Super Pole and Pre-Final before taking the Final win Saturday. "Good points for us for the first race, a good way to start the season … big thanks to my mechanic Ken O'Keefe, Prime Power Team, and AM Engines."
Woods-Toth's sweeping performance earned him the Pfaff High Performer award for Senior drivers. The Pfaff High Performer for Junior drivers went to Marcello Paniccia who won the ROK Junior Final.
Other winners on the day included Gavin Goldie in Briggs & Stratton Junior Lite, Ryan Maxwell in Mini ROK, Darren Kearnan in Briggs & Stratton Masters, Logan Pacza in Briggs & Stratton Junior, Major Makovskis in Briggs & Stratton Cadet, and Dante Lerra in the ROK Shifter class.
The second day of competition begins at 9:00 AM Sunday morning and with wet-weather looming it could prove to be an interesting and challenging day of racing in Bowmanville.