Rain Holds Off for Day Two of Gearup F Series at NY Race Complex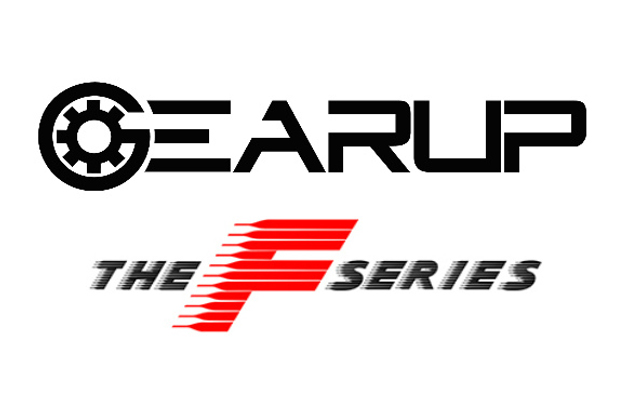 – by Stephen Mallozzi
So, Saturday was wonderful, but the weather forecast was not looking too great for Sunday. But, it was the birthday of the recently passed Ron Carapellatti, and good ole' Ron was watching from above and wrestled with God to keep the rain away. With Ron's birthday, and both the Carapellatti's racing, that created a set-up for an epic moment in the F125 class. But more on that later. With the event running ahead of schedule, and the drivers ready to battle it out yet again, we had an epic setup for Sunday.
MINI ROK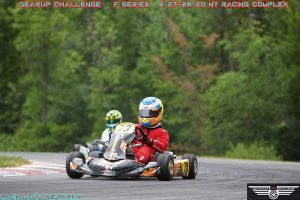 Dan Binder hoped his luck would change just a little bit for Sunday, as terrible luck prevented him from taking even a single checkered flag away from Vivek Kanthan on Saturday. It didn't get off to a great start for Binder, as Kanthan would secure the pole over the #73 by almost a half second. As a matter of fact, Binder was closer to third place qualifier Paulie Hart than Kanthan. Only Hart and Binder were even within a second of Kanthan, as Chrisman in fourth was over a second off, and Logan Kovolvsky in fifth was over a second and a half off pole.
Heat one saw the first crack in Kanthan's armor, as Binder would get to the lead early. Unfortunately for Binder, Kanthan was impossible to hold back as he simply had too much straight line speed. By the end of lap two, Kanthan was back in front. Binder would hound the back bumper of the MDR #22 for the next eight laps, but simply did not have enough to get back around to the front. Kanthan would take his fourth straight heat race win, and Binder would grab his fourth straight second. Hart, Wade, and Hernandez would round out the top five.
Finally, on his fifth attempt of the weekend, Dan Binder would grab the checkered flag in heat race number two. Binder would again grab the lead on the start, but lose it again two laps later. A dog fight between Kanthan and Binder would ensue. The two switched the lead back and forth four or five times, giving us the battle we were all hoping to see. It set up a spectacular finish. Binder was running P2 at the white flag, but threw it deep into turn one to regain the lead. Kanthan took one final run at Binder at the line, but would end up losing by just about eight hundredths of a second. Paulie Hart would again finish third, with Chrisman fourth, and John Wade rounding out the top five.
The last heat race reverted to the mean however. Kanthan did not wait long to regain the lead, and by the time the first lap was over, Kanthan was at the point. Binder was regulated back to P2. That's how it would stay the entire race. Binder tried on numerous occasions to regain the lead, but simply could not pass Kanthan. Binder tried to get Kanthan at the line, but would miss out by just under a tenth of a second. Tom Chrisman and Paulie Hart had their own epic battle at the line, separated by just over seven hundredths with Chrisman taking home P3. Kanthan would stand on the top step of the podium after a nearly perfect weekend, with Binder runner-up, and Paul Hart taking third in the overall for the day.
TAG SENIOR
TaG Senior was again unbelievable in terms of front level competition. The top ten were separated by just six tenths of a second. Jake Heavlow would take the pole over John Bonanno by about a tenth and a half. Chloe Chambers would qualify third, with MDR's Matt Duncovich rolling off P4 and Team Ferris Racing driver Sam Ng rounding out the top five.
Heat one saw Heavlow run away with lead, as he'd win by a second and a half. However, behind him absolute chaos ensued. An unreal battle for second happened on the race track, with seven different drivers involved in the battle. Duncovich would struggle early, at one point falling all the way down to sixth. Eventually though, he'd rebound and end up third. John Bonanno would fall to fourth on the start, but old man Bonanno would take advantage of every passing opportunity presented to him and end up second. Sam Ng and Sutter Gabel each had their best showings of the weekend, coming home fourth and fifth respectively. Chloe Chambers would go backwards after starting third, and tumble all the way down to P8. She was impacted greatly by a battle with Julian Peacock, a fight that would cost her two positions on the last lap alone.
Heat two saw more of the same. Heavlow again won comfortably, this time beating out Duncovich by about eight tenths of a second. Heavlow and team Solo clearly figured something out in between Saturday and Sunday, because Heavlow leapfrogged Duncovich to earn the title of strongest kart in the field. It didn't take Duncovich long to get to P2, as he maneuvered around Bonanno on just the second lap. JB would hold onto third for the rest of the race however. Chloe Chambers would rebound from her tough first heat to come home fourth. Valentin Andrieux would round out the top five.
In heat three, we saw flashes of Saturdays epic 1-2 battle between Duncovich and Heavlow. Duncovich would take the lead on the start, but Heavlow would pull off a pass to regain the lead on lap two. Duncovich would return the favor on lap three. The two dueled back and forth until time ran out, and ultimately, Duncovich led when the checkered flag dropped. After a rough day, Full Tilt's Julian Peacock would end the day on a high note, coming home third in the final heat. Andrieux and Bonanno would round out the top five. In terms of overall points for the day, Heavlow would hold on to take the top spot. Duncovich would take home second, and John Bonanno would end up standing on the final podium step for the second straight day.
FORMULA JUNIOR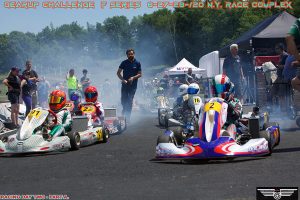 Round two of this epic fight was just as good as round one. Szabo, Lombardo, and Colavita would pick up right where the left off on Saturday with their unreal battling. Even qualifying was unreal, with the drivers all being separated by less than a tenth of a second. Colavita would sit on the pole position, edging out Lucas Szabo by sixteen one-thousandths of a second. Lombardo would roll of heat one in third. Just a little bit behind this front group was Ryan Beerman and Frankie Iadevaia, who each ran laps less than than three tenths off the pole time.
Heat one saw the front three duel it out. Lombardo and Szabo started off with a fight for second. Early on, Lombardo held the spot, but by lap seven, Lucas Szabo had regained the position. Szabo then set his sights soon leader Leo Colavita. On lap ten, Szabo made his move and managed to thrust himself to the point. However, Colavita wasn't done yet. He would manage to steal the victory on the final lap in spectacular fashion, showing the calm composure you'd expect out of a frontrunner. Szabo would hang onto second, with Lombardo coming home third. Eight seconds behind our leaders were Dylan Denhaese and Frankie Iadevaia, who would round out the top five. However, Iadevaia would be penalized for contact with Ryan Beerman (who would end up eighth), which moved Frankie back to one position behind Beerman. This moved the #21 of Yash Rampal into the top five.
Heat two saw a small break in the action. The three stayed in line all race long, and, while they were extremely close together, the trio never really made any serious passing attempts on each other. Colavita lead flag to flag, with Szabo coming home second, and Lombardo again finishing third. Beerman would rebound from his heat one incident to finish fourth, and Denhaese would round out the top five. Trouble would again strike Frankie Iadevaia, who would drop back due to early contact.
Things went absolutely off the rails in heat three. For seven straight official session spread across two days, not a single competitor in the junior class had even been moderately close to Lombardo, Szabo, and Colavita. Enter Ryan Beerman and his Swiss-Hutless #22. After not showing nearly the same speed as our leaders, Beerman came from his fourth position on the starting grid and took his machine to the front with just three laps to go. With two to go, though, Beerman would be trained by both Szabo and Colavita and fall back to P3. An epic race to the front ensued, but in the end, Szabo was just too much when he got out front and took the checkered flag. Beerman, who had passed Colavita for second in turn two, was as close to finishing second as you can get without actually finishing there. Colavita and Beerman had an unreal sidde-by-side drag race to the line and were separated by just three one-thousandths of a second at the line. That difference literally could have been made by simple mounting your transponder an inch lower on the seat. It was incredible to watch, but in the end, Colavita took the position and the overall day win. Szabo would take second on the day, and Lombardo, who faded near the end of heat three, would stand again on the final step.
FORMULA SHIFTER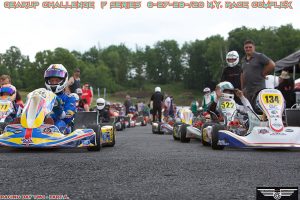 After a dominating performance on Saturday, Race Liberante looked to go for a complete weekend sweep on Sunday. Things got off to a great start for the Race Factory driver as he would put his #134 machine on the pole by over a half a second. Second place driver was none other than shifter rookie Christian Oldhafer, who beat out the opposite of a rookie, Mike Rivera, but just about a half a tenth. Annie Rhule and Marco Oldhafer would round out the top five.
Liberante would dominate the pre-final, leading every lap and winning by over eight and a half seconds over Tyler Guilbuelt. Annie Rhule would move up to P3. Mike Rivera elected to not race Rhule and Guilbuelt super hard, as he understood he was competing in the Iron Man portion of the class, and wasn't technically even against the two drivers behind him. Christian Oldhafer, who had an absolutely disastrous start, fell from second to seventh and struggled early. Oldhafer clawed his way back to the fifth position and had caught Mike Rivera in fourth, but simply could not find his way around to take the spot and would miss out by a tenth of a second.
The final was more of the same at the front with Liberante dominating and leading every lap, although, Tyler Guilbuelt would get as close to Race Liberante as anyone had been all weekend long. He would still finish second by well over a second however. Annie Rhule wheeled her Checkered Motorsports machine to a third, with Oldhafer fourth, and Mike Rivera in P5. So the podium for regular Formula Shifter would be Liberante, Guilbeult, and Rhule, while in Iron Man the podium would be Rivera, Barry Primus, and Csaba Bujdoso.
FORMULA 100CC
Formula 100CC was again two horse race between the Checkered Motorsports teammates. Nathan Nicholson stole the pole position on the second to last lap by under a tenth of a second. Jonathan Ocasio would roll off for heat one P2. Patrick Healy would qualify third more than a second off a pace, with Tony Bonaventura fourth, and Wayne Whitson rounding out the top five.
Heat one saw drama early, as Jonathan Ocasio would end up off the racetrack by lap four. He would DNF and finish last, which was sixth place. That was a huge blow to his chances to win the overall points day, as he would now need help to take home the victory. Nicholson would win easily, with Healy second and Bonaventura rounding out the top three.
Heat two saw the first real racing of the weekend in this class, as Nicolson and Ocasio had a proper back and forth. The two would swap the lead multiple times (at least five, if I recall correctly), and on the last lap Nicholson sat behind Ocasio. Nicholson however, would not let that stand as he made his move on Ocasio. The maneuver killed Ocasio's momentum, and allowed Nicholson to take the checkered by almost two and a half seconds.
Heat three saw Ocasio take the lead on the start, and he'd never lose it. He would go on to get redemption and win by almost two seconds. The rest of the field was unbelievably spread out, as Nicholson came home second, Healy third, Bonaventura fifth, and Daniel Leriche would round out the top five. Nicholson would grab the top spot on the podium, with Ocasio standing next to him, and Healy grabbing the final step.
FORMULA 125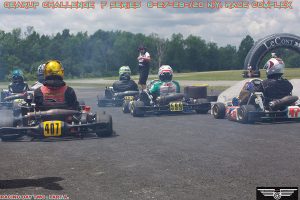 F125 again saw very high quality racing at the front of the pack. But, perhaps more importantly, it saw a moment bigger than racing occur. Kim and Scot Carapellatti, on Ron's birthday, would manage to pull of a 1-2 in qualifying and separated by just eleven thousandths of a second. It was one hell of a moment in the karting community. Dawid Krol would roll of third, with Frank Runco fourth, and Ricardo Nunes fifth. All of the drivers in the top five were separated by less than a half second.
Heat one saw significant amounts of action. Scot Carapellatti would get an epic jump on the start and take the lead. Kim Carapellatti would not be as lucky, as he would fall to fourth on the start. This would lead to problems for Carapellatti, as it would place him one spot in front of Dawid Krol. Krol would make contact with the #605 kart heading into turn two, and send him spinning. Krol would be penalized and finish in P7, one spot behind Kim Carapellatti. Meanwhile, Scot Carapellatti would lead every single lap… except for the last one. Full Tilt Racing's Frank Runco would make a pass in turn one to take the lead at the white flag. Runco would go on to win the race. Scot would come home second, with Ricardo Nunes rounding out the top three.
Heat two saw Runco have a bad start, as he'd fall as far as P5. Runco though would work is way back through the field slowly, picking off each driver one by one. By the start of the tenth lap, Runco was back up front again, a lead he'd never lose. Runco would take his second straight checkered flag. Ricardo Nunes, who himself led three laps, would come home second. Scot Carapellatti, who again had a very nice start, would fall to third after leading the entire first half of the race. Krol and Kim Carapellatti would round out the top five.
In heat three, Runco finally had a good start, got out front, and stayed there. Runco didn't need any late race heroics this time, as he led flag-to-flag. This race wasn't nearly as great from a racing standpoint as the others were, as Scot Carapellatti in second was also in his position from the green to the checkered. Dawid Krol would come home P3 for his best finish of the day, with Ricardo Nunes in the forth position. Jorge Santiago rounded out the top five. Kim Carapellatti's rough day continued, as he was forced to retire on lap ten. I genuinely have no idea how the podiums shook out in F125 (even though I was there for the podium ceremony), as the iron man VS. regular F125 aspect of things throws a wrench into the points standings.
KZ SHIFTER
In the last race of the weekend, Alex Manglass looked to steal his second straight win. Manglass however, would not be your pole sitter as that honor would go to the #207 GFC kart of Jason Henrique. Henrique just edged out Manglass by five one-thousandths of a seccond. Annie Rhule would roll of P3, with Stephen Kruger and Tyler Guilbeault rounding out the top five.
The start of the pre-final did not go well for Henrique, as he would lose the lead to Manglass. Unfortunately for Henrique, Manglass would never give his lead up either. I will say, Henrique only finished about a half second behind, which was the closest anyone had been to Manglass all weekend long. Rhule after falling to fourth on the start, would get around Stephen Kruger with ease and take home third. Kruger and Tyler Guilbeault would round out the top five.
If you were expecting drama in the fight for the lead during the KZ final, I am sorry to disappoint because Alex Manglass would win in dominant fashion, taking the checkered flag by over four seconds. Annie Rhule and Jason Henrique would have a nice battle in the fight for second, with Rhule grabbing the spot on lap ten and ultimately defending well against Henrique to finish as the runner-up. Henrique, after showing the speed to compete with Manglass in the pre-final, would come home a disappointing third. Stephen Kruger, and Tyler Guilbeault again would round out the top five.