Kosmic: The Return to Racing is OK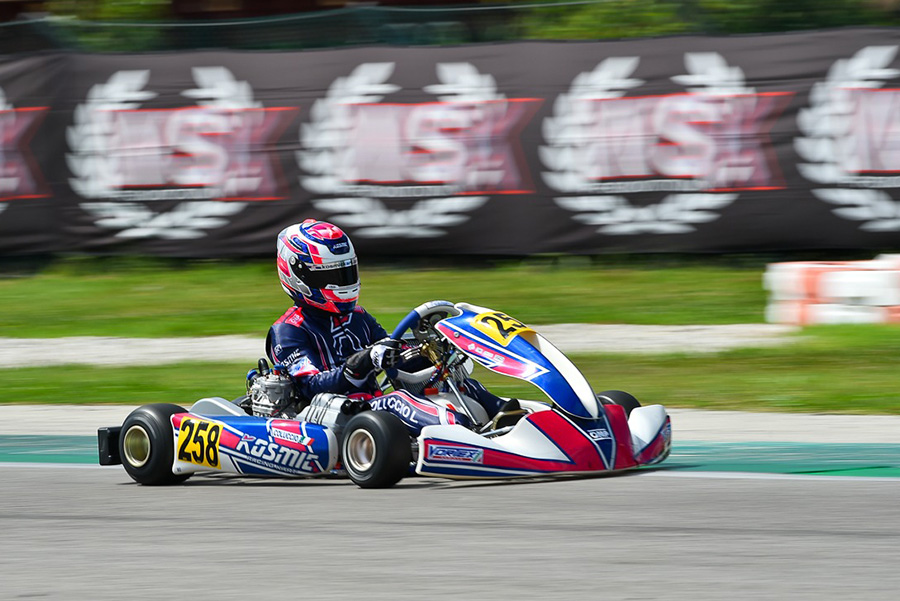 The Kosmic Kart Racing Department proves to be highly competitive and is now ready to aim at the victory in the next race meetings of this intense season.
At the Adria Karting Raceway, the season of the Kosmic Kart Racing Department is starting again, after the great competitiveness shown during the third and fourth round of the WSK Super Master Series.
The greatest satisfaction comes from the OK where our Luigi Coluccio is again the author of an excellent performance at the wheel of his Kosmic Mercury R chassis powered by Vortex, which he is getting more and more familiar with. The Italian is sixth in the last final where he gains 4 positions and fights against the first drivers, after obtaining the fifth position in prefinal. Luigi also conquers a second, two third and two fourth places in the heats of both rounds, besides a third and a fourth position in his qualifying group. An unlucky withdrawal in the first prefinal is however preventing him from fighting once again against the best.
Pretty difficult weekend for Ville Malja, influenced by an injury and not able to put the excellent work carried out in preparation of the event to good use. Thomas Ten Brinke from Ricky Flynn Motorsport, instead, is the author of a good race weekend with the Kosmic Mercury R – Vortex duo, obtaining the top-10 in the final of round 4.
Alexander Gubenko and Ean Eyckmans are getting on track in the OKJ class, proving to be as fast as the best on several occasions. Both will finish in top-ten in the heats of the third round and Gubenko gains a brilliant eighth position in final where Eyckmans improves his starting position as well. Their performances are very good in round four too: Eyckmans centres the fourth position in the qualifying group and both gain a third place in the Heats and the top-ten in prefinal.
In the same category, the young Freddie Slater from Ricky Flynn Motorsport equipped with our Kosmic – Vortex material, reaches excellent positions allowing him to gain the eighth position in the general rating.
Now, the Kosmic Kart Racing Department is looking forward to the next appointment for the OKJ and OK categories scheduled on the Circuito Internazionale Napoli in Sarno (Italy), where in less than one week, the first round of the WSK Euro Series will take place.