Race Factory Brand Launched
New chassis line set to promote the lifestyle of karting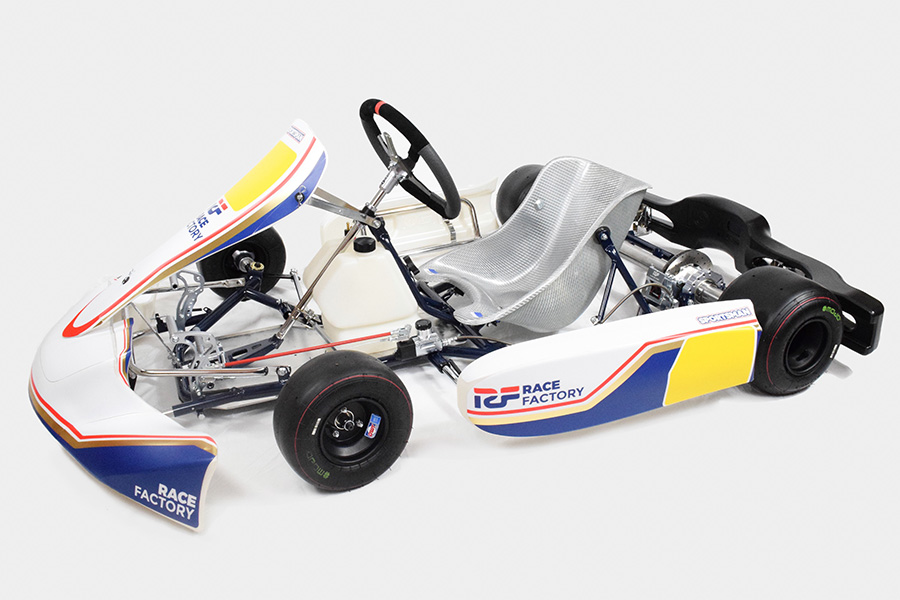 Race Factory is a new brand for the sport of karting
Karting is a lifestyle; from traveling coast-to-coast to compete at the top level or racing every weekend at the club track. That mindset is the basis for a new kart brand – Race Factory. The new chassis line is more than just a kart, it is the launch of a lifestyle brand with a purpose of marketing to those within and outside the sport to promote what karting is.
The Race Factory is founded by Race Liberante. The California native is the reigning Superkarts! USA Pro Tour Pro Shifter 2 champion, Rock Island Grand Prix King of the Streets winner, and defending winner of the USAC Karting Battle at the Brickyard. Liberante has over 20 years of karting industry experience, driving for multiple brands with a background in race car engineering and fabrication. Race was head of research and development and co-designer for another successful chassis brand before launching the Race Factory line. Alongside Liberante is Dr. Anthony DiCeaso. The owner and operator of fitness gyms, chiropractic offices and wellness centers across Pennsylvania, DiCeaso has a background in motorsports with a passion for karting. His vision with Race Factory is focused on safety innovation and health within the sport of karting.
Race Factory is a pure racing chassis brand. The concept is simple yet different than the industry's standard. The chassis line features an updated design and materials sourced from around the world with OEM components or custom options available. The brand will feature a 'base' model and a 'RaceLine' model in 2021. All that with a focus on an affordable price point across the board.
The 'KZ 125' model is an all 30mm design for shifterkart categories. Drivers in 100cc or Briggs 206 competition have the 'Sportsman' model. The frame is a mix of 28mm and 30mm tubing. The 28mm 'Mini' chassis is for all Cadet level racing for 2-cycle and 4-cycle competition.
"Winning is our top priority on the track for Race Factory," added Liberante. "Our research and development is something that will be constant, and innovation is our goal. No matter if you are at the club level or racing at the biggest events of the year, Race Factory karts are designed for American conditions and platforms."
Race Factory is looking toward to the future as well for the sport. One of the long-term goals of the brand is to get the industry involved in promoting the sport with brand ambassadors. A program will be launched in the near future that will give back to the racers under the Race Factory brand.
Be sure to follow Race Factory USA on Facebook and Instagram. Check out www.racefactoryusa.com to launch soon, including a full e-commerce section.