2020 Gearup Challenge Creates Needed Dose of Positive Energy in Karting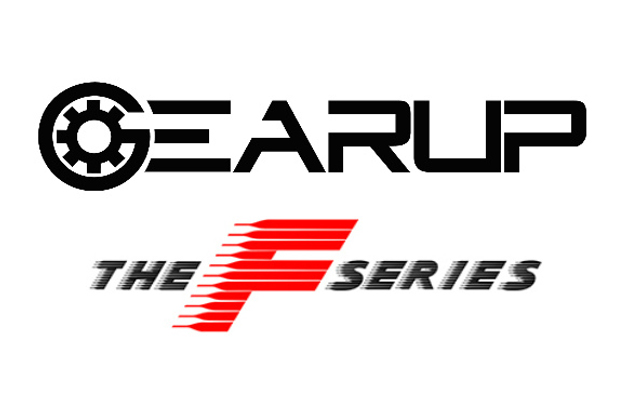 – by Stephen Mallozzi
Last season when F-Series founder Marco Oldhafer boasted New York Race Complex fostered some of the best racing in the country, I thought he was just doing his job: over-exaggerating to hype up the event. But, in reality, good ole' Marco was telling nothing but the truth, and the product on track was genuinely unbelievable. Last season's race was very different though. It was a mid-season race that took place during a fairly normalized time in the world. This race was the season opener taking place in the middle of a pandemic. One thing didn't change however: the track did not disappoint.
Over one-hundred competitors showed up to Morristown, New York from all
throughout the Northeast in order to participate in the event, as drivers could not wait to return to the track after a multiple month delay to the start of the karting season. The season opener brought epic battles, odd weather, and a feeling of normalcy that the karting community has been longing for since the beginning of this trying time. Without further ado, let's breakdown the action.
MINI ROK
After a format overhaul, the F-Series saw the removal of the TaG Cadet class and condensed our little guys into a singular Mini Rok class. It bodes well for the competition, as the class saw fifteen talented drivers enter the event. Right from the start, Dan Binder and Vivek
Kanthan showed they had the karts to beat, qualifying on the front row. Not far behind was Compkart driver Ben Hernandez, rookie Paulie Hart, and Full Tilt Racing's Tom Chrisman.
Those drivers while all fast, didn't quite have the same speed as Kanthan and Binder. Heat one saw the start of a trend that would last the whole weekend: A two kart breakaway for the lead. Binder lead the first three laps, but after that, Kanthan was simply too much to handle. Kanthan would take the lead and never relinquish it. Binder would never really lose the back bumper of Kanthan, but his only opportunity to make a move was stifled by an unfortunately timed yellow flag in turn one. Third place went to Paulie Hart, due in part to problems for Chrisman. Chrisman was running third doing a fantastic job until he had a spin in turn one. He would be regulated to thirteenth place. The #95 of John Wade and Hernandez would round out the top five.
Heat two saw more of the same. Kanthan led from flag to flag, with some help from Binder's unfortunate luck. Again, Binder was hurt by terrible timing. This time, it was lapped traffic that did him in. Binder and Kanthan were bumper to bumper all race long, until the lapped
kart of Keanu Connor simply could not maneuver out of the way of both of the leaders. Kanthan got by on the front straight, but Binder got stuck behind the #107 machine and had to slow down through the S's and up the hill, losing more than 3.5 seconds in the process. Binder would still finish second, ahead of Hernandez, Hart, and a rebounding Tom Chrisman.
Somehow, young Dan Binder must have managed to anger the racing gods, because just like heat two, Binder could not buy a break in heat three. He would get caught up behind lapped traffic yet again with just two to go while barely trailing Kanthan, causing him to fall behind by over a second. Kanthan would end up sweeping the heat races, and put Mike Doty Racing atop the podium in Mini Rok. Binder, with three runner-up finishes, would be second. With two thirds and a fifth, Ben Hernandez would just outscore Paulie Hart to take the final step on the podium, but you cannot take away from the great performance from the young rookie driver of the sixteen kart, as he wheeled his way to a third and two fourths.
TAG SENIOR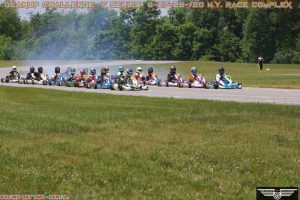 Last year TaG Senior was all about Justin White and Race Liberante. But, neither of those drivers were participating in TaG Senior this weekend, so new competition would have the opportunity to shine. And boy, was it one heck of a stacked field. John Bonnano and his #672 CompKart would participate in TaG Senior after (finally) moving over from F125. Jake Heavlow and Adam Pettit would represent Solo Kart. Matt Duncovich would be MDR's entry at the front of the field. New Senior racer Chloe Chambers would be Tony Lishak's gal piloting her TB #88, while Julian Peacock would be Full Tilt Racing's main man. All six of these drivers would show they were the cream of the crop in qualifying, as they all ran a lap within about a half second of each other. The front three, Duncovich, Heavlow, and Chambers were even closer than that, as they were separated by less than two tenths of a second.
Heat one saw drama at the very beginning; Provisional pole sitter Matthew Duncovich would have to start from the rear of this twenty-kart field courtesy of a blown engine. Now on a backup engine and starting from the rear, Duncovich seemed like he was in trouble. He quickly proved that statement false. Matt, who had been out of a kart for quite some time, spliced his way through the field with ease. It took exactly one lap for him to move inside the top ten, and one by one he continued to pick off drivers. Matt would work his way all the way up to second by the end of the heat, beating out Chloe Chambers by just a hundredth of a second at the line. Jake Heavlow would lead the entire heat and win by 1.3 seconds. John Bonanno would come home P4, with Peacock rounding out the front pack in fifth.
Duncovich and Heavlow would separate themselves from the rest of the pack in heat two.
Duncovich sat patiently in second until about three laps to go where he made a bonsai move into the waterfall corner. I really thought that was the end of the battle; but on the last lap with just a corner to go, Heavlow almost returned the favor, making an incredible pass attempt that nearly catapulted him right back up to the front again. Duncovich managed to remain calm and hold onto the lead however. Julian Peacock gave Full Tilt a P3, with Bonnano and Chambers rounding out the top five.
Heat three was almost a mirror image of heat two. Heavlow took away the lead early from Duncovich. Heavlow and Duncovich would then proceed to break away from the rest of the pack in order to keep things a two-horse race. This fight was critical; The winner of the heat race would take the top step on the podium for the day. Heavlow managed to hold the lead until two laps to go, when Duncovich pulled off the same exact pass he made in heat two. Again, Heavlow made a last-ditch effort to reclaim his lead, but it simply wasn't meant to be. Somehow, Matt Duncovich had started last in heat one, and managed to give MDR their second major overall victory. After a valiant effort, Jake Heavlow would come home second. Julian Peacock provisionally came home third overall, but issues in technical inspection would promote John Bonanno to the final step on the podium. Bonnano would joke while getting his trophy, "The two guys next to me combined would be younger than I am".
FORMULA JUNIOR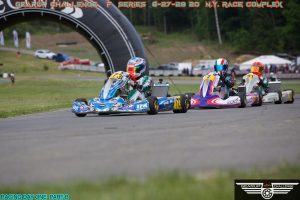 Formula Junior might have been the premier class of the weekend. I said it all weekend long, never in my life have I seen three karts and driver more equal than Alfonso Lombardo, Lucas Szabo, and Leo Colavita were at this event. It started in qually, as the three were separated by just a tenth and a half. Colavita would put it on the pole, Szabo second, and Lombardo third.
Frankie Iadevaia and Ryan Beerman would round out the top five.
In heat one, no one was even eight seconds within our top three, and that was with the guys up front dueling all race long. Szabo and Colavita would switch the lead a few times (although Leo would lead the first eleven laps), and Lombardo would move between the second and third position. On the final lap though, heading into turn one, Alfonso Lombardo, all the way back from the Canadian border, made his move. He magically propelled himself from third to first for a wondrous moment, but Lucas Szabo would use the stifled momentum of both Colavita and Lombardo in order to somehow go to first. There were more pass attempts, but no more successful maneuvers were made over the course of the last lap. Szabo would win, Lombardo would bring it home second, and Colavita, MDR's newest entry in the junior class, would come home third after leading every lap except for the most important one.
In head two, there was more exciting back and forth battles. Colavita used a great start to jump into P1. Szabo had a disastrous restart, falling all the way to fourth. But, in what was hands down the move of the weekend, Christian Oldhafer took the lead. I have zero idea how he did it, but starting in the eight position, Oldhafer used a monstrous run on exit of turn one to propel himself to the lead. He would lead the first lap, but slowly fade back through the pack until he finished up in sixth. Colavita would be the next driver to take the point, and he'd lead the next three laps until Alfonso Lombardo would move to the top of the charts. Lombardo would hold that position until the very end, when Leonardo Colavita made a phenomenal last lap pass in
order to redeem himself for his third-place heat one finish. Lombardo would be regulated to P2, and Szabo would bring it home P3. The points battle would all come down to the final heat race. After all of this crazy back-and-forth battling, Leonardo Colavita shut down the competition and took a flag to flag victory. Lucas Szabo almost managed to steal the win at the line, losing out by just five one hundredths of a second. Lombardo would again come home third. Colavita would win the day overall giving MDR a mini/junior/senior sweep, with Szabo provisionally coming home second. However, Szabo would end up having issues in technical inspections, and would be disqualified. This moved Ryan Beerman up to the final step on the podium, and promoted Alfonso Lombardo to second.
FORMULA SHIFTER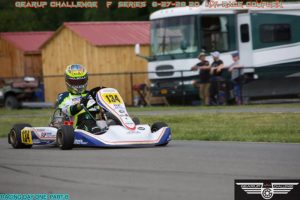 Formula Shifter's big storyline was Race Liberante. Race, a national level competitor in the shifter class, debuted on his new chassis, the Race Factory Kart. Liberante crushed the competition all weekend long, started with qualifying as he put it on the pole by over a second over Mike Rivera's driver Carlos Lopes. Marco Oldhafer (Not the balding one, his son) would start third. Chris Matthew and Amr Sinada would round out the top five.
Liberante would dominate the pre-final as well, winning the sixteen-lap event by over 10 seconds. Carlos Lopes would finish second by a similarly wide margin. Chris Matthew would bring his 22x home third, with Marco Oldhafer and Barry Primus rounding out the top five. It was an extremely spaced out pre-final, with not a whole lot of side by side action.
Now, things got interesting during the final. Six laps into the twenty-two-lap event, the skies opened up and the rain poured down. The F-Series was thrown into an hour and a half rain delay as the event was a red flagged due to dangerous track conditions and lightning. But finally, around 6:30 P.M., we had what I believe was the first ever single-file rolling restart in the history of the F-Series. Race Liberante would lead the entire thing on the wet racetrack. It wasn't without struggle however, as Race had a right rear tire go flat with a couple of laps to go. He had built such a huge lead that he was able to basically coast to the finish, but just barely. His tire blew out as he crossed the stripe to take the checkered flag. Carlos Lopes brought it home second and Annie Rhule would end up in the third position.
FORMULA 100
The F-Series 100cc class was an invitational race to the first round of the Gearup Challenge. Checkered Motorsports had the team to beat as Noah Nicholson put it on the pole position over Jonathan Ocasio by just over a tenth and a half. For the rest of the day, Ocasio would beat out Nicholson. The top five for all three heat races was Ocasio, Nicholson, Healy, Bonaventura, and Whitson. That is also how they would stand on the podium (Ocasio, Nicholson, Healy). There was only one race (heat three) where any two drivers finished within a second of each other, and it was our leaders. Both Nicholson and Ocasio race for Checkered Motorsports, as they dominated the class and took the top two spots on the podium.
FORMULA 125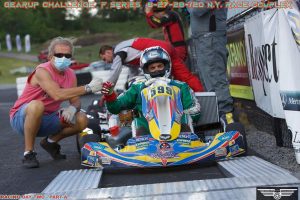 F125 saw smaller numbers than usual, mostly due to the terrible timing of the virus that just made so many competitors unsure about the future. However, as I have said many times throughout my racing life, smaller classes do not necessarily mean bad racing; F125 was a prime example of this. In qualifying, the top three were separated by just two tenths of a second. The top five were just separated by sixth tenth of a second. The top five started and ended with a Carapellatti. Scot Carapellatti wheeled his #502 machine to the pole position, while brother Kim would roll off fifth. Sandwiched in between them was Ricardo Nunes, Dawid Krol, and Frank Runco.
Heat one saw some great back and forth battling, although it would not end well for the Carapellatti's. Neither one would finish the race. Kim would end up out on lap two and finish seventh, while Scot would run second the whole race until lap ten when he would end up crashing. That would regulate him to fifth. Dawid Krol managed to lead heat one flag to flag, although he faced pressure from a charging Ricardo Nunes who finished P2. In the end, Runco would take home the third spot.
Heat two was equally as dramatic, as there was more hardnosed racing. Dawid Krol would wreck out on lap eight after contact in the waterfall as he fell into P7. Frank Runco would assume the lead on the start, and somehow, he managed to lead flag to flag. Scot Carapellatti and Ricardo Nunes dueled it out for P2, but in the end, a lap ten pass would give Carapellatti the position. Nunes would be P3. Runco however, would later be disqualified and be regulated to a last place starting position in heat three.
Heat three took place in the rain, and only four karts took the green: Jorge Santiago, Ricardo Nunes, Dawid Krol, and Frank Runco. Santiago would have a hub fly off his go kart entering the front-straight, and would come to a rest just outside the pit lane. Runco would also crash, regulating him to P3. Nunes would win the rain heat, with Dawid Krol coming home second. The points in 125 Iron Man saw Scot Carapellatti first, Nunes second, and Kim Carapellatti third. The points in regular 125 saw Krol stand atop, with Runco and Santiago alongside of him.
KZ SHIFTER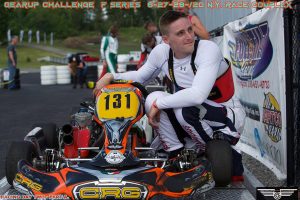 Our last class of the day was the only field really impacted by the coronavirus. Last year's race saw an epic five kart battle between Kyle Apuzzo, Alex Manglass, Lucio Masini, Colin Daly, and Stefano Lucente. Unfortunately, though, with Masini and Lucente being from Canada, and Daly being from Jamaica, none of those three were able to participate. Apuzzo elected not to enter the event (disappointingly). That just left Alex Manglass, and boy did he dominate.
Qualifying saw Manglass put it on pole by two tenths of a second over double-duty driver Annie Rhule. Rhule snagged the second position on the final lap of qualifying by just two one hundredths over Jason Henrique. Tyler Guilbeault and Stephanie Genese would round out the top five of this ten kart event.
The pre-final saw little change, with the only real storyline being Annie Rhule. Rhule did not even manage to take the green flag, as she pulled in after failing to get started early. She would end up eighth still, as Stephanie Genese also had problems. Manglass would win by over a second ahead of Jason Henrique, with Tyler Guilbeault coming home P3.
The real interesting situation happened in the final. The track had been drying for multiple sessions and the weather was looking fantastic as the sun began to set at NYRC. Five drivers took a gamble and elected to go out on slicks. Three drivers, Manglass, Evan Polisky, and Johnathan Trieloff remained on wet tires. I would just like to add, over the official radio, there was a discussion about which would be the right call. The corner workers, head flagger, and even series promoter all agreed slicks should be the call. You know who knew better? The good-looking commentator. I told Marco, there wasn't really a dry enough line to be fast yet, and I was correct. Manglass, Polisky, and Trieloff each lapped every single driver on slicks, including Henrique, who went from a second off to a lap down. Manglass would finish P1, Polisky P2, and Trieloff P3. Henrique would be the first driver on slicks in fourth.