Superkarts! USA Confirms New Race Directors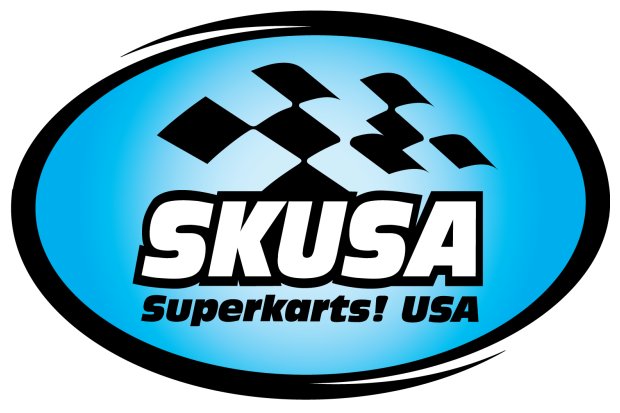 On the heels of the open letter from SKUSA principal Tom Kutscher, Superkarts! USA is pleased to announce yet another small piece of a complicated 2020 puzzle by announcing the next chapter in series officiating with not one, but two new race directors for the 2020 SKUSA Pro Tour and SKUSA SuperNationals.
Effectively immediately, SKUSA is tremendously proud to confirm they have procured none other than veteran race directors Beaux Barfield and John Maesky. Both Barfield and Maesky have stellar resumes and long histories in motorsports, in addition to their current roles at the International Motor Sports Association — where the duo has worked together as a team for the better part of a decade.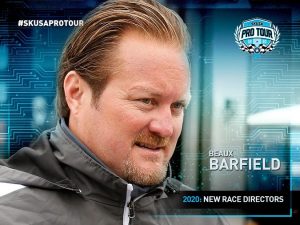 Other major sanctioning bodies, such as IndyCar, are also familiar with the idea of having 1 or more advisors working with a Race Director to evaluate on-track conduct. The concept aims to provide consistency and an alternative viewpoint to look at all incidents.
"It's no secret," said an open and honest Tom Kutscher "the 2020 SKUSA season is unlike anything motorsport has ever seen before. We realize with an entire national season baked into two consecutive weekends; officiating will be of utmost importance. We are pleased to deliver not only one… but two of the best in North America."
The format of two race directors working in concert will be something new to SKUSA but certainly not motorsport. The model has been adopted by several series throughout the country, perhaps most notably IndyCar.
Beaux Barfield is a seasoned race director with nearly 25 years of experience. His resume includes roles as race director and steward for Trans-Am, Toyota Atlantic, ChampCar, IndyCar, ALMS, and most recently the IMSA Weather Tech Sports Car Championship. While Barfield's reputation and experience speaks for itself, Beaux is also no stranger to karting. He raced in his native state of Texas in his earlier days and sees the partnership with SKUSA as coming full circle.
"In Karting, the competition and parity are undeniable, and I couldn't be more excited to return to my roots of where it all began remarked Barfield. Virtually everyone I have had the pleasure of watching in my numerous years of doing this began in karts. I'm looking forward to helping hone the race craft of tomorrow's professional racing driver."
Working in tandem with Barfield is another motorsport veteran, John Maesky. Maesky is no stranger to racing and certainly no stranger to the SKUSA Pro Tour. He has worked alongside the previous officiating crew to consult and advise on the current video marshalling system. Maesky is also the current race director for IMSA's GT3 Cup Challenge in both the United States and Canada.
"Having the opportunity to take on the role of a race director with SKUSA is certainly an exciting one, and an honor," said Maesky. "Having worked with the SKUSA team for a few years now, the processes and operations are all familiar. We will be able to jump right in. With my role in ushering in the SKUSA video marshalling over the last few years, it will be a great opportunity to further refine our process and bring more insight from the professional car racing world to the foundational level of karting. To be able to do with this while working with not only the SKUSA team in place, but also my good friend and mentor, Beaux, will be a huge benefit to all involved. Having the extra set of eyes and perspective is invaluable and will add to the professionalism of the SKUSA brand."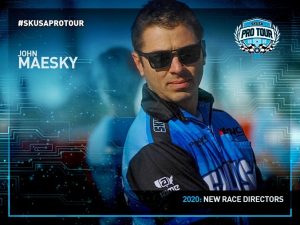 The model going forward will be to have two concurrent race directors at each national event. Each race director will be consulting the other on any penalties or crucial decisions made by the officiating crew. With an entire national championship effectively condensed in two consecutive weekends, the importance of getting every call correct cannot be emphasized enough.
Each race director will be assigned respective race classes to directly oversee, alternating groups throughout the weekend and events. The 'off-duty' race director who is not actively officiating a class on track, will be personally available to talk to competitors, crew, or team managers. If a call is made on-track that requires deliberation or a second set of eyes, both race directors will confer to make the most accurate and fair decision possible.
The revised structure addresses one of the common criticisms of SKUSA and not having a race director available to speak firsthand with participants. In a new push towards transparency and approachability, increasing the presence of SKUSA's officiating crew and making them available for consult are two new initiatives to address these issues.
"To get one of these guys in our ranks would be a big win," explained an enthused Tom Kutscher. "But to get both, working together — we couldn't have asked for a better solution going forward. Having two guys with the wealth of experience and knowledge collaborating and conversing directly with our participants… it's precisely the improvement we're hoping to usher into SKUSA competition going forward."
From a technical standpoint, the officiating process will remain the same. SKUSA will continue to use and iterate their existing video marshalling system to oversee on-track action. SKUSA's new race directors bring decades of experience, but a fresh set of eyes and perspective to the format.
"It's no secret," added Kutscher. "One of the common complaints we hear is a belief the race director has a personal bias or financial incentive to favor one driver over another. While this is categorically false, hiring people within the sport naturally lends itself to this criticism. We're incredibly fortunate to secure the talents of Barfield and Maesky. Neither come with anything other than a desire to be transparent in their efforts to create a level playing field, without bias or any commercial interest."