Road to the Top Step: Hannah Greenemeier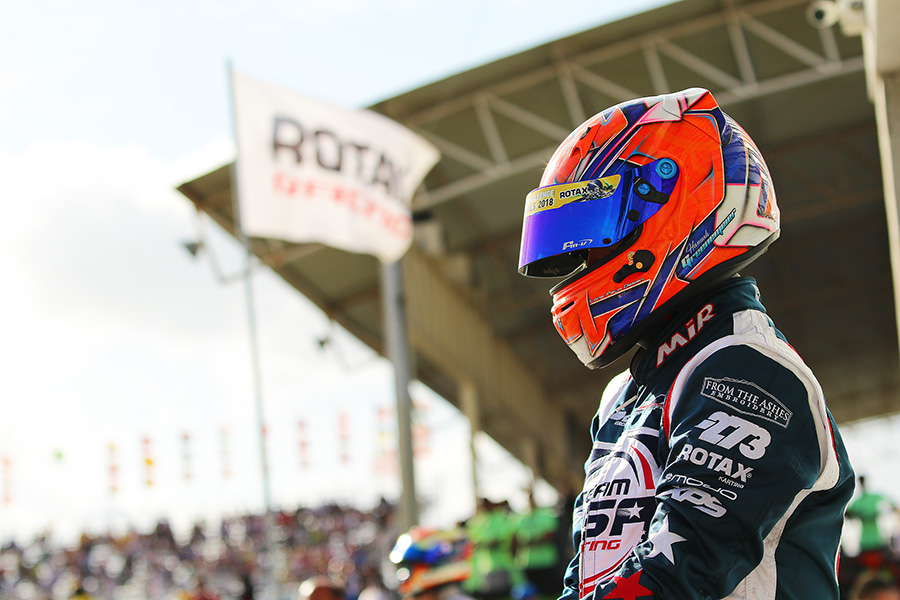 Hannah Greenemeier (Photo: CKN)
Article by Blake Hunt
Lifers.
The karting paddock is filled with people who have spent the majority of their lives either in the seat or with a wrench in their hands. In a way, that says something about our sport and how it consumes a person. Once you're in, the thought of being absent from the track is unimaginable. One person who knows this tale all too well is Hannah Greenemeier. She finds it "hard to imagine what life would be like if racing wasn't in it". She first sat in a Kid Kart at the ripe age of four. That was the introduction to the sport that would become her life. Now 17, Hannah has been around the block in the karting world and is quickly becoming one of the top drivers in the United States.
Greenemeier's path to where she stands today hasn't been an easy or direct one. She learned the ropes by club racing at The Track at Centennial, right down the road from her hometown of Parker, Colorado. Hannah showed promise at a young age, quickly finding her way to the front of her local races. Reminiscing on these years, she laments the fact that she had to wait until she was five to be able to race, but this only fed into her being immediately hooked and having not stopped since.
Going hand-in-hand with her unrelenting thirst for competing has been the consistent level at which she's performed. Like many, she spent her Cadet years finding her footing and honing her craft, slowly dipping her toe into the national scene, before putting all the pieces together during her final year in the cadet categories. Greenmeier didn't feel much pressure during those years in Cadet, instead viewing it as "more of a learning experience," something which would play to her benefit once she felt the pressure of the higher categories.
Having driven for the same team for much of her time in Cadet, Hannah was forced to make a change and move under the Rolison Performance Group tent when there was a scheduling conflict with her team at the time, a change which would alter the path of her career. Her first weekend driving for RPG turned into a permanent switch based on how confident she was in their driver development program.
After the move to RPG in 2015, her last in Mini Max, Hannah was constantly featured at the sharp end of races, which at this point had become solely national races. She attributes her speed to the environment she encountered under the Rolison Performance Group tent. Shortly after joining forces with RPG, Hannah managed to rack up a series of national podiums and regional wins as well as a coveted Rotax Grand Finals ticket in 2017. Despite having what many would consider a remarkably successful run during her two-year stint in Junior, Hannah merely saw it as when she "started to develop as a driver."
Making the jump to Senior competition in 2018, Hannah was thrown into the deep end, and she swam. She went on to receive the honor of SKUSA Pro Tour Rookie of the Year, an impressive feat considering the stacked X30 Senior field she was up against. The season ended with a second straight trip to the Rotax Grand Finals, placing 24th overall as the highest finisher of Team USA on the Senior Max squad. Despite her standout performance her first year in Senior, Hannah struggled during her sophomore year in the class.
"My rookie season was better than I could have ever dreamed of, and so last year I felt like I had to duplicate it. And when it wasn't going as well as I hoped, I let the pressure get to me and really tore myself down."
This struggle did not deter her from wanting to be the best she could be though, so she picked herself up with renewed determination. Going into the 2020 season with the idea that "it's all about just giving everything I got each and every lap", Hannah triumphed in the first weekend of the year, edging out her ever-impressive teammate Ryan Norberg to win a round of the SKUSA Winter Series. Hannah's win was made that much sweeter by the fact that she had the mental resolve to bounce back from throwing a chain in the Saturday final and come out on top the next day. More importantly, for Hannah, a childhood dream was finally realized. She showcased her talents on an international stage and won outright against some of the best in the world.
The feats accomplished by Greenemeier are made even more impressive by the fact that she is one of few females on the grid in most races. Yet for Hannah, that fact is but a minor detail, as she's gotten so used to "racing with all boys". That said, she doesn't deny this has made things harder on her. Being a female, she feels that the idea that "no boy wants to be beaten by a girl" has led to the boys racing her with their elbows out more than they would each other, yet she says that this has "only made (her) stronger" in terms of her racing abilities.
Hannah has also been fortunate to follow in the footsteps of other young girls who have stamped their authority on the American karting scene in recent years, such as the dominating Floridian Ashley Rogero or fellow Colorado driver Sabre Cook, who now finds herself on the W Series grid. Hannah has certainly appreciated having these girls as role models "to look up to and take advice from."
If Hannah continues on her current path, she'll no doubt have a similar effect on the next generation of young girls who get behind the wheel. We'll have our eye on Greenemeier's exploits once racing resumes, as she looks to capitalize on this year's Pro Tour following her early season success.