Kart Track Information: Updates Regarding COVID-19
Track and club status to be updated regularly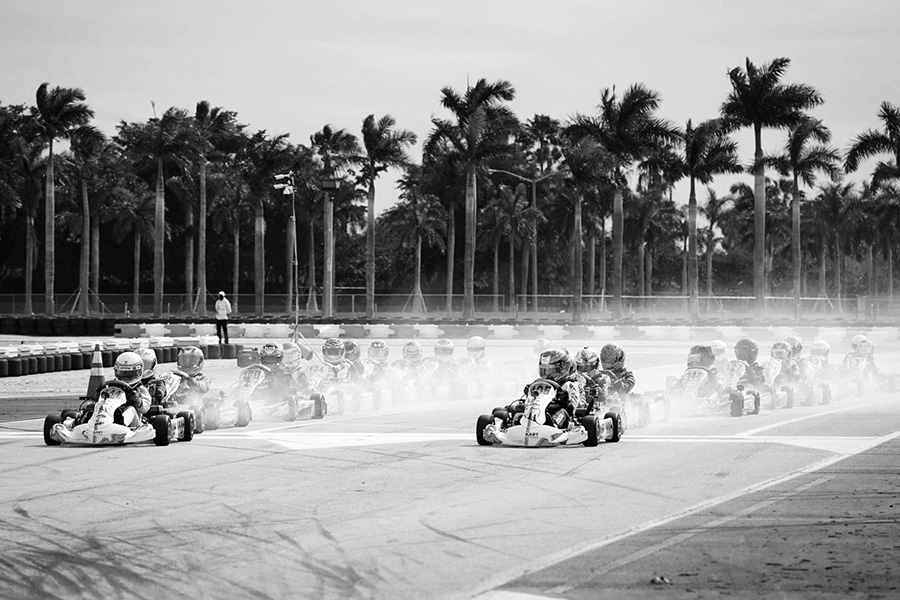 (Photo: On Track Promotions - otp.ca)
This status update document has been assembled to help inform the karting community here in the United States and Canada regarding the current status of our tracks and clubs, whether they are closed, opened on a limited basis, or now beginning their racing season. We ask all tracks and clubs to send us information or updates to newsdesk@ekartingnews.com to help keep the karting community informed.
ARIZONA:
Phoenix Kart Racing Association (Glendale, Arizona): Updated 5.20.2020
Open for practice (members only) for Tuesday thru Sunday with hours in the evening
Track rental is available during daytime hours
First race scheduled for May 2 postponed
Stay at home order expires April 30
Resume race schedule on May 16
97 entries at first club race on May 16 with drivers from AZ, CA, OR, CO, TX
Next race scheduled for May 30 with Summer Round 3 is June 13
California ROK Championship event scheduled for June 19-20
BRITISH COLUMBIA:
Greg Moore Raceway (Chilliwack, British Columbia): Updated 5.4.2020
Open facility to members as test & tune only on May 1
All racing events for May cancelled
CALIFORNIA:
Blue Max Kart Club (Davis, California): Updated 5.29. 2020
Opening May 30-31 to only members
Limited to 20 people a day, each pit is 20×30
Must make reservation
Only driver allowed, minors allowed one adult with them
CalSpeed Karting (Fontana, California): Updated 6.11.2020
Closed indefinitely until state relaxes the 'stay at home' mandates
Announced on June 8 that facility will reopen on June 12
Open practice along with Arrive & Drive programs on June 12-14, 17, 19
IronMan and Super Series events to run June 20 as scheduled
Remainder of June schedule to be finalized
KPX Karting Championship: Update 5.4.2020
Cancelling remainder of 2020 schedule as its planned
Forming a 5-6 race series starting in July and extending into November
Prairie City Kart Track (Rancho Cordova, California):
Track closed until May 31, as dictated by state park where track is located
Off-site kart shop (Cambrian Go-Karts) remains open with reduced hours based on Monday-Friday schedule, practicing social distancing guidelines
Shasta Kart Klub (Redding, California): Updated 5.19.2020
Open this weekend (May 23-24) for practice
Must sign up and reserve a spot in advance
FLORIDA:
AMR Homestead-Miami Motorplex (Homestead, Florida): Updated 5.20.2020
Opening for kart owner practice on May 1
Rental karts still closed until further notice
Open normal hours for owner practice with social distancing guidelines
Rental karts remained closed, part of Phase 4. Phase 1 just went into place May 18
Racing is tentative to return in mid-June
Andersen Racepark (Palmetto, Florida): Updated 5.20.2020
Limited reopening set for May 9
Open Karting only, rental karts to remain closed
No individuals permitted in the Pro Shop or Speed Shop
Waivers and payments made outside
Practice available Wednesday-Saturday from 10am-5pm
ARP Spring/Summer Club Championship Race presented by MG Tires set for June 20
Bushnell Motorsports Park (Bushnell, Florida): Updated 5.20.2020
Returning to normal hours for owner kart time and rentals on Saturday, May 2
March and April competition club race events dates to be rescheduled
Double header night races May 23-24
Updated hours and events on website
Ocala Gran Prix (Ocala, Florida): Updated 5.5.2020
"At this time we can not open on the first phase" per May 2 Facebook post
Cancelled the remainder of their spring/summer local races (May 9, June 13, July 11) per May 5 Facebook post
Orlando Kart Center (Orlando, Florida): Updated 5.5.2020
Opening May 6 for Kart Owners Practice (Wed-Sunday; 10:00am – 5:00pm)
Pre-registration required for all practice days with a limit of 25 drivers and 75 spectators/crew
First Round of Orlando Cup set for May 16-17
Second Round of Orlando Cup set for May 30-31
Rental karts returning on May 20 with more information on procedures coming soon
Parts store/restaurant open same hours as the track
GEORGIA
AMP Kart Racing (Dawsonville, Georgia): Updated 5.29.2020
Building closed to public; open to members only
Public Karting: Tuesday-Sunday 1pm-7:30pm; Maximum of 15 people per session by reservation only. New headsock for all with rental helmets, steering wheels, and seatbelts sanitized between every customer.
Members: Open Tuesday-Sunday
May race day to be rescheduled
4-Hour Enduro to be rescheduled
Kart schools to be run as usual
June 6 race cancelled
Round 2 of Summer Series rescheduled for June 20
ILLINOIS:
Gateway Kartplex (Madison, Illinois): Updated 5.28.2020
Remains closed
Working with Illinois Motorsports Coalition in effort to work with local and state lawmakers to develop a safe and responsible operating plan
Plans in place to re-open once they are given the green light
Given permission to hold 'participant only, non spectator' events on May 27
Ignite Race #1 set for June 6
SuperComp Race #1-2 on June 13
An updated season schedule is in the works
Kart Circuit Autobahn (Joliet, Illinois): Updated 5.29.2020
Autobahn Country Club Board of Managers decided not to open
Illinois Stay at Home order extended through to end of May
Working with state of Illinois to obtain assurances that they are permitted to open before order is lifted
As of May 13, allowing members to practice while following strict operational and safety guidelines approved by State authorities
Facility management decided to shut down May 16 following a complaint made to the state. Track remains shut down.
Track opened on May 22 for only members
First Ignite race set for May 31
Mid-State Kart Club (Springfield, Illinois): Updated 6.12.2020
Facility closed to practice and events until further notice
First club race scheduled for June 20
Plan is to run remaining eight club races with possible dates to be changed to avoid conflicts with regional series changes
INDIANA:
Michiana Raceway Park (North Liberty, Indiana): Updated 5.20.2020
Set to host first club race of 2020 on May 3, practicing social distancing guidelines
Main building and public restrooms closed (portable restrooms on site)
Sanitizer stations to be set up around paddock
Rental karts available with limit of 10 per party, advanced registration and sign in required
Race 2 of 2020 set for May 31
Rental karts opened up to maximum of 25 people, advanced registration and sign in required
New Castle Motorsports Park (New Castle, Indiana): Updated 5.20.2020
Hosted a non-points KRA race on April 26, practicing social distancing guidelines
The official Round One of 2020 KRA Series set for May 3
Track officially closed as of May 7
KRA #2 postponed
Track to open for practice only on May 12, no updates as to next race scheduled
Race 3 for KRA program on as scheduled for May 24 – no spectators allowed and only essential people for each racer allowed
Whiteland Raceway Park (Whiteland, Indiana): Updated 5.20.2020
Open to customer karts on Friday, May 8

7 days a week: Noon to 8pm

No gatherings of more than 25 people

Rental karts not available until helmet decontamination unit is in and operational

Executive Order by Governor on May 6 ends plan to open
Order expires May 23
Opened May 12 for practice only by reservation online
IOWA:
61 Kartway (Delmar, Iowa): Updated 5.15.2020 
Open for practice by phone call appointment, limited to 10 people or less while practicing social distancing guidelines

 

May 3 race has been postponed. Track will tentatively begin its race season on May 17

 

Hosting Round #1 and #2 for 2020 on May 17

 
LOUISIANA:
NOLA Motorsports (Avondale, Louisiana): Update 5.4.2020
Open May 1 for karting members only
Friday – Sunday: 10am-6pm
MARYLAND:
Nicholson Speedway (Chestertown, Maryland): Updated 5.20.2020
Closed until state reaches Phase 2 of reopening for Maryland
Maryland has not reached Phase 1 as of yet.
Limited practice sessions with 2 track workers and 8 participants (10 or less on the property) beginning on May 16 with another day scheduled for May 23 and the weekend of June 6-7
United Karting (Hanover, Maryland): Updated 5.12.2020
Verifying the requirements to reopen the track
Track is currently occupied by the rental car companies from the airport
Hope to resume operations soon
MICHIGAN:
East Lansing Kart Track (East Lansing, Michigan): Updated 6.2.2020
Closed due to 'stay at home' order until May 15.
Opening weekend of May 2-3 cancelled.
Opening status on day-to-day basis dependent on state of Michigan orders.
As of May 28, Opening up for five testing sessions by appointment only this weekend – limit of 10 drivers per session
Tentative open practice set for June 6 and first race on June 7
Confirmed on June 1 their first race weekend for June 6-7
MINNESOTA:
Stockholm Karting Center (Cokato, Minnesota): Updated 5.28.2020
Postponed May 16-17 race weekend, rescheduled for May 30-31
Open for practice to members only
Named Chris Kardashian as new Race Director for 2020
May 30-31 race postponed – rescheduled for August 29-30
Begin to allow racing for rest of the season on June 1
Opening race day set for June 6-7
MISSOURI:
TNT Kartways (Taylor, Missouri): Updated 5.22.2020
Limited practice available by reserved practice slots
First race still scheduled for May 17
Facility open up to normal operations with safety measures in place
Next race is a night race on May 30
NEVADA:
Desert Park Raceway (Reno, Nevada): Updated 5.16.2020
Northern Nevada Kart Club members are allowed to practice at this time
First club race is scheduled for June 7
Track scheduled to host KPX Karting Championship program in July
SpeedVegas Grand Prix (Las Vegas, Nevada): Updated 5.14.2020 
Northern California Karters race 

that was set for April 19 

has been rescheduled for October 11

 
NEW JERSEY:
New Jersey Motorsports Park (Millville, New Jersey): Updated 6.4.2020
As of June 3, state entered Phase II to allow return of certain racing aspects
Private member track days, private corporate groups of 12-20 people
Summer League A Registration open
2-Hour endurance races allowed
No Arrive & Drive karting
NEW YORK:
LaFayette Motorsports Park (Syracuse, New York) Updated 5.22.2020
Worked with local, county and state government to be officially approved to open
Opened May 16 for practice
Opening May 22-23, May 29-30
Reservation to practice open on track website
Oakland Valley Race Park (Cuddebackville, New York): Updated 5.13.2020
Beginning of race season postponed
Club race (May 17) cancelled
Rotax Stars & Stripes race (May 29-30) postponed
Planning to open facility on May 15 depending on New York regulations
As of May 13, tentative opening day has been moved to May 29
NORTH CAROLINA:
GoPro Motorplex (Mooresville, North Carolina):
Returning to normal operational hours on April 28 at a reduced capacity, practicing social distancing guidelines
Rental karts available on May 1 by appointment only
Hosting Motorplex Mania on Monday, May 11 for Briggs 206 Heavy and KA100 competitors
OHIO:
Adkins Raceway (Port Washington, Ohio):
Open for practice by appointment to help follow social distancing guidelines
Racing season on temporary hold
Buckeye Karting Challenge: Updated 5.14.2020 
Round #1 on May 2-3 at G&J Kartway rescheduled for October 24-25

 

Round #3 of BKC Winter Kart Challenge postponed

 
Set to open 2020 season on June 13-14 at Thompson Kart Raceway

 

Additional safety precautions are being put in place and participants will be expected to follow social distancing guidelines that may be in place

 
Dart Kart Club (Mansfield, Ohio): Updated 5.11.2020
Pre-entry open for Mid-Ohio event on June 19-21
Fremont Raceway Park (Fremont, Ohio): Updated 6.2.2020
Track is open for private and semi-private practice sessions
Next scheduled race is Sunday, May 24
2020 race schedule is tentative and subject to change
Held VKA race in early May
Held a non-point race on May 24
Running open practice on Saturday and continuing with private and semi-private practice throughout the week
Racing on June 7
G&J Kartway (Camden, Ohio): Updated 5.22.2020
Facility to re-open for practice on May 22, 2020
Remind everyone to be mindful of everyone's personal space and to use current Ohio government recommendations on social distancing precautions during this time.
Motorsports Country Club of Cincinnati (Milford, Ohio): Updated 5.5.2020
Re-open on May 2
Limited track time for members by appointment in 2-hour increments
One time slot per day/per driver
10:30 – 12:30; 1:00 – 3:00; 3:30 – 5:30; 6:00 – 8:00
Only driver and approved guests permitted on the property
ProAm Karting Championship event on May 16 postponed
OKLAHOMA:
JRP Speedway (Tulsa, Oklahoma): Updated 6.2.2020
May 16 was track day, with members working around facility to open up for the season
May 31 – First club race of 2020
June 14 – Next club race
ONTARIO:
Goodwood Kartways (Stouffville, Ontario): Updated 6.5.2020
Facility eligible to open in limited capacity beginning May 19
Strictly controlled 'gate-closed' environment with admittance through pre-registration only
New upgrades: 340ft of linear verge protection, 60ft of new curbing in bus stop, freshly painted lines, curbing, paddock and grid, additional safety fencing installed, a new viewing area, new signage, renovated registration centre
Spring Training Day set for June 13
TRAK Round 1 set for June 20
TRAK Round 2 set for June 27
TRAK Round 3 set for July 11
Hamilton Motorsports Complex / Canadian Mini Indy (Hamilton, Ontario): Updated 5.22.2020 
Open daily for Practice
Strict Group Numbers
Strict Social Distancing regulations
Race Shop Open for Pre-Order Parts Pick-ups
Split Day Practice Format – Morning and Afternoon
Appointment Only – Online Registration
Drivers Limited to one Guest or Guardian
Innisfil Kart Club (Gilford, Ontario): Updated 5.22.2020
Phase 1 Partial Track Opening on May 20
Private Kart Owners/Members Only
Two sessions: Morning (9am to 2pm) Afternoon (3pm to 8pm)
Driver and mechanic (guardian) only
All are required to book a slot on the TeamApp
Mosport Karting Centre (Clarington, Ontario): Updated 6.11.2020
First phase of re-opening begins May 19
Track is limited to private-kart owners and/or track members
Parts shop open for curbside pick-up only
Hosting Spring Training on June 7
Race 1 set for June 13-14; ROK classes Saturday, Briggs classes Sunday
OREGON:
Pat's Acres Racing Complex (Canby, Oregon):
Open for regular hours to kart owners, reservations only for rental karts
Hosting a one-off race on May 16-17
Been working with OSHA regarding health guidelines to follow at the facility
PENNSYLVANIA:
Pittsburgh International Race Complex (Wampum, Pennsylvania): Updated 6.4.2020
Not permitted to host events
All events for May have been postponed
Green flag to begin hosting races as of June 3
Spectators prohibited, each driver allowed up to five members as part of race team
First race of 2020 set for June 6
SASKATCHEWAN:
Saskatoon Kart Racers (Martensville, Saskatchewan): Updated 5.22.2020
Area in Phase 2, facility to open once they reach Phase 4 and 5
SOUTH CAROLINA:
Carolina Motorsports Park (Kershaw, South Carolina): Updated 5.6.2020
Phase 1 plan underway
Opening for kart practice May 9 by reservation only, regular hours
Kart track available for facility rental
Rental karting closed until further notice
TEXAS:
Gulf Coast Kartway (Katy, Texas): Updated 5.6.2020
Member-owned facility
Open for practice to members following Waller County social distancing requirements
First club race set for May 30 with modifications to procedures to adhere to local requirements
North Texas Kartway (Denton, Texas): Updated 5.15.2020 
Closed for any official events through the end of the NTK Spring Series

 

Member-owned club allows members to practice while maintaining social distancing guidelines.

 

Using time to make needed improvements to facility (covering grandstand area, update PA sound system, extending pit lane runner)

 

Announced on May15, club will go racing on May 30

 

Finalizing procedures to meet with all governmental and CDC guidelines

 
Rimrock Raceway (Odessa, Texas): Updated 4.30.2020
Open for club members
Held first club race on April 26
Next race set for May 31
Following state and county social distancing guidelines
Speedsportz Racing Park (New Caney, Texas): Updated 5.20.2020
Pro Track has been open to members only
Rental Track opening Friday, May 1 with limited hours (Noon – 6pm Wednesday-Sunday) and social distancing procedures in place along with good sanitary practices
Hosted race on May 9
Set to host Texas Sprint Racing Series Summer Shootout on June 19-21
UTAH:
Utah Motorsports Campus (Erda, Utah): Updated 5.20.2020
Re-open Kart Center on May 1 to resume track rentals on a limited basis
Limited to gatherings of no more than 20 people
Face masks, gloves and social distancing encouraged for all guests
Booking karting sessions in advance
Using SaniBoXX Ride Safe Decontamination Unit for rental helmets
Renting track to various groups for testing and racing (no spectators allowed)
Hosting Test and Tune on kart track on May 9 with Round 1 of UMC Karting Championships on May 10
Next race scheduled for May 24
WASHINGTON:
Horn Rapids Kart Track (Richland, Washington): Updated 5.7.2020
Practice and races for month of May have been cancelled in compliance with Washington State Guidelines
Re-evaluate the situation for June
Puget Sound Go Karting Association (Spanaway, Washington): Updated 5.8.2020
Remains closed until further notice
PSGKA will open for member-only practice when Washington state declares it has entered Phase 3 of "Safe Start"
Club racing resumes when state enters Phase 4
No updates to schedule as of yet
WEST VIRGINIA:
Woodbridge Kart Club (Summit Point, West Virginia): Updated 5.11.2020
Cancel WKC Season Opener/WKA National on May 29-31 at Summit Point Motorsports Park
Facility is closed until May 18, with no timeline for remainder of the month
WKC schedule now includes July 11-12 (Shenandoah Circuit), August 22-23 (Summit), September 25-27 (Pittsburgh)
WISCONSIN:
CTECH Manufacturing Motorplex at Road America (Elkhart Lake, Wisconsin): Updated 5.7.2020
Host RAKC Race #1 on May 16
New procedures in place to keep social distancing in mind
Only current RAKC members allowed to compete
No spectators will be allowed – only drivers and essential crew members.
Wolf Paving Raceway (Dousman, Wisconsin): Updated 5.15.2020 
Currently closed for practice and racing due to safe-at-home order until May 24

 

2020 Badger Kart Club point races through May 24 are postponed until later dates

 

Open status is dependent on state of Wisconsin orders

 

As of May 15, track will open for practice on May 16 and 17 to 2019/2020 club members only

 

No points race May 17

 

Closed May 23-24

 

Anticipate first points race of 2020 on May 31