Morning Coffee: Planning for the Return to Competition
Club karting will be the initial re-opening for the sport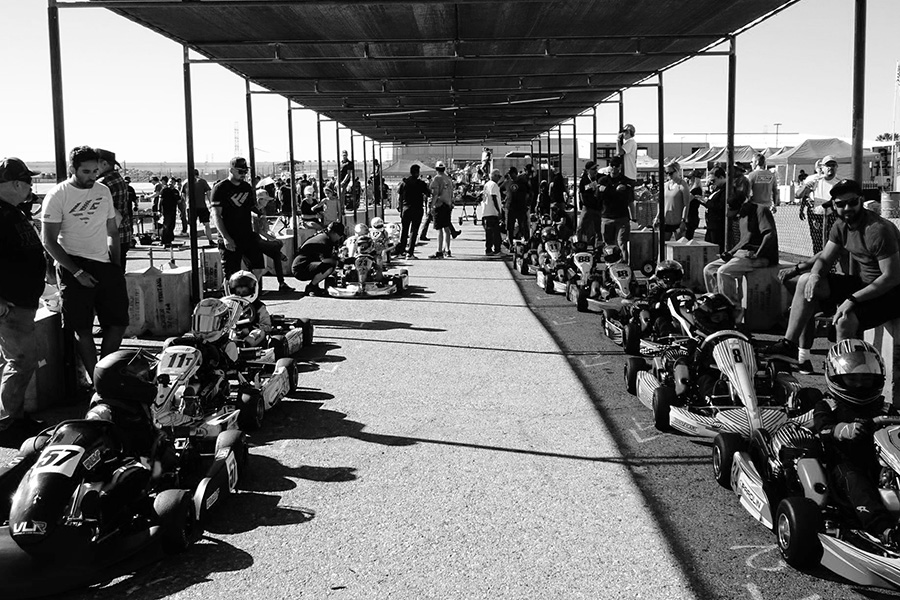 (Photo: Tri-C Karters)
Each day, a vast majority of us peruse news websites and watch TV for updates on the daily coronavirus case numbers, and their increase or decrease, to gauge the current situation and the overall picture. We're all hoping to see an ongoing trend of decline and, in a few states, this appears to be the case.  Some of the initial projections of proposed infection numbers appear to have been erroneously high, as the realistic scenario has settled into a much lower percentage of the population. Regardless of these numbers, COVID-19 is a very real and destructive force, and efforts must continue to flatten the curve and prevent the spread of the virus so that some semblance of normal life can return.
That said, there are states that are now outlining plans to allow certain businesses to re-open, such as Georgia, which has stated that they will allow gyms, bowling alleys, salons and other indoor facilities to re-open on Friday. They are looking to open restaurants next week. Many will say that it's much too early for such an opening, considering the direct personal contact at many of these businesses. Thankfully for karting, we have the ability to re-open with zero physical contact and standard social distancing at our events. So does this affect our eventual return to competition?
All of mainstream motorsports is busy working the numbers every day, calculating the timeline and options to determine an opportunity to restart their seasons.  We're hearing talk of running races without spectators, as is the case at the Texas Motor Speedway for a NASCAR event, and we've already seen combined efforts like the INDYCAR Grand Prix being moved on the Brickyard 400 schedule at the Indianapolis Motor Speedway on the July 4 weekend.  While the spectator-focused programs no doubt have a bleaker outlook, the opening of public events in certain states does provide some positivity for karting, and club level karting at the beginning, to be more realistic.
When public gatherings indeed become allowed, you can be sure that there will be restrictions on the number of people at any event. We're not going to wake-up one morning and hear or read that 500-person events are allowed.  We'll be looking at 100 people, if we're lucky.  This crucial and no doubt controversial step will provide smaller club karting programs with the opportunity to open well before any professional motorsport, which is huge for the industry and the community.  Even regular club races with 100 or less drivers would be critically positive for getting money and sales moving back within the industry.
Yes, we're eventually going to get back to racing, so what will it look like?  How will we need to approach race events when the restrictions are lifted in specific tiers with set attendance numbers in place?  Will be allowed to have a maximum of 100 people at the track?  150 people? 200 people?  How will this look?  I don't have the answer for that, but I do think now is the time to have those discussions to come up with a nationwide plan.
Let's throw out some situations and some ideas, to see what will work to get things rolling again.
Here's a thought, for when 100-people public gatherings are allowable. I see an opportunity for a larger club to split its classes over a two-day weekend to lower the overall attendance number.  For the sake of this example, let's say that a state allows public events with a max of 100 people, with the stipulation that everyone wears a mask and maintains regular hand-washing and social distancing. There is no need for personal contact at our events, so social distancing is relatively easy to accomplish. If you count the need for 10 track workers to handle registration, manning the grid, scales and tech, and on-track officials including the flagman, a race director and corner workers, you could have 45 drivers at the facility with one mechanic or parent alongside them and still stay below the 100-person mandate.  Just 45 trucks and trailers in the paddock would allow for 10' between every trailer and pit spot and we could all respect personal space on the grid as well.  This can be done, all within the rules set down by the state government. We wouldn't just be abiding by the state's orders, but we'd also still be taking care of each other, which is the key mandate and understanding.  If a club had more than 50 racers, they could split into separate Saturday and Sunday events to get our sport back rolling again.
Here's another positive. Can we use this current challenge to evolve our registration process?  Can we finally do away with the old school physical signatures for the insurance waiver, which would eliminate close contact with the person at registration?  Can we do this online? I've signed for many documents online in the past.  Also, let's record a virtual drivers meeting and everyone can watch it BEFORE coming to the track.  We don't need to congregate anywhere during an event, so eliminating the drivers' meeting is a must.  In the scale line, set up cones at 10' intervals and everyone stays apart when they leave the track.  Keep the scale official 10' back from the drivers as they cross over the scales.  As long as everyone understands the need for personal distance, we could begin running smaller races once public gatherings are reinstated at whatever level. We need this, and our industry needs this, but we need to do it correctly.
I'm not suggesting that we all rush back to the track en masse, but there will come a time when the restrictions will decrease and we'll have our opportunity. Ahead of that time, I'd love to see planning and discussion begin now so that we'd all have a good understanding of what the new reality will look like.  If we come up with a plan, and clubs from across the country can work together to formulate a standard approach, we can get our sport rolling again while still maintaining a shared respect for safety of our community.  If a club comes up with a positive idea or concept to further protect the races and staff, let's get it shared throughout the karting family so every club can consider implementing it.  If you have plans, share them by emailing us at newsdesk@ekartingnews.com and we'll develop a document to post and share.
Outdoor public gatherings will be allowed again soon, like it or not, and our industry needs this to happen as soon as legally possible.  Tracks will re-open and races will be run, and if we roll out as many personal safety procedures as we can, we'll be unlike a vast majority of stick-and-ball sports out there that are based on close physical contact.  We have an opportunity that most do not.
I look forward to getting input from tracks and clubs on the plans that they are putting in place for our eventual return to competition.  The time to plan is now, so that our relaunch will make personal health and safety the #1 priority.