#SupportKarting – The T-Shirt
Proceeds of new EKN tee to support website industry partners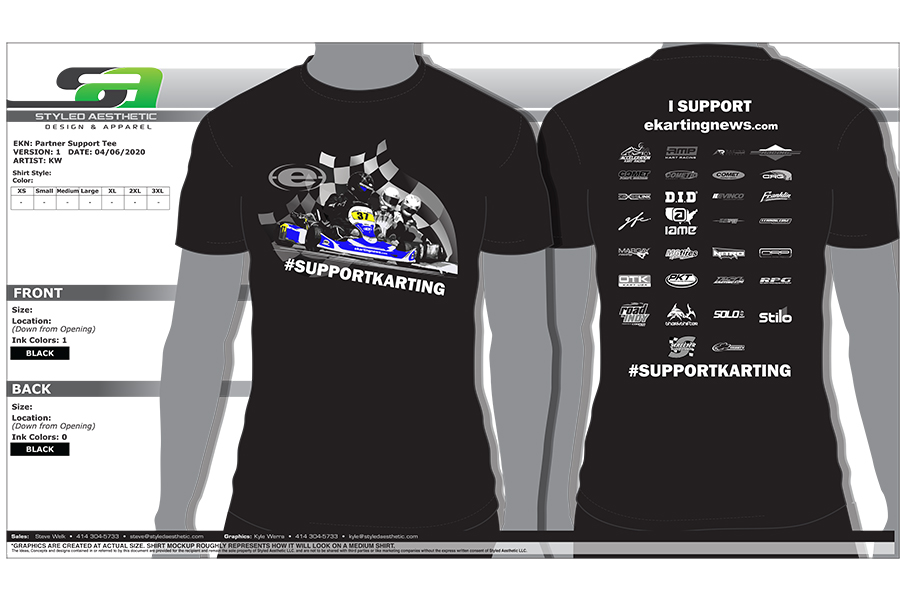 If you're like me, your entire t-shirt collection has an over-riding theme of motorsports. I have every EKN design in my line-up, two of a few of them, as well countless Cooper Tire, Road to Indy and IndyCar Radio shirts. Our friends in the industry love to drop off cool shirts in the PA booth and I wear them on a daily basis. I've been asked many times while out in public, "What's a CRG" or "they have karting in Bermuda?". Yes, there are shirts in my closet from CRG, the Bermuda Kart Club, Superkarts! USA, Challenge of the Americas, the F Series, Rock Island GP, Margay, Odenthal Racing Products, the CKNA Grand Nationals, a few driver shirts and many other series and companies. Alycia will often buy me plain colored t-shirts from Old Navy just so I don't have to wear racing t-shirts everywhere we go.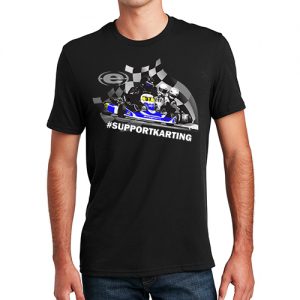 Well, I'm getting a new shirt that I'll be wearing almost every day until we're through this COVID-19 coronavirus pandemic and back at the racetrack.
David and I have been working even more hours than normal to support our karting industry and community, and we're totally focused on producing more and more content for those of you who are doing the right thing and 'staying home' to help flatten the curve. We came up with our #SupportKarting initiative to keep the karting community thinking about our karting industry, which is the backbone of our entire sport. We're taking this a step further with our new #SupportKarting t-shirt, which will be available through the EKN Store from our partners at Styled Aesthetic. It's our way of trying to help those special people in the karting industry who believe in our mission at eKartingNews.
All the proceeds from this new t-shirt will go to support our EKN marketing partners; the companies and shops that, through their support of our efforts and passions, keep the lights on here at eKartingNews.com. Without them, we would not be able to do what we do, or what we have done for the last 16 years. Our new #SupportKarting t-shirt features the logos of all our current EKN partners and we're blessed and thankful to have their continued support.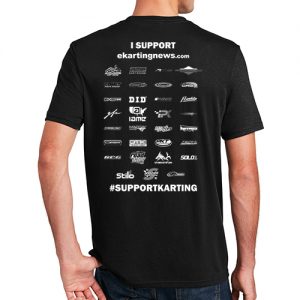 So, if you want to do a little something for the karting industry and get behind our #SupportKarting initiative, and promote the sport at the same time, head to the following link and pre-order your own shirt. We'll start printing next week and will get the first shipment for the pre-orders out as soon as they come off the press. We have three options for the shirts, as they'll be available in both 100% cotton and a lightweight breathable 'performance' option, which we know a lot of people like. We'll have a youth shirt as the third option, available in both cotton and performance styles, as well.
And to make things even more interesting and more productive for our industry, we're asking anyone who purchases a #SupportKarting t-shirt to wear the shirt and post photos on your social media channels. If you do this, and tag eKartingNews.com and use the hashtag #SupportKarting, you'll be entered into a weekly draw to win more EKN swag.
Let's all band together and make sure that karting is as strong coming out of this shutdown as it was going in!
#SupportKarting