Behind the Laptop: Jumping Into eSports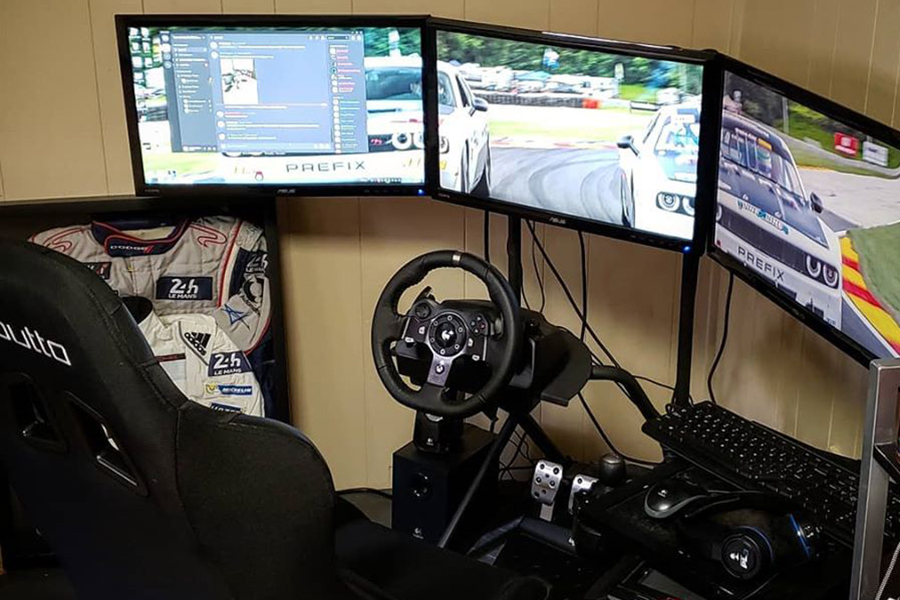 We are nearing the end of the fourth week of 'Stay at Home' movement due to the COVID-19 pandemic. I have mixed emotions of how the time has passed. It feels like forever that I was trackside at NOLA Motorsports for the Superkarts! USA Pro Tour WinterNationals before watching the paddock tear down that Friday evening due to the state order and jumping on a plane on Saturday morning. Yet, it is hard to believe that it has only been four weeks since being in NOLA.
Thankfully, I have kept to my normal schedule of working during the weekdays, keeping up with updates from karting series, tracks and clubs during the unprecedented time we are in. It's allowed me to focus on some additional editorial that we had planned, with more to come as we draw closer to the end of this pandemic.
When not watching movies or playing board games with the family, I've gone all-in on iRacing. My wife has been student teaching this semester and was scheduled to graduate in May enroute to becoming a middle school social studies teacher. It was a change to our normal routines, as she would leave before our kids left for school and it also sent her to bed earlier than before. This left me with ample time in the evenings with the family in bed and nothing to do. So, I pulled my old Logitech Momo wheel/pedals out of the storage room and subscribed back to iRacing this January.
The last two weeks have been the most online racing I have done in my life. And now, with everyone following the social distancing guidelines throughout the United States and around the world, many race fans are flocking to iRacing. One of the great aspects of iRacing is that anyone can sign up and race, from the top professional level of motorsports to the racing fans who don't have the time or budget to race themselves.
There are hundreds of thousandths of people registered on iRacing, all with different origins and backgrounds. The one thing that combines them all is the drive for competition. No matter the speed, car or track, everyone wants to be able to cross the finish line first.
I connected with three karters, all with different backgrounds and experiences, who are into eSports and how they became involved in online racing.
One name you will see at the top is David Kalb Jr. The 18-year-old Ohio driver is a former WKA Gold Cup champion and he has developed up the karting ladder to TaG and shifterkart competition. Over the last few years, Kalb has been putting much of his focus on dirt and oval racing, with a Super Late Model program set for 2020 at Barberton Speedway in Ohio. Kalb began sim racing in late 2015 with iRacing and have been racing weekly. During the off-season, he spends a couple hours a night on the sim. He really enjoys running dirt oval races, and his favorite car/track combo is a sprint car at Williams Grove.
"Sim racing has really done a lot for my racing career," stated Kalb. "When I made the transition to dirt oval racing in 2017, I was clueless on how to drive a dirt oval car. Luckily, dirt racing had just been added to iRacing. I pounded thousands of laps and really learned the dynamics of a dirt track which made me feel really comfortable and competitive jumping in the car for the first time. Most recently, iRacing has really come in handy in my asphalt late model debut this past summer. Driving late models on iRacing made me feel much more comfortable predicting what the car will do and the driving style needed to be fast."
Kalb currently has a gaming computer he built himself, together with triple monitors, a Logitech G27 wheel and Obutto seat.
Drivers who don't have the time to get to the real track take advantage of eSports. This list includes former SKUSA Pro Tour winner, USPKS and WKA champion Kyle Kalish. For more than a decade, Kalish and his dad Scott were found at the kart track under the Franklin Motorsports / Merlin USA tent, from the young Cadet years to Pro racing at the national level. Kalish has a solid karting resume, and took what he learned on and off the track toward earning a bachelor's degree from the University of North Carolina at Charlotte in Mechanical Engineering. His graduation led to a job in southern Indiana, just a few hours south of where he grew up in northern Illinois.
eSports began early for Kalish, about 15 years ago with NASCAR Thunder 2003. Sim racing began in 2010 with a game called 'Live For Speed'. The platform Kalish utilizes is Project Cars. The console game is the closest you are going to get to a simulator game. He enjoys racing GT3/GTE cars, and favorite tracks are Red Bull Ring and Road America, racing about 5-6 hours a week.
Kalish is on the verge of joining iRacing, and behind that is the start-up eSports sim racing team he has put together with fellow karters.
"I spend a good amount of time working with and watching my friends who I've started a sim racing team with former karters Jacob Knueven and Riley Roush," stated Kalish. "It's been fun working with them on getting a team built up and set-ups perfected so I can hop right into a competitive car when my iRacing build is finished."
Kalish continued, "The two biggest things that translate between real racing and sim racing are driving line and braking points. You translate those between both, so your learning curve from going to a real track to the sim and vice versa is significantly lower. On top of that, I do think there is hand-eye coordination benefits similar to what you get behind the wheel of a real kart/car. It may not be to the same extent, but when you compare the cost of going to the track versus starting up your computer and loading up a sim race, it's hard to complain."
Currently, Kalish has a Logitech wheel mounted to a desk, however, his computer is too outdated to run iRacing. A new desktop is in the future, along with a proper seat and monitor setup as well.
One driver I know who has been doing eSports about as long as me, but many more hours than I have, is Marc Miller. Some of you may know Marc as the former marketing director with MRP Motorsports, or the 2008 Rotax Grand Nationals winner, or more recently, the Trans Am Series Presented by Pirelli TA2 2019 champion. As we all are, Miller is waiting patiently at his home for race tracks and events to return to normal. Until then, Miller is keeping sharp with eSports and sim racing.
His venture began back with the original rFactor, utilizing a Momo wheel and pedal set hooked to a glass dinner table with a wooden chair. He remembers how the force feedback would be too high and the wheel would slip off the table, causing him to crash the virtual car. Today, he plays on all platforms – iRacing, rFactor, and Project Cars 2.
"iRacing is the gold standard when it comes to track models, but I like Project Cars because sometimes it has more tracks I was planning on racing," stated Miller. "For instance, it had Le Mans before iRacing did, and it helped acclimate things for me. rFactor has some upsides because it is open source and there seems to be a series and cars for everything!"
Before the pandemic, Miller would use the sim only a couple times. Now, he's on it every day. "I typically go in with a plan, looking for better set-ups, entering events just to work on racecraft. Considering the delays to the racing season, I am sure you will find me on there quite a bit."
Aside from driving, Miller has spent much of the last decade as a driver coach. The pandemic that is hitting us has opened up the opportunity to provide online coaching, seminars and simulator coaching. "I have already downloaded the necessary live telemetry software to coach my clients online just to keep everyone prepared for when we all get to smell race fuel again!"
"Depending on the sim/track, you can transfer a bit. If the track scans are good and cars are similar to what you race, you quite often can get a great sense of visual references, curbing, shift points, etc. I find that people are much more bravely unsuccessful at clean passing on sims because there is no pain or expensive damage involved so most of the time I spend preparing in private testing. Now that real world racing is at a stand still, many pro racers like myself are forced to get out there and beat and bang a little. There are a lot of very fast drivers in the sim world, and now many of us are playing catch up – but we often do quite well. I will definitely invest more time into the sim, because time is what I have right now."
Miller's current setup is an Obutto cockpit with a Logitech G29 wheel and pedals, including a dedicated gaming computer with triple monitors.
No matter the console, the computer or wheel system you have, there is a way to keep the love of racing and competing alive. Thankfully, we can take this stay at home period to help stop the spread of this virus and keep our passion going. Be sure to connect with your friends and family on how to join eSports so you can set up weekly events to look forward to during this time of uncertainty.