Birel ART E-Kart Makes Strides in the Indoor Rental Kart Market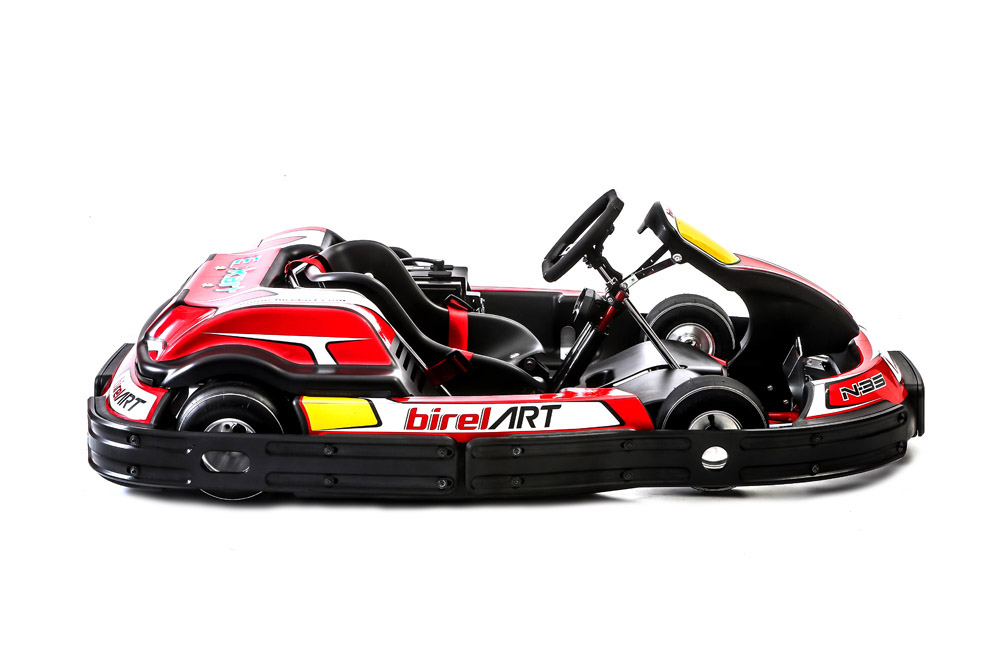 Continuing to push their products, Birel ART North America is pleased to provide more details on their new e-Kart. Designed for the indoor karting market, but also for outdoor tracks, the Birel ART e-Kart is an electric kart that brings the race design to the rental kart market along with futuristic technology that will continue to shape and mold the industry.
"We are very pleased with the design, research and development of the Birel ART e-Kart," explained Dominic Labrecque. "We have sold numerous fleets and have had nothing but good comments. The battery design is one of a kind and not only provides greater and longer run time, but also decreases the fleet cost for rental kart facilities."
Battery powered and with state-of-the-art technology that is taken from Zero Motorcycle that allows forty-five-minute run times, only twenty second battery changes and countless years of operation, the Birel ART e-Kart will take control of the indoor rental kart industry.
"In our partnership with Zero Motorcycle, an electric motorcycle company that has been in the battery powered vehicle industry for more than fourteen years, we are buying knowledge of a premium product while our competition is trying to develop," added Raphael St. Charles. "The Birel ART e-Kart is a powerful rental kart with race-like look and feel. The new electric kart is easy to drive, has the possibility of changing speeds, only one battery with a smart removal system, a reverse gear and a power boost mode that can be activated. Put all of this technology with adjustable pedals, adjustable seat and more, the Birel ART e-Kart is your key to turning profits."
St. Charles continued, "We have solutions for you. Working with the factory as well as many different suppliers, we have the ability to provide sales and support, but to also help build your program. Working with key members of the karting industry, we can help you from A to Z."
With single and double seat solutions, thousands of hours of research and development have gone into the design of the best rental kart on the market. Focusing on adjustments to suit all drivers' sizes, as well as the safety that is needed in motorsports, the Birel ART Rental Kart is the one for you.
With programs available to try before you buy as well as complete product showcase programs, we make it easy to make your best decision. For more information to become part of the Birel ART Rental Kart as well as the Birel ART, Ricciardo or Charles Leclerc dealer networks or information on how to join the PSL Karting Race Team for the 2020 season, please contact Raphael@PSLKarting.com
Birel ART North America (PSL Karting) is the National Importer and Distributor of Birel ART products and accessories, including Ricciardo Kart, Kubica Kart, the Charles Leclerc chassis line and Freeline accessories. Visit www.pslkarting.com to find a retailer near you. Follow our racing team and product updates via our social media @pslkartingofficial