Morning Coffee – Support Karting
It's time to return the favor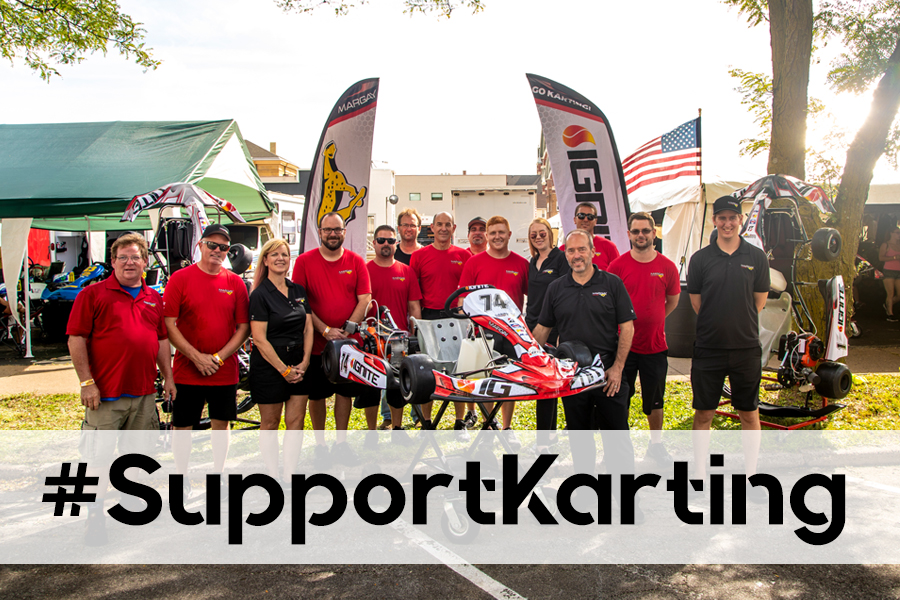 I can tell that everyone in the karting world is itching to get back out to the racetrack because whatever we're producing in terms of content is being absolutely gobbled up. Our traffic numbers are through the roof and our social media has been hopping. We have more EKN Radio Network podcast guests being lined up and I've fired up our new Instagram Live Q&As with members of the industry and beyond. The North American karting community is getting anxious, like sitting on the grid before rolling out for the main event of the day.
The coronavirus pandemic has arrived in full force, and differing levels of self-isolation, social distancing and quarantine have been mandated all over the continent. Yes, it's time to avoid social contact with anyone who doesn't live in your home with you 24-7. It sucks, but it's the right thing to do right now.
The situation has changed so rapidly over the last two and a half weeks here at home, with maximum public gathering numbers dropping from 250 to zero over that short time span. I wrote a column on my way home from St. Petersburg just over two weeks ago stating that karting was "not on hold", but thanks to government decrees, it most certainly is now in most regions of the country. While the sport may be on hold, this does not mean the community is. We can connect online, and we can enjoy the content that is being put out.
Karting and its industry, which is the foundation of our sport, is entering an extremely trying time. Kart shop owners aren't at the track selling product. They're not moving consumables like tires, fuel, and oil, and they're not selling replacement spindles, tie rods, axles, steering shafts and wheels. There's no money coming into their cash registers, but they're still paying rent and employees, and the house mortgage is still a monthly expense. Follow the ripple effect and with kart shops not moving product, distributors and importers aren't having to re-stock their inventories. National race teams are grounded and those in the full-time mechanic pool are at home on the couch. Again, it's a tough and dangerous time.
We need to step up to fuel and prop up our industry. We need to #SupportKarting.
Each and every weekend throughout the year, karters head to the track to participate in the sport that fuels their passion. At every club track, regional race or major national, we're supported by companies run by passionate enthusiasts who make sure we have whatever we need, when we need it. These industry members jump in to help when they can, and they offer crucial advice and guidance to everyone from the raw rookie to the veteran pro driver. They are our mentors and our support system. When we need them, they're always there.
Well, they need us now and we need to be there. It's our turn.
So how do we do this? Cash flow is the key issue right now and it will be for the next few months. There are many racers whose seasons wouldn't have started for a few weeks still. Those who live in warmer climates, and have already gone racing, the concept is the same. Keep prepping your karts. Make sure you get your engine to your builder to be refreshed for the new season. If you have the means, spend some money and invest in your program. Buy that new helmet or race gear now, and buy it directly from the kart shop who you'll be going to trackside in the time of trouble.
Yes, you don't need it right now, but buy that case of oil. If you have the means, pre-pay for the six sets of tires that you'll need this year. Invest in your local dealer and have the credit waiting for you when we're ready to go racing. "Here's $2000 to put on my tab….I'll burn through it when we get racing again." If your entire year's budget is $2000, then spend $100-$200 with your local kart shop or service provider. If 100 club members spend $100 a month with their local shop, that's $10k in revenue and they'll be able to keep the doors open. It's not going to take much to help our industry weather this storm, and you won't be able to put a price on the good will that you'll create. It's not charity…you're just pre-paying for products you'd be buying later in the year.
Need your helmet painted? Get it to one of the painters now. They likely have a free position in the queue, so let's keep them busy. Prep your equipment like you're going racing next week.
Are you ready to put a new chassis or turn-key package in the garage? If you have the means, and I continue to reiterate that, the perfect time is now. Shops have new and used karts ready to ship and a sale like that would be huge right now. It's all about keeping money flowing into our kart shops, the life blood of our sport.
We've been pushing the hashtag #supportkarting for over a week now and we'd love to see you all jump on-board to show your support for the men and women who are the bricks of our foundation. They are our teachers and our mentors, our support system and our sponsors.
It's time to #supportkarting.