Industry Insider: Episode 34 – Keith Freber – Margay Racing / Hoosier Kartsport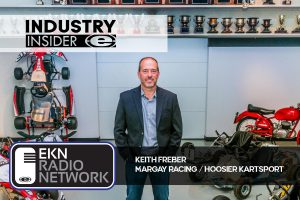 The roots of karting are based here in the United States, and our passion for the sport has continued for many decades. Manufacturers here in the USA have come and gone, but one name remains from the past. Margay Racing has decades of history in the sport, and been a pioneer in development and the sport as a whole, adding in the latest expansion with Hoosier Kartsport under the company banner. The Ignite Karting program based around the Briggs 206 engine is exploding throughout the country, helping to bring new racers and old karters to the race track. Owner Keith Freber was one of the first in the industry to address the COVID-19 with a great video on social media, and launch the #SupportKarting campaign. EKN's Rob Howden talks with Freber about our current state-of-the-sport and of course great topics from the past and present.
Visit the EKN Podcast page or find all the podcast episodes on Podbean.com, iTunes, Google Play, or Spotify by searching EKN Radio Network.