Behind the Laptop: iRacing Bringing Together the Racing Community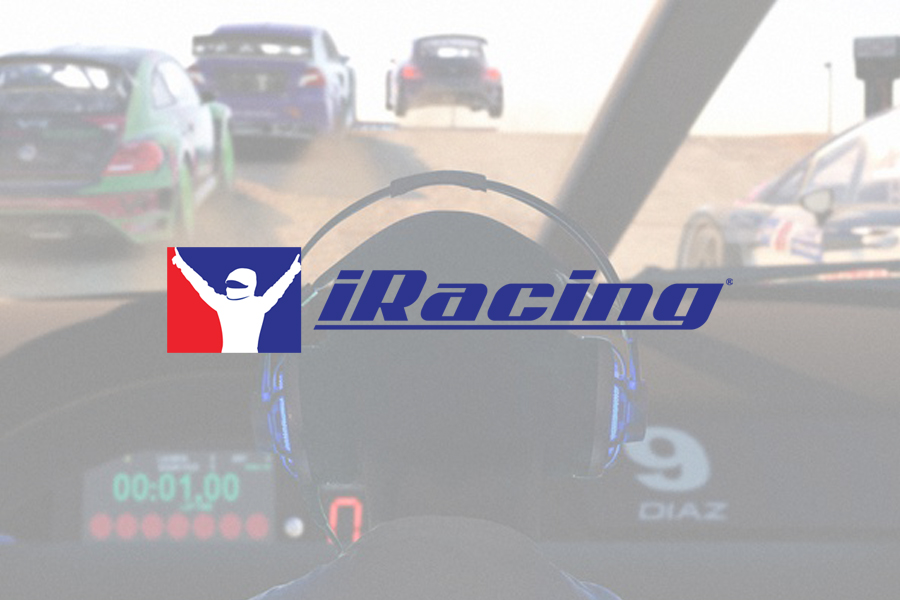 One sector of the motorsports world that is getting a boost during this COVID-19 pandemic is eSports. Racers and racing fans all over the world are locked down to help stop the spread of the virus, and to keep within the 'social distancing' guidelines laid down by local and state authorities. This has amped up the participation of online gaming, including racing genres.
This past weekend, two major sanctioning bodies hosted events through the iRacing platform. IMSA was scheduled to be racing in their Sebring 12 Hours event on Saturday, March 21 and it was one of the first major motorsports events to be postponed, now set for November 2020. On Saturday, IMSA held their Sebring SuperSaturday event on iRacing, welcoming 50 drivers to compete in GT virtual cars for a two-hour race around the virtual 3.74-mile Sebring International Raceway. The vast entry list included current and former IMSA drivers, race winners and champions. Many of those competing were current or former karters themselves, including Rotax Grand Finals winner Daniel Morad, IndyCar's Sage Karam, Santino Ferrucci, Colton Herta, and Gabby Chaves, in addition to sportscar and open wheel stars like Dakota Dickerson, Shinya Michimi and others. The entire race was broadcasted live on Facebook and YouTube through the iRacing channels. Thousands tuned in on both platforms and saw Canadian Bruno Spengler take the virtual victory.
NASCAR upped the ante the following day, putting many of their top stars and young talent from the Xfinity and Truck programs together in the debut of the eNASCAR iRacing Pro Series Invitational at the virtual Homestead Speedway through the iRacing program. The 100-lap race was broadcasted on FS1, with anchors Mike Joy and Jeff Gordon providing the play-by-play while Larry McReynolds provided 'technical' commentary during the race. Denny Hamlin completed a last lap pass on Dale Earnhardt Jr. for the victory.
Both these events have helped to catapult the iRacing platform into the eyes of the general public. Many racing fans or racers themselves had never logged into the online portal until Sunday, including NASCAR's Jimmie Johnson. iRacing is just over a decade old and has steadily made improvements with its graphics and game play. Since stepping away from the real driver's seat, Earnhardt has been one of the key supporters of the platform. His recent involvement with the company is helping to bring closed racetracks back to life through the iRacing platform, including the historic North Wilkesboro Speedway.
Following the lead of IMSA and NASCAR, many racing organizations are setting up events and racing series through iRacing to keep racing together. One of the biggest gatherings on social media is the Briggs 206 Racers group. A post from Carson Smith from Ohio asking the Facebook group who was participating in iRacing led to two events over the weekend. The first one on Saturday night welcomed about 30 karters competing in Global MX-5 cars around the virtual Lime Rock Park – 2008.
With so much support and more people wishing to take part, another race was conducted on Sunday that served as the opening round for the Buckeye Karting Challenge iRacing Series. Six events will be conducted over six Sunday evenings, featuring drivers from many areas around the United States. The opener had 34 drivers entered, with the same result as the Saturday race. Former WKA Gold Cup champion David Kalb Jr. kicked everyone's ass around Lime Rock Saturday and did the same at Laguna Seca on Sunday to start out the series on top. I myself finished 11th at Lime Rock and started the 'big one' on Sunday, ending up two laps down in 21st. The event was even broadcasted by Checkers & Wreckers on Facebook. This Sunday is Round 2 at 8pm EDT. Check out the Buckeye Karting Championship Facebook page for more information.
Other iRacing leagues are sprouting up around the karting community. I joined another league started by Patrick Britain of Red Six RaceGear. Patrick is a longtime competitor at the CalSpeed Karting rental kart programs – Super Series and Sprint Series – where they regularly bring together about 90 racers each month. Since their event was cancelled due to the COVID-19 shut down in California, Britain sparked up the iRacing avenue to bring those racers and anyone else interested together to form a seven-round road racing/oval program. That series begins Saturday, March 28 at 1pm EDT with a road race in Daytona Prototypes around Daytona International Speedway followed by NASCAR on the highbanks of Daytona.
Just browsing through social media, the North Texas Karters have started up their own league. Adrenaline Fix Karting is presenting 'The Stay At Home 100' event on Sunday, offering the winner an Arrive and Drive weekend with them in 2020, with the virtual race to be broadcasted on Apex Racing TV. I'm sure others have are creating them over the next coming days as we all find a way to keep ourselves on track in some way.
This weekend, our own Rob Howden is keeping the velvet fog voice going with two races through iRacing to announce. He will call the play-by-play of the Ricmotech Road To Indy Presented by Cooper Tires iRacing eSeries on Saturday. Their debut event is scheduled for 1pm EDT at the virtual Barber Motorsports Park. Be sure to follow Howden on social media for the links.
Be sure to share with us here at EKN your iRacing events so we can help to not only promote the race, but promote your club, track, karting group or business.
For many, iRacing is nothing new and has been part of their time away from the track for years. In my next column, I'll talk to some karters who use iRacing during their typical down time and what you need to get racing today.