Texas Motor Speedway Launches New Kart Track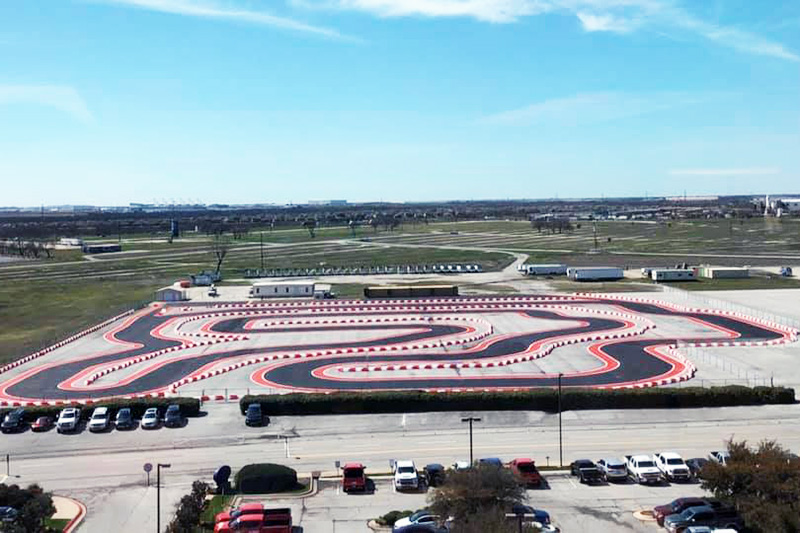 The Lone Star Kartpark at Texas Motor Speedway (Photo: Texas Motor Speedway)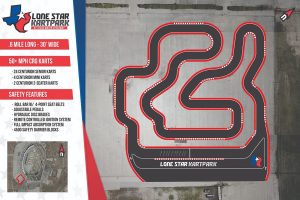 News surrounding the karting industry was made on February 26 when Texas Motor Speedway hosted their Media Day. During the opening of the event, TMS President and General Manager Eddie Gossage stormed into the ceremony aboard a CRG Centurion kart for his entrance. It was then during his initial comments, Gossage announced the future opening of a kart track outside the Texas Motor Speedway.
Minutes later, the TMS Facebook page published the plans for what is to be the Lone Star Kartpark. The kart track is located outside of the Texas Motor Speedway, adjacent to the Turn One area and directly in front of the Speedway Club, just off the Lone Star Circle street that surrounds the facility. The course is 6/10-mile long at 30 feet wide with 16 turns and outlined by 4,500 barriers. A total of 30 CRG Centurion karts, including 24 Senior, 4 Mini and 2 two-seater karts will make up the rental fleet for the Lone Star Kartpark.
The concept for the Lone Star Kartpark came from two people with a passion for racing and fathers of current karters. Eric George and Darin Thomason are two military veterans and karting dads who, during their many lunches together, developed the idea for the Lone Star Kartpark. Thomason has a background in racing, working as a mechanic during his teen years and later racing himself. George has been a Texas Motor Speedway member for years, and the two pulled together their thoughts and ideas. They worked with a designer in the industry to layout the track, keeping the public at the forefront and providing the option for future expansion.
The current target open date is March 21. Speaking with Thomason, the thought for the opening year of the facility is to get comfortable with the daily activities and major events set to be at the Texas Motor Speedway before expanding outside of the rental fleet at the Lone Star Kartpark. He did state the circuit does follow FIA guidelines and sees room for expansion in the future if needed.
To learn more about the facility in Fort Worth, Texas, head to lonestarkartpark.com and follow them on Facebook, Instagram and Yelp.