Quincy Grand Prix Updates Class Structure with FK100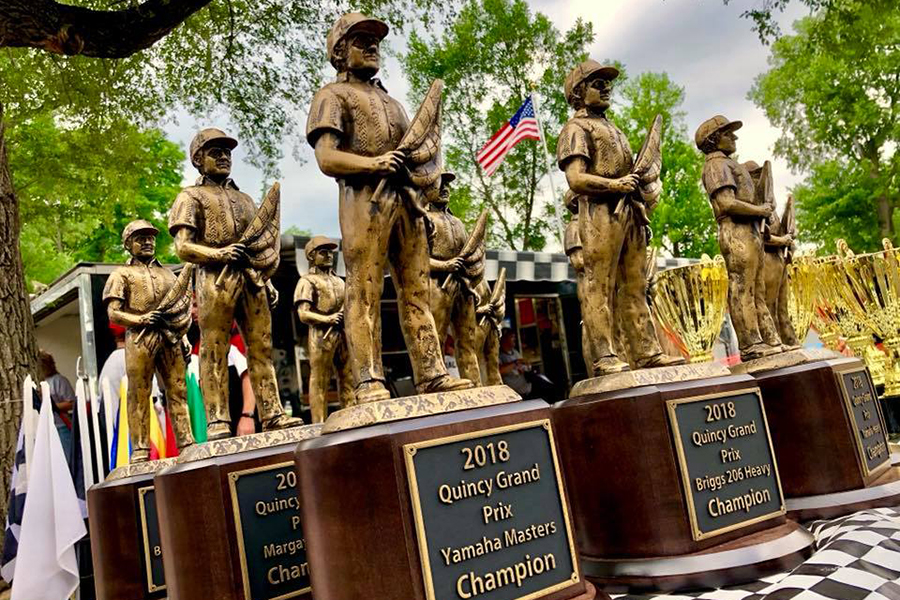 (Photo: Mark Schwigen)
The Quincy Grand Prix, scheduled for June 13-14 at the South Park in Quincy, Illinois has updated its class roster for the 2020 edition. This year's event celebrates the 50th anniversary of the first Quincy Grand Prix back in 1970. A total of 10 categories will compete in the main events on Sunday, including an update Pro FK100 division.
The Pro FK100 class is an update to the Pro Yamaha category, adding other motor options for the 2020 race. The IAME KA100 and ROK VLR will compete alongside the Yamaha KT100 for a mixed engine category. The Yamaha package is allowed with open exhaust and clutch at 340lbs. while the KA100 and VLR will have a minimum of 360lbs. The FK100 rules package will be the same as the USAC Karting rule package for Battle at the Brickyard and Elkhart Riverwalk Grand Prix. The spec tire for the FK100 class is the Hoosier R60B.
"As two-cycle karting in the midwest is evolving rapidly, we felt it was best to follow the lead of USAC Karting and allow the two newer engines to compete in an effort to increase participation. The Hoosier R60B is the same tire that was specified for the Briggs classes at the 2019 Quincy Grand Prix and is now being spec'd at a wider range of midwestern tracks and major events, including the Battle at the Brickyard." stated Terry Traeder of Quincy Grand Prix.
The new FK100 class will compete for a $2,500 purse in the main event, with $1,000 going to the winning driver and paying down to eighth place. Pro Shifter, Pro Briggs and Pro Shifter Open are also competing for a cash purse at the 2020 Quincy Grand Prix.
More information and registration link for this year's event at The Park is at quincygrandprix.com