SpeedVegas Grand Prix Brought to You by NCK Road Racing
SpeedVegas in Las Vegas, Nevada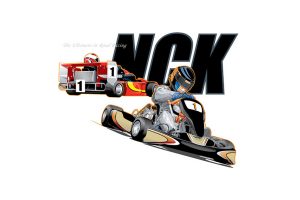 SpeedVegas and Northern California Karters announce the first ever sanctioned event at SpeedVegas in Las Vegas, NV on Sunday, April 19th, 2020. The 1.5 mile sportscar road course will be used in the counter clockwise direction for this groundbreaking kart racing event.
SpeedVegas COO Greg Schroeder: "We are very excited to have NCK and its participants at our facility to celebrate our first karting event.  This sanctioning body has great people involved in it and the history and experience of this club will provide some exciting racing action on our super smooth track.  Word of mouth around our city has already produced a buzz about the race, bringing in curious former local club racers to see our $30 million complex."
NCK's Mark Morrison: "We are excited to have this event at SpeedVegas.  Although a bit farther from our home base, we are confident that the impressive facility and the draw of the city itself will make for a successful inaugural amazing event."
This will be the first "club" kart race in many years here in Las Vegas.  The kart track across town has been closed for a few years and local racers are eager to return to the pavement.  NCK is bringing world class participants from northern California.  Although not the first event outside California for the organization, it is quickly becoming one of the most talked about, with hotels to fit all budgets nearby and recreation for the whole family, Las Vegas itself has become a destination in the world for tourism and a world-class destination for various sporting events as well.
The SpeedVegas GP is being run by NCK using the IKF Road Race rule book.  It has also added the new 175cc shifter class for this event and has a "run what you brung" class just in case a kart doesn't for into the IKF classes.
Nine races are scheduled for the day, separated out into 3 different groups. Please visit the NCK website for details as they develop at www.NCKroadracing.com. Online entry begins March 1st.
The weather in Las Vegas is normally a perfect 75° during the day and 50° at night in mid-April according to various weather websites which should make the event one not to miss.
For more information contact Todd Olcott at 702.683.5925 or Mark Morrison at 916 308 3228 or Mark@nckroadracing.com