Kosmic Kart: Positive Start of Season in Adria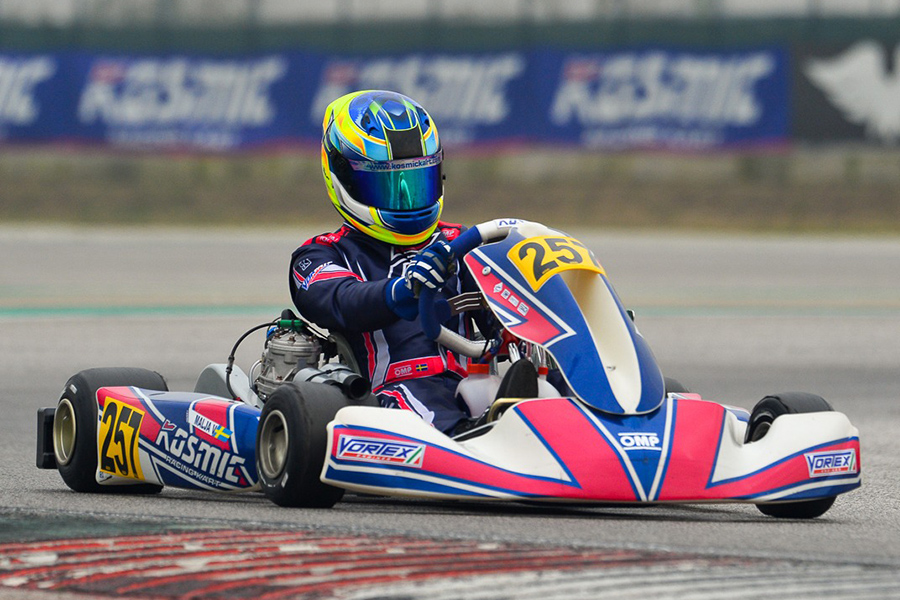 Great début for the Kosmic Kart Racing Department in the WSK Super Master Series staged at the Adria Karting Raceway, where the Kosmic Mercury R chassis steps up onto the OKJ podium.
The first seasonal appointment at the round 1st of the WSK Super Master Series is bringing good results to the Kosmic Kart Racing Department: despite a few unexpected events, the races run by our drivers at the Adria Karting Raceway allowed us to prove the absolute top-quality of the Kosmic Mercury R – Vortex package, which manages to step up onto the OK-Junior podium after being in the first positions several times throughout the event.
Among our standard-bearers, the weekend of Alexander Gubenko is brilliant, author of a great performance. The Russian, engaged in OKJ, recovers lots of positions during the Qualifying Heats, entering the top ten three times.
Alexander makes the most of his chassis in prefinal too, where he recovers positions and ends the weekend with a wonderful Final finished 9th, after starting 19th.
Harder race for Axel Malja, keeping fighting in the brawl, and Ean Eyckmans, at his debut in our team and unfortunately forced to withdraw during the heat, seeing the opportunity to further improve his excellent results in qualifying vanishing.
As mentioned, the Kosmic brand in the WSK Super Master Series is stepping up onto the podium with Ugo Ugochukwu (Ricky Flynn Motorsport), second at the end of a wonderful Final, playing a leading role in the fight for the victory.
Good results also from OK, despite an uncertain start of the weekend, which forces our drivers to keep on fighting. Luigi Coluccio is very determined and manages to recover 12 positions in the ranking on Saturday, as well as Ville Malja who is recovering 7 positions. The latter, unfortunately, has to withdraw in prefinal, while Coluccio manages to run another convincing race in Final, even if his comeback is then damaged by a post-race penalty.
Now, the Kosmic Kart Racing Department is ready for two weeks of intense work to prepare for the Winter Cup, scheduled on the 16th February at the South Garda Karting in Lonato (Italy), where we will get back on track both in OKJ and OK.