Exprit: First 2020 Race in Adria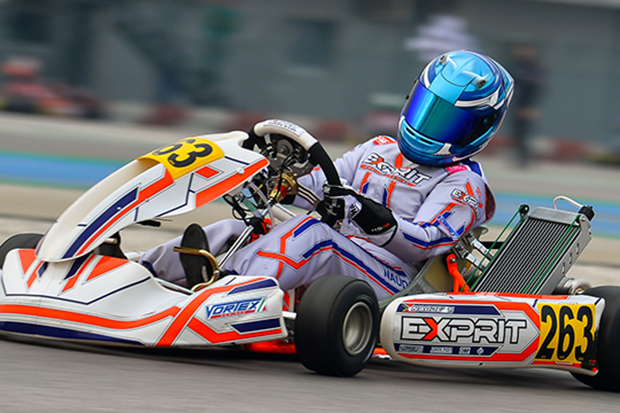 The 1st Round of the WSK Super Master Series marks the debut of the Exprit Racing Team: our drivers can count on the Exprit Noesis R chassis, which proves to be highly reliable reaching the third step of the podium.
The first race of the season marks an important step forward in the young history of our Exprit Racing Team: in the 1stround of the WSK Super Master Series, on the Adria Karting Raceway circuit, the performances of the Exprit Noesis R chassis powered by Vortex are great. Our drivers prove to be able to learn and improve along the way, while the Noesis R chassis reconfirms its quality by conquering the third step of the final podium in the OK category.
The driver centring this excellent result is Dilano Van'T Hoff (Forza Racing), who at the end of a hard-fought final gains the third position, crowning a fantastic weekend.
Among Seniors, our standard bearers Kajus Siksnelis and Toni Kayla Naude prove to be able to recover and improve after fairly good qualifying. Siksnelis, especially, recovers several positions during the heats and behaves extremely well during the first stages of prefinal. Here, unfortunately, a contact brings him to the backlines, depriving him from a probable position in topten.
Naude, except one withdrawal, manages to improve heat after heat, showing off all her potential especially in the last Heat where she recovers 12 positions.
The great improvement of the young driver at her debut in the category, as well as in our team, carries on in prefinal too and allows her to face the next appointments with confidence.
Charlie Wurz, finally, stands out brilliantly in the qualifying, finishing in top 20. A really good performance considering he had the flu throughout the whole weekend. Unfortunately, in the following Qualifying Heats two unlucky withdrawals influence the course of the race, leaving us however with good feelings in view of the next appointments.
In OKJ, our Oscar Wurz proves to be combative during the Qualifying Heats, where, even though he is forced to start from the backlines, the Exprit Noesis R chassis powered by Vortex is supporting him superbly during his comebacks. However, in prefinal, he withdraws through the race, bringing his weekend to an end.
Now we are looking forward to taking part in one of the most important appointments of the calendar: the Winter Cup, taking place at the South Garda Karting in Lonato (Italy) on 16th February, where we will be present in the OK and OKJ categories.