Team Diary: Racing for Children's – SimCraft 24 Hours of Orlando – Pre-Race Test
Five-driver team ready for 24 hour challenge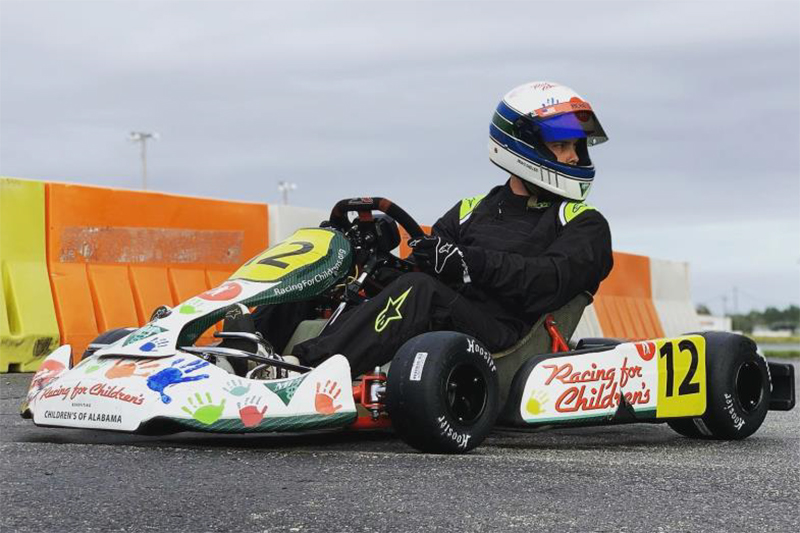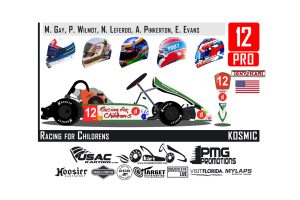 A total of 34 teams will attempt to complete a stint of two times around the clock at the upcoming SimCraft 24 Hours of Orlando endurance race at the Orlando Kart Center on January 31-February 2. 2020 marks the second edition of the 24-hour race, with all entries competing with the Briggs & Stratton 206 powerplant. Among those returning for the second year is the Racing for Children's team, set at raising money for the Alabama Center for Childhood Cancer and Blood Disorders. Competing in a 24-hour event, let alone for charity, is a lot of work. They have agreed to provide us with insight into preparing for the event, and what transpires during the 24-hour run, in our new Team Diary.
The Racing for Children's Karting team had a very busy holiday break in preparations for the upcoming SimCraft 24 Hours of Orlando. The team visited the Orlando Kart Center on December 21-22 for two full days of track time to try and dial in their 2019 Tony Kart, prepared by DCT SpeedSport. All five drivers (Michael Gay, Nick Lefferdo, Patrick Wilmot, Andrew Pinkerton, and Erik Evans) were in attendance as well as the DCT mechanics. The team was fortunate enough to have two karts at their disposal in an effort to work on/test multiple theories and objectives while also getting drivers as much seat time as possible.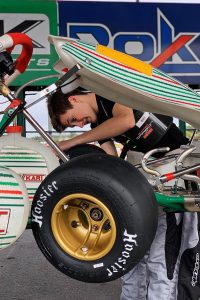 This year's race will see a few major changes from the 2019 event. The first being a change in tire brand and compound. For the 2020 event, USAC has mandated that all teams run the Hoosier R80 compound tire as opposed to the Bridgestone tire that was used last year. The second major change that USAC has implemented on this year's event is a removal of a minimum number of stops required by each team. With these changes, the team's primary objectives for the test were:
Dial in a set-up for the race kart on the proper tire in weather conditions similar to what is to be expected during the race
Calculate fuel burn for all drivers.
For the first day of testing, both the team's 2019 Tony Kart and the spare kart were equipped with the Hoosier tire for the duration of the test. The secondary kart was mainly used for getting the drivers seat time on the new tire as well as calculating fuel burn. The race kart focused solely on race and qualifying set-up. The DCT mechanics and driver Nick Lefferdo took the lead on set-up. Nick has an expansive background in kart set-up/development. With his wealth of knowledge, the team was able to dial in a set-up that is easy to drive and is expected to turn competitive times when the team returns to Orlando for race weekend.
The secondary kart allowed drivers to get acquainted with the feel of the new tire compound as well as provide a baseline for the amount of fuel burned per lap. With the removal of a minimum number of stops required by each team (a total of 18 for the 2019 race), it is possible that the 2020 event could come down to teams searching for a balance between fuel economy and performance. In addition to each team making 18 for the 2019 race, each stop had to be a minimum of 4 minutes. While USAC is removing the minimum number of pit stops rule, the minimum pit stop time will remain at 4 minutes. With lap times in the 1:05 to 1:10 range, sitting on pit lane for 4 minutes would result in a loss of 3 or more laps of track position.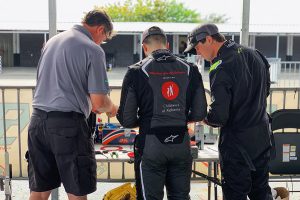 Driver Andrew Pinkerton took the lead on measuring and calculating fuel burn rates for each driver. The team discussed the results at length during the evening of the first day and have already begun developing a fuel strategy for the race. The team will be aiming to strike a balance of running a competitive race pace while also conserving fuel. If the team can achieve this balance and eliminate a pit stop, it could be a major competitive advantage.
The second day of testing saw rain, rain, and more rain. While most may shy away from the less than ideal weather conditions, the team took the opportunity to work on set-up for rainy conditions. Endurance races run rain or shine. With 24 hours of continuous running in South Florida, chances for a rain shower at some point during the race are high. With an entire day of driving and testing devoted to rain set-up as well as getting drivers comfortable with driving in the wet, a rain shower could play into the hands of Racing for Children's goal of winning the race.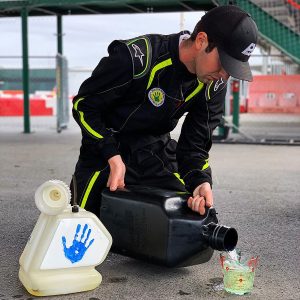 In addition to fine tuning a baseline set-up for the race kart, calculating fuel consumption, practicing driving in wet conditions, and getting comfortable with the new compound of tire, it was also a great opportunity for the drivers to push one another on pace and lap times. With lap times recorded from every driver for every session, the delta between the fastest and slowest driver is very, very close. With less than a second separating the team's fastest and slowest driver, this is expected to be one of Racing for Children's strongsuits. This was evident from last year's event as the team's lap times were on pace for a podium result. DCT SpeedSport has done a fantastic job of diagnosing and solving the mechanical issues from a year ago. Needless to say, everyone on the Racing for Children's team is very excited to return to Orlando and chase some hardware.
We're just days away from the green flag for the second annual SimCraft 24 Hours of Orlando! Be sure to follow Racing for Children's on social media for detailed information regarding the on-track schedule for race weekend, links to app that will have live timing and scoring as well as live stream broadcasting the race, and so you can stay up to date with the team during the race weekend. Racing for Children's will have at least one on-board camera (possibly two) that will be broadcasting the race live in its entirety. So be sure to stay tuned for those exciting details coming soon!
Lastly, a big THANK YOU to all of our donors and partners. We couldn't do this event without your support and willingness to donate to our cause: the fight to end childhood cancer. For more information on Racing for Children's and how to donate, be sure to check out our website: https://racingforchildrens.org/ There are multiple ways for you to make a donation of any amount straight to our website. All donations are 100% tax deductible. Thank you again and we look forward to sending you more updates soon!