eKartingNews.com Driver of the Month: December 2019 – Randy Fulks
Mr. Daytona adds to win total at WKA KartWeek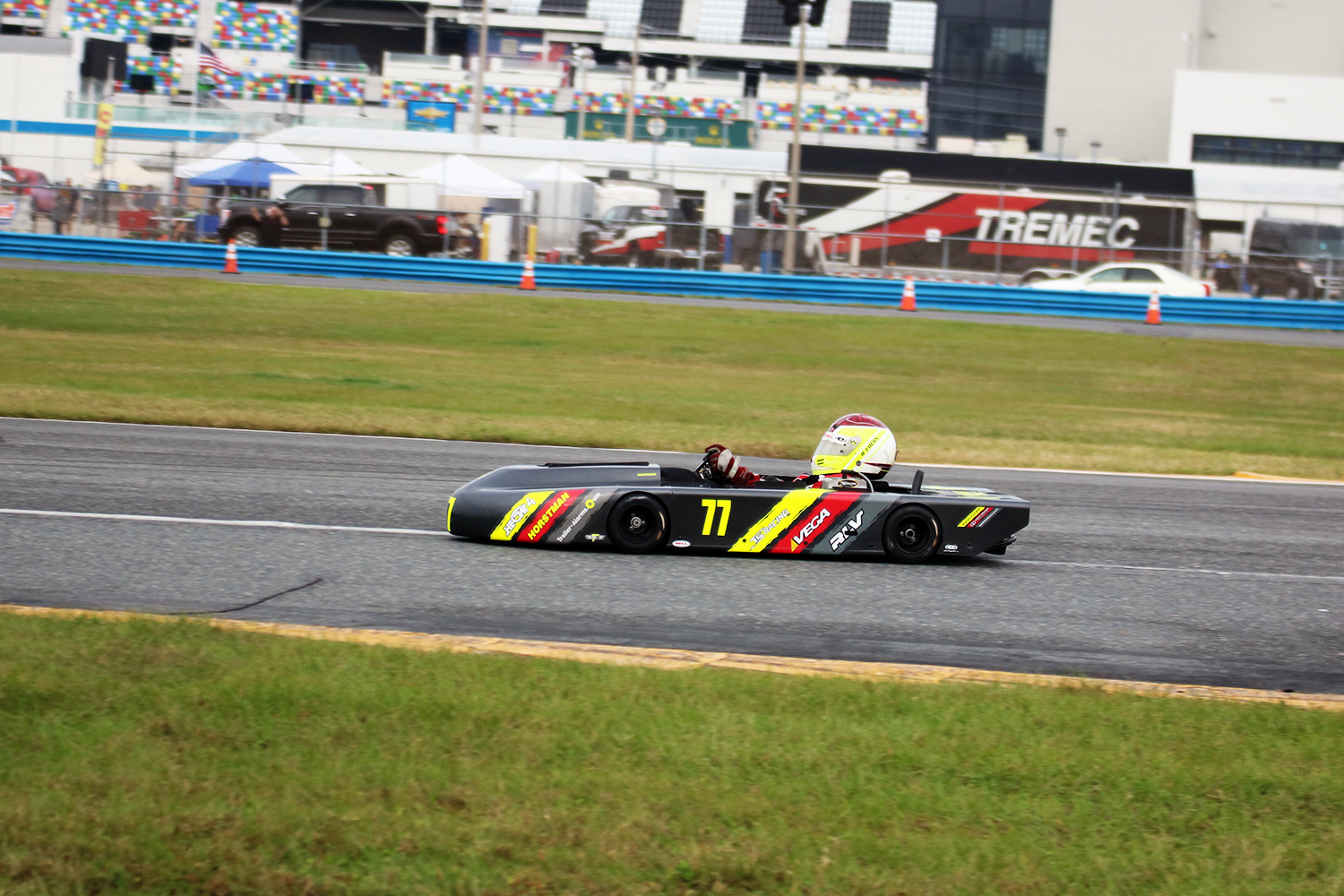 Mr. Daytona Randy Fulks added to his win total at the 'World Center of Racing' at WKA KartWeek (Photo: Jennifer Edens Henry)
In a continued effort to highlight the many outstanding performances by drivers around the country, eKartingNews.com is proud to introduce the 'Driver of the Month' program. Each month, the staff at EKN will determine the one driver who stood out above the rest and give the viewers a chance to know exactly what they accomplished and who they are.
It is very rare to have the ability to race alongside a legend in motorsports. For sprint racing, it would be banging wheels with Lake Speed, Mark Dismore or Lynn Haddock. Today in road racing, laydown racers have the opportunity to draft with or against one of the best to steer a butterfly wheel, especially every year at the Daytona International Speedway.
Randy Fulks is among the most decorated karters in the history of the sport – highlighted in this EKN article back in 2013. The World Karting Association Hall of Fame member is entering his seventh decade of karting the next time he hits a track in 2020. Fulks closed out the 2019 calendar as he had done for the past 45 years, competing at the WKA Daytona KartWeek at the historic 'World Center of Racing'. Randy was among the over 350 entries at the first Daytona KartWeek in 1974. This year's event on December 28-30 was a celebration of the 45th anniversary of the first time WKA took to the highbanks of Daytona.
Weather is always a factor when in Daytona during the month of December. One day can have temperatures in the 90s, and the next have rain with temperature down into the 40s. Mother Nature did not cooperate with the Vega Tires National Road Racing Series program, washing out the full practice day, leaving racers wanting to get on track even more. Saturday provided the opportunity to practice before the skies opened up again before racing began. The track was lost and so was the opportunity to race.
The weather stayed away enough on Day 3 to allow racing to take place. WKA officials cut the distance for the seven race groups, 30 minutes for the 45-minute events and a 15-minute time slot for the 30-minute scheduled races.
One of the largest categories of the event, and the highest laydown division was the Yamaha Senior class. Situated in Group 3, a total of 23 drivers took part in the event. The class included a number of notable names, including those that may be recognized on the sprint side of the sport. Ocala Grand Prix's Nate Grindell and Mario Iodffredo – making his first start in a laydown kart. TB Kart's Chad Dokken is a veteran karter that jumps into anything, and has a number of road racing victories to his credit. L.A.D. Specialties' Scott Grenier can be seen wrenching under the DRT Racing tent throughout the season when not running his laydown. TS Racing's Brad Zoeller returns each and every year for Daytona, as does Margay owner Keith Freber. Of course, many know Rick Fulks as a race official or mechanic through the Margay Ignite program. The younger brother to Randy, Rick is an accomplished driver in his own rights, including both road racing, sprint and street racing.
The 30 minute race began with a solid lead draft, led by Rick Fulks. By lap 3, Zoeller had taken the lead but it was short lived as Randy made a pass on the infield section to assume the position. Rick Fulks returned to the point around the halfway mark, pulling away with Randy, Freber and Zoeller fighting for second. Freber grab the spot and was able to steal the lead from Rick for a couple laps before Fulks took it back. On the final circuit, Randy made a move at the west horseshoe of the infield on his brother. Rick slotted in behind Randy, and the two drafted up to the checkered flag. At the line, Randy scored the victory by 76 thousandths of a second at well over 100mph!
The win brought Randy's total at Daytona to 57 in the 43 times competing at the WKA KartWeek. Fulks is preparing for the 2020 season of racing, racing at selected events on the year that include Roebling Road (WKA), Charlotte Motor Speedway (WKA), World Wide Technology (CES), Mid-Ohio (DKC), Grattan (WKA), Nelson Ledges (DKC), and Heartland Park (KART).
December 2019 EKN Driver of the Month – Randy Fulks
Bio
Born: Before karting was ever started (Age 65)
Hometown: Jacksonville, Illinois
Marital Status: Wife – Susan
Children: 0
Height/Weight: N/A
Education: N/A
Occupation: Owner/Operator of Tru-Stripe (small parking lot maintenance company)
Racing Resume
Chassis: CKI
Engine/Engine Builder: Yamaha / Dave Barker at TS Racing
Sponsors: RLV, TS Racing, Vega Tire, Horstman, Hegar 4, Bell Helmets, Blendzall, TrailerAlarms.com. I was also blessed to have Margay, Russell Karting and Douglas Wheel as great sponsors over the past years.
Series You Compete In: WKA, KART, AKRA, CES
Years Karting: 52
How did you get started in karting? Our parents Reggie and Barb started kart racing in 1959 and still attend races. They ran a small dirt track and during intermission I would get to take a kart out and run a few laps.
What has been the high point in your racing career? I've won a lot of races but I've had a lot of great people that believed in me.  From my parents to all the sponsors and the people that help us at the track.  I believe in the team concept totally.  Everyone works so hard with the goal of doing the best we can.  I just get the fun job….I get to drive.
What are your goals in racing? Just trying to stay competitive.
In a few words, how would you describe your driving style? I think I have great equipment so I would say I'm cautious at first but when it's time to go – let's go. "to finish first – first you must finish"
Funniest moment at the race track? When I was a junior I flipped my kart at Mid State.  As I am laying on the track Dr. Housman runs down and grabs my jaw and looks at my mouth (he's a dentist).  It's not my mouth that's hurt it's my knee.  They finally haul me away to the hospital in a cargo van laying on an old army stretcher.  They didn't have ambulances at the track then.  A few weeks later after getting healed up we went to St. Louis to race and flipped again.  I told Dad I didn't think I want to do this.  He said "get back in the kart."
Likes
Favorite Track: The old Road Atlanta, now Mid-Ohio and Pittsburgh International Race Complex
Favorite form of professional motorsports: No special preference – they are all special in their own way.
Favorite karting driver: The list is endless – I will say my brother Rick is very good
Favorite professional driver: Rick Mears – he just got the job done
Favorite website: N/A
Favorite movie: N/A
Favorite actor/actress: N/A
Favorite music/group: N/A
Favorite vacation/activity spot: Somewhere warm in the winter
Favorite food: A good steak
The Real Deal
What do you do when not at the track? Pretty much work in my shop on karts
What are your goals outside of karting? N/A
What type of street car do you drive? Audi or Ford Truck
What type of street car would you like to drive? I am happy with what I have
What are your pet peeves or things that irritate you? People that are late
What do you think could be done to improve the sport of karting? All of karting is fractured and we have only so many karters to go around.  The major organizations need to start cooperating with each other.  On the enduro side, organizations are combining races to help with expenses and getting the entry count up.
What are your favorite aspects about the sport of karting? It's a great family sport,  heck we've done it for 60 years!   My lifelong friends are karters and it's been a great ride.
December 2019 Driver of the Month – Honorable Mention:
* Scott Cherry: WKA Daytona KartWeek NRRS – IAME Sprint winner
* Parker DeLong: WKA Daytona KartWeek – 2 Wins (Briggs 206 Cadet, ROK Mini)
* Paige Evans: WKA Daytona KartWeek NRRS – TaG Heavy winner
* Brian Fisher: WKA Daytona KartWeek NRRS – 125 Shifter Sprint winner
* Richard Hoff: WKA Daytona KartWeek NRRS – CIK 206 Sprint winner
* Luca Mars: WKA Daytona KartWeek – ROK Senior winner
* Steven Rougeou: WKA Daytona KartWeek NRRS – Stock Honda winner
* Mark Simenton: WKA Daytona KartWeek NRRS – Animal Sprint 390 winner (0.0001)
* Caleb Tarter: WKA Daytona KartWeek – ROK Micro winner
* Johnny West: WKA Daytona KartWeek NRRS – Unlimited winner
* Connor Zilisch: WKA Daytona KartWeek – 3 Wins (X30 Junior, ROK Junior, 100cc Junior)