15 Years of Dedication: David Cole and EKN
Our Managing Editor begins his 16th year with HMG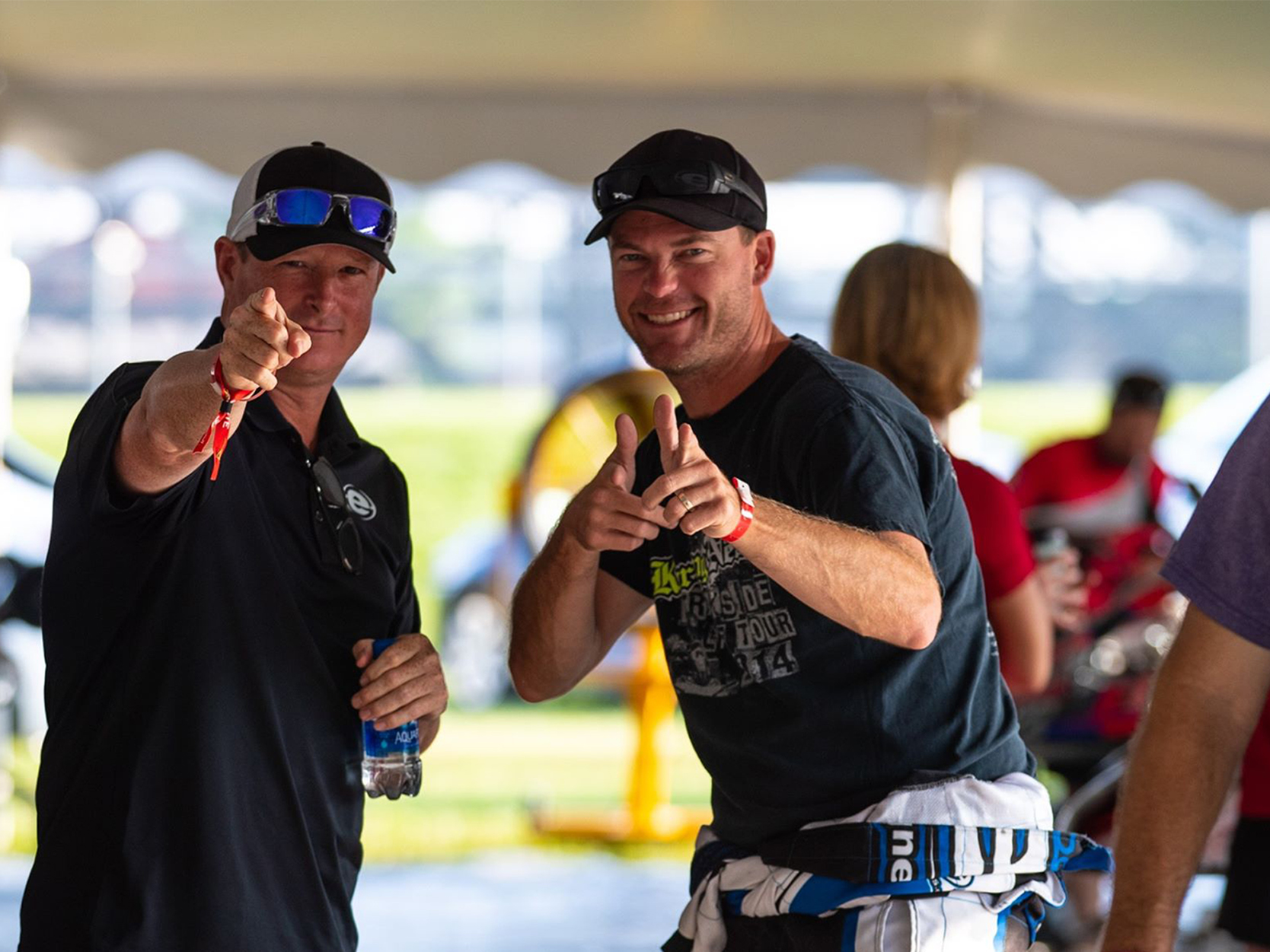 EKN Publisher and Editor-in-Chief Rob Howden is pleased to take the opportunity to thank David Cole for 15 years of dedication to EKN and the sport
(Photo: Mark Schwigen)
I'm finishing this column as fly from Toronto to Denver enroute to Tucson for the opening round of the ROK Cup USA Challenge of the Americas. I'm scheduled to arrive just before noon in Arizona, and my Managing Editor David Cole will begin his trek this afternoon and will likely land just before 11:00 pm MST. This trip to Tucson, David's first of the 2020 season, will unofficially begin his 16th year as a staff member with my company – Howden Media Group – and that of a family member, as well. That's right, David Cole has been with us for 15 years, and I want to take this opportunity to acknowledge his dedication and commitment. It's incredible to look back at my decision to hire David in 2004, first as a road race correspondent, and then to manage of eKartingNews.com after my acquisition of the website. Little did I know that he would come to embody the role and become both my right-hand man and incredibly close friend.
I wrote a column about David's first 10 years with us back in 2015 and everything in that piece still rings true today. First and foremost, I want to thank him for the dedication that he's shown to not only myself, HMG and EKN, but also to the sport of karting as the whole.
It's impossible to argue the fact that 15 years is a long time in our sport. Many people and families have come and gone during this time period. But not David's family and not David. Aside from being a karting 'lifer', a key point I want to spotlight is David's ability and willingness to adapt. I'm obviously not talking about his food or cocktail preferences, because I think we all know that he's locked into his love for plain burgers, steak, pepperoni pizza and Bacardi and Coke. I'm talking about David's willingness to support our need to evolve EKN on an almost daily basis to make sure that we're delivering our content in the manner in which the EKN Nation wants to consume it. I hired David in 2004 to manage this website. On that day, he was tasked with writing race reports and stories, loading press releases and other editorial to the site, moderating the discussion forums….basic old school website news editor stuff. I'm not sure that he ever thought that he'd be a livestream, podcast and radio producer, which he is now. David did not have any audio production training when I hired him 15 years ago; he learned it all on his own. Did he think he'd be sitting 'across' from me (albeit 300 miles apart) through our online studio, recording shows for show likes our EKN Debrief and OutLap preview podcasts for the EKN Radio Network? I think not.
But he's done that. He's picked up the baton and he's run with it when we needed to move into new areas; livestreaming our PA race calls for EKN Live, editing audio, designing graphics, writing radio commercials and now managing the only 24-7 karting radio station in the sport.
Together, we've evolved EKN over the past 15 years into a multi-platform media and marketing resource for the sport of karting. We've had to adapt, and David, a guy not known for tremendous flexibility, as evolved along the way. I'm super proud of this particular fact.
I can tell you this. I've watched this kid grow up over the last 15 years. He went from being a 25-year-old ex-bartender to a strong journalist, and one of the most respected guys in the sport. David's work ethic is second to none and his commitment to EKN and my company is unparalleled. He's a tremendous husband and father, and has added 'coach' to his resume in recent years, working with his children's sport's teams. As so many of you in the sport know, it's not easy being a family man in karting when you're on the road for 20+ weekends a year. David digs in and gets done what needs to get done to make it work. We have to thank his family as well – Ranee, Aden and Ayla – for allowing us to borrow DC as much as we do.
I've had David by my side for 15 years and I hope for many more. In recent years, we've done a little more racing together and our friendly rivalry has been fun, and although he's now faster than me on a regular basis, he has still NEVER beaten me. I'm holding onto that for as long as I can. Although I'm only 11 years his Senior, I still look at David as both a brother and a son in some ways, maybe because I simply rejoice in his successes and his growth as a man. When we pulled off the grid onto the track this summer for practice at the Battle at the Brickyard, I was proud of him and it made me happy that we were out there drafting together. We do this because we love karting so much. I felt the family connection as we cruised for our lap around the 2.5 mile Indianapolis Motor Speedway. I did that lap running side-by-side with my friend, brother and 15-year employee. Having a long-tenured staff member is a gift, and I do not let my fortune go unappreciated.
So, if you will, please join me in congratulating David on 15 years with the Howden Media Group and eKartingNews.com, and even more so, as a trusted journalist and caretaker of our sport. We'll toast his next year with EKN at the track this weekend in Tucson with a few Bacardi and Coke, and more than one trip to the local In N Out.