Racing for Children's Returns to SimCraft 24 Hours of Orlando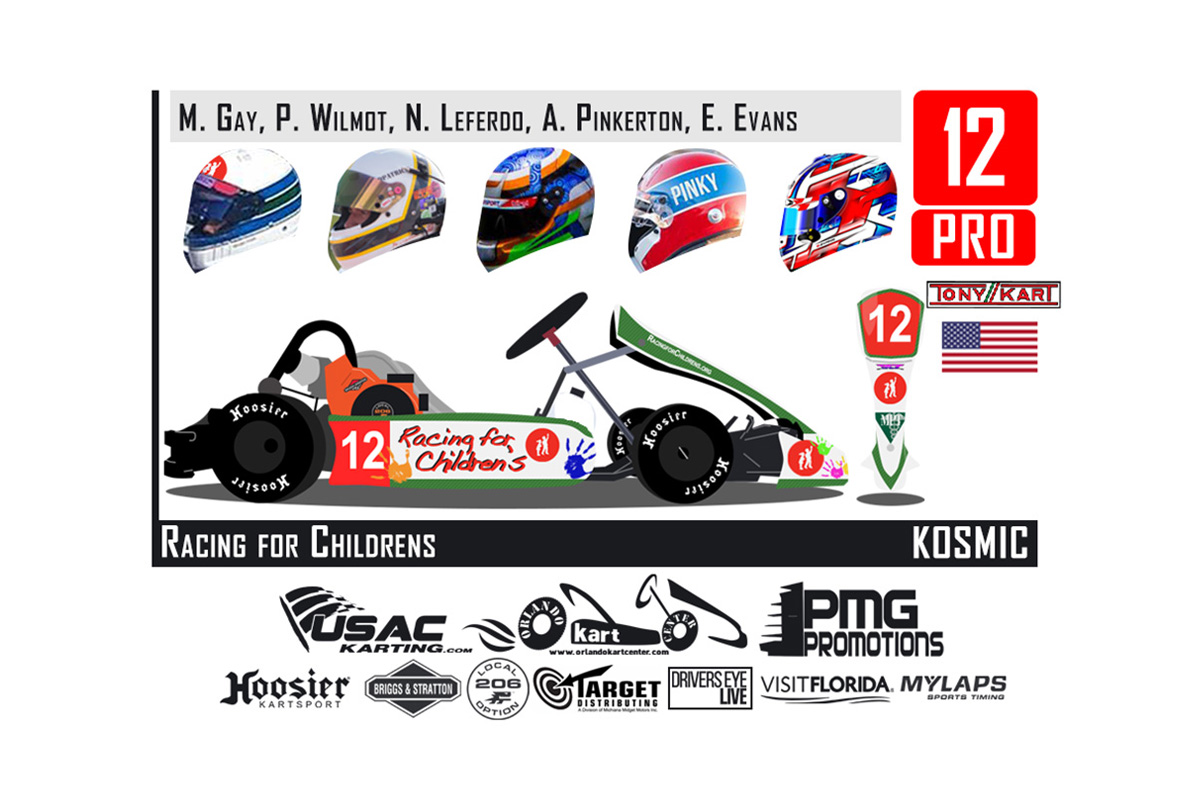 The Racing for Children's Karting Team has officially registered for the 2nd Annual SimCraft 24 Hours of Orlando. Racing for Children's will be competing in the Pro Category again this year and will be fighting for the overall win.
The Racing for Children's concept was brought to Children's of Alabama by motorsports enthusiasts and Children's of Alabama supporters who seek to engage the motorsports community in raising funds and awareness for Children's. Racing for Children's is a ninth-year program which raises money for The Alabama Center for Childhood Cancer and Blood Disorders, along with other Children's initiatives. Racing for Children's has raised over 1 million dollars and increased awareness for pediatric cancer.
Children's of Alabama Hospital is the 10th busiest pediatric medical center in the United States and treats ill and injured children from every county in the state in addition to children from across the region and nation. The Alabama Center for Childhood Cancer and Blood Disorders at Children's of Alabama treats over 90% of Alabama children diagnosed with cancer or blood disorders. Children's is a private, not-for-profit hospital governed by a volunteer board of trustees. For more information on the hospital as well as our program's history, feel free to visit our website at racingforchildrens.org.
In 2019, Racing for Children's expanded its motorsports portfolio from cars to karts with their first event being the SimCraft 24 Hours of Orlando. In just its first year, the karting program raised over $3,200 in donations. This year, we've already exceeded $3,600 and are aiming for more.
The 2019 race was a bitter/sweet experience for the team. After analyzing the lap time data, the team was on pace to fight for a podium result. A broken frame and a snapped throttle cable resulted in the team spending a little over 2 hours behind the wall to make repairs, resulting in an 11th overall finishing position.
Racing for Children's will be returning to the 2nd Annual Simcraft 24 Hours of Orlando with the same driver lineup from 2019 plus one additional driver. This year's driver lineup will include Michael Gay, Nick Lefferdo, Patrick Wilmot, Andrew Pinkerton, and Erik Evans. Erik is the newest, and a very welcomed addition to the team. With five drivers instead of four, the team will be able to get more rest in between driving stints. More well rested drivers will result in better performance behind the wheel.
Along with the drivers, Racing for Children's will also be returning with its technical partner – DCT SpeedSport – in addition to providing a brand new piece of equipment – a 2019 Tony Kart Chassis for the race. DCT will also be bringing additional mechanics and tuners to assist with set-up changes and pit stops. DCT did a fantastic job last year providing a competitive piece of equipment and the team is excited to be partnered with them again this year.
Lastly, Racing for Children's will be joined by social media guru, Ren Henry. Ren did an amazing job last year running the team's live stream link throughout the event as well as capturing and posting content on social media. Ren will be working on the team's live stream again this year so all of the team's fans and donors can tune into the race. In addition to race coverage and social media interaction, Ren will be assisting with on-site operations throughout the race weekend.
Racing for Children's completed a full weekend of testing at the Orlando Kart Center prior to the Holiday Break. The team worked on dialing in a good set-up for the race, getting drivers plenty of seat time and practice, as well as walking through a race strategy.
Thank you again to all the partners and donors! We could not compete in this event without your support and we're so very thankful for your willingness to contribute to our mission: raising money and awareness for pediatric cancer.
For more information on Racing for Children's and how to donate, be sure to check out the website: https://racingforchildrens.org/ There are multiple ways for you to make a donation of any amount straight to our website. All donations are 100% tax deductible. Thank you again and we look forward to sending you more updates soon!