Taming the Beast: IAME SSE 175cc Shifterkart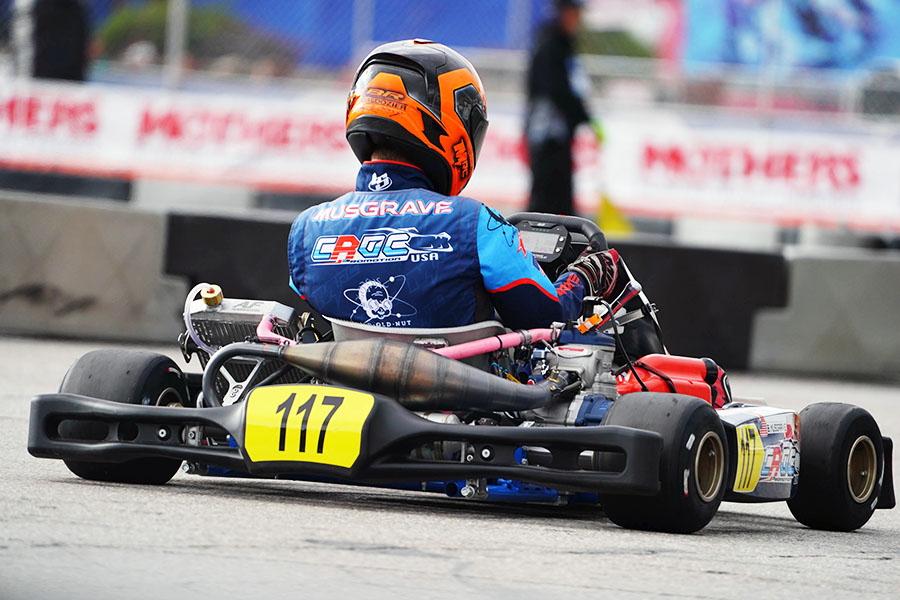 Billy Musgrave provides his thoughts on the IAME SSE 175 engine (Photo: On Track Promotions - otp.ca)
Billy Musgrave will go down in the history books as the first-ever SKUSA SuperNationals IAME 175 SSE Pro Shifter winner, having scored the victory this past November at the Rio All-Suite Hotel & Casino in Las Vegas, Nevada. Musgrave came into the race having won back-to-back Pro Shifter SuperSunday finals in 2017 and 2018, in what was the 'Stock Moto' Honda CR125 category. With a brand-new engine platform debuting in the winter of 2019, the pressure was on to see if three-in-a-row was possible. As we know now, it certainly was possible, and Musgrave's story and thoughts in regards to the new IAME 175 SSE engine are presented in this new editorial.
My name is Billy Musgrave, and this is my story of what it took to tame the new IAME SSE 175.
From the start of the 2019 season, we knew that seat-time and testing would be the key ingredients to mastering the new engine package. With way more horsepower and about 50cc more than any kart I'd ever raced before, we knew that every race, every session, and even every practice lap would matter. Every race day was important to see how hard we could push the motor, how aggressive we could drive, and even how much we could abuse the tires; every session was a study in finding the most optimal way to use this wealth of torque and horsepower we'd never had before.
Transitioning to a New Age
The 2018 SKUSA SuperNationals would be the last national race for the Honda CR125 'Stock Moto' platform. It had a good 10-year run, but the Honda CR125 engine dates back to the mid-1990's. The tooling that Honda used was not meant to last this long. Now with over six key parts on the 'discontinued' list, the Honda CR125 engine can finally rest in peace.
This is why SKUSA went in search for a new shifter engine. The 175cc SSE was an idea put forth by SKUSA for IAME to develop and produce. With the American market's hesitation toward adopting the fast but fragile Italian-based KZ platform, the two main goals behind the 175 program were 'KZ' performance meets 'Honda' durability. The larger displacement meant more power and more torque, while also lowering the rpm range. After ironing out a few of the wrinkles we had earlier in the year, I think we can say that the engine has been successful in its mission to provide consumers with one of the fastest and longest lasting packages on the market.
New Year, New Challenges
In the beginning, it was easy. Those first few days back in December 2018 and January 2019, the fastest times came down to whoever could hold on the best and just scrape a lap together. Basically, we'd just send it in, downshift and brake as hard as possible, pinch the corner off to get the kart straight, then hammer the throttle down while pulling the front tires off the ground as you went hurtling toward the next turn. It wasn't clean, it wasn't efficient, and it wasn't nice to the tires, but damn was it a ton of fun.
As the days went on, our bodies became more adapted to the speed and acceleration, and the lap times kept dropping. But even as we traded fast laps, every time we came off the track, we couldn't help but laugh about how many mistakes we kept making and how much time we still left out there. By no means was this an easy engine to be perfect in but, in a way, that's what makes what we do so much fun; that eternal struggle to hone your technique and nail the perfect lap. For myself, it was that combination of challenge and speed that kept me spinning lap after lap, each time with a huge smile on my face.
Rumors, Gossip, and the Truth!
Around 20 years ago, Cannondale was billed as the 'Great American Motocross Hope!' In 1998, Cannondale started hyping up their dream motocross bike to the media. They would set a release date of an actual race-ready Cannondale MX400, but they would constantly push that date back. 2001 ended up being the year they released the bike to the public. It was not a good release, as there were so many problems with the bike that it went down in a ball of fire, never to recover.
In 2003, Cannondale filed for Chapter 11 bankruptcy, claiming a loss of $46.6 million! In a way, the release of the new IAME 175 SSE reminded me of the Cannondale MX400. The 2019 SKUSA Winter Series in Homestead, Florida would be the official debut of the new IAME SSE 175. As anyone who's driven Homestead knows, it can be a brutal track on the body due to six high-speed 90-degree turns with more than a few curbs that require jumping to optimize your lap. Add in a whole new engine package that many of the drivers had never driven, coupled with many drivers not having been in a kart in several months, and you have a recipe for a brutal debut.
On top of the physical struggle, as the weekend progressed, we were noticing some inconsistencies with the carburetor settings between drivers; we were having to set each Tillotson carb up differently for each driver. And while we could eventually get all of our drivers comfortable with the tuning, it was very concerning for us as an engine tuner. These consistency issues would continue to haunt us for the next few months as we scrambled to test everything we could in the hopes of narrowing down the specific problem.
Fast forwarding a few races up to the 2019 California ProKart Challenge season opener held at Buttonwillow in April, and our consistency problem came to light. Since day one, Tillotson had been installing the high and low speed needle adjusters randomly in the wrong order. The low and high needles have a different taper, so it's critical that they're in the correct spot. This is why some engines would run super rich off the bottom with a massive lean spot in the middle. After reflecting on it, nearly all of the early engine failures (piston seizures and lower rod bearing failures) and poor drivability issues were traced back to these needles being installed incorrectly.
Our main problem was fixed just like that. As a consumer of IAME/Tillotson products, I do not give either of them a free pass. It's their job to make sure this does not happen to the end users; this cannot be shrugged off and the damage it did to everyone involved was almost irreparable. But all we can do is move forward, course correct, and make things better for the future.
Starting Over
It's an unfortunate miscue on Tillotson's part; pretty much the entire first four months of testing and development was wasted time, energy, and money. MRC worked endless hours trying to smooth out the issues people were having with the new 175 all over America. However, as an optimist, I always try to look at the bright side of things; for me the official IAME SSE 175 release date had changed to May 2019. Once the carburetor issues were resolved, the difference in reliability, drivability, and consistency was astounding. Finally, we could have a team of 10+ drivers all have identical carburetor settings. Finally, we could accurately test and predict how much time to put on pistons and bottom ends. Finally, we could get back to proper testing again.
Sitting on the Fence
This engine package has broken the track record at nearly every track it has raced on last year. We've pushed it to the limits, we've dialed in the jetting, and we consistently get 15+ hours out of pistons and 30+ hours out of the lower rod bearings.
For those of you sitting on the fence or who are skeptical, I can fully understand why. All I would suggest is that you look at the IAME SSE 175 program that SKUSA has put forth from May 2019 on. The SKUSA Pro Tour SummerNationals in New Castle and the SKUSA SuperNationals 23 in Las Vegas are a couple of races at which the 175 class has stood out. At this year's SuperNats, we ran 20 shifter kart drivers under our MRC tent (plus more than a few other lease engines), and it was actually one of the easiest races we have ever managed. All our drivers were within a few minutes on the needle settings, everyone had great mph down the straight, and the focus was almost entirely on the driving and limiting the mistakes behind the wheel.
Who Says it's too Fast?
Over the last 12 months, we've been fortunate enough to introduce a wide variety of drivers to the new IAME SSE 175. I've put experienced shifterkart drivers, in-experienced non-shifter drivers, older gentleman, ex-moto guys, car drivers, and even a few 12-year-old kids who had an absolute blast after just a few sessions. My only point being that this isn't some scary 'beast' that only a pro driver can handle; in fact, some of the people that enjoyed it the most were some of the slowest on the track, but we finally have an engine that feels powerful when you drive it, and leaves you with a smile that lasts for days.
However, I do have my ear to the ground in regards to listening for feedback from others, and it seems to be that usually when I am hearing complaints, it's coming from the long-time shifterkart drivers. In fact, they might be a shifterkart veteran who has 10 plus years of racing Honda's or KZ's under their belts.
My best explanation for this would be to compare it to motocross back when we raced 125cc, 250cc and 500cc two-stroke bikes. It would be like a 125cc specialist jumping up to a 250cc for the first time and complaining that it's too much. What the rider would have to do is adapt/adjust his style of riding to the faster bike. Most of us that raced back then rode all these different classes on the same day, jumping from one bike to another. It was part of racing motocross back then.
Karting is not like that; it finds an engine package and stays with it almost forever. For most of the complainers, they have only driven a Honda CR125, ROK or a TM 125 shifterkart engine their entire career, and they expect other engines to behave the same as what they know.
The IAME SSE 175 is fast, but not in the same way a ROK or TM engine is fast. The IAME SSE 175 power band is from 8,000rpm to 13,000rpm. So, when driving the IAME SSE 175, do not try and rev the engine out, it simply has too much power to be driven screaming it around the track. Try short shifting it, let the torque launch you out of the turns. Patience is key, shifting the rotation deeper into the corner and only rolling into the throttle as the chassis straightens out is the secret to success.
Point Proven
For me, to see any kart class where you don't have to buy multiple engines to find the fastest one is a good thing. Searching for those special cylinders that the price is triple the cost on is something that only damages the class and the sport as a whole as time goes on.
Again, and again, karting has seen classes rise and fall due to engine parity. So, in response to that, I think it's an incredible opportunity for the sport as a whole to have access to an engine platform where the horsepower differences among a whole field is entirely negligible. Is that not what the karting people have been looking for? A class that you can run in that having a special engine is not the key factor to winning…
I honestly believe the IAME SSE 175 is an engine package that can change karting. If you're racing in this class, you can finally move on to the other things that matter in karting; stop wasting your hard-earned money searching for the golden engine. Just look in your mirror, what do you see? Is your driving as good as it should be? Is your physical conditioning where it needs to be? Has your chassis program kept up with your level of driving?
To prove this exact point at the SuperNationals this year, I rented a randomly picked engine out of the IAME trailer. No magic was done to this engine by me or anyone else. To even further prove the point, after we had installed the engine package on Tuesday, we took everything off and handed it to another driver who was skeptical. IAME handed us another engine out of the trailer on Wednesday morning and we bolted that one on. No special pipe, no special carb, no special piston, I don't think I ever changed the spark plug. It was a box stock engine; all I did was turn the needles. I'll even tell everyone I raced the whole week with the Low Speed needle around 1:10-1:15, and the High-Speed Needle at 1:40-1:45, with the air screw at exactly 1:00.
Qualifying was the first dry session we had. I had done one previous session in the wet just to try to finish breaking the engine in. I was able to put it on pole, win all three heat races, take first place in the main event, led every lap of every race, set fast lap in almost every race, and the shocker is our fast lap in the main event was as fast as the KZ class (faster than Formal and Kremers, but just a few hundredths off of Emilien Denner's 42.09). A box stock IAME SSE 175 engine that retails for around $4,595 right now just laid down a lap time as fast as a factory prepped KZ engine (and we raced at 10lbs heavier than KZ).
How much do the KZ engines cost? Can you actually even buy one of the engines that Formal, Kremers, or Denner raced? How special of a driver do you have to be to even get a factory prepped KZ? And this is not to take away anything from KZ or from these drivers, part of KZ racing is getting 100% performance out of those engines and then being able to drive it.
The point I am trying to make is this; when in the history of karting was there a class that the engine will not be looked at as the key factor in why someone is winning? It should be driver talent, driver physical conditioning and their chassis program that stands out as why this person is winning. Not that they spent $100,000 a year just on their engine program and that's why he or she's winning everything. All of us in karting have complained about this, right? So here we might finally have a solution, and no one is talking about it.
To further illustrate this point, I'm planning on running a different lease engine at every single SKUSA race this year. Each engine will be up for sale after the race by IAME USA West. All I want is for karting to move past the excuses of horsepower that run rampant through the pits at every race, and into a new age where we can focus more on the tuning and driver development.
This engine package will offer you something new every time you drive it, no matter what skill level you're at. For the beginner/novice drivers, this engine has a broad easy power band to pull you out of a turn even if you are 1 or 2 gears too high. For the intermediate/pro driver, this engine will challenge you every time you drive it. Multiple times this year I've come in after breaking the track record in qualifying and knew that I just left a half second on the track because of a couple mistakes. This engine package should give you hundreds of hours of driving and racing time at an affordable cost compared to most any other engine package on the market. This engine platform should keep us all from chasing the golden engine for many years into the future.
Really, what are you waiting for?