OnTrack – Margay Ignite K3
EKN Publisher joins the Ignite family at the Battle at the Brickyard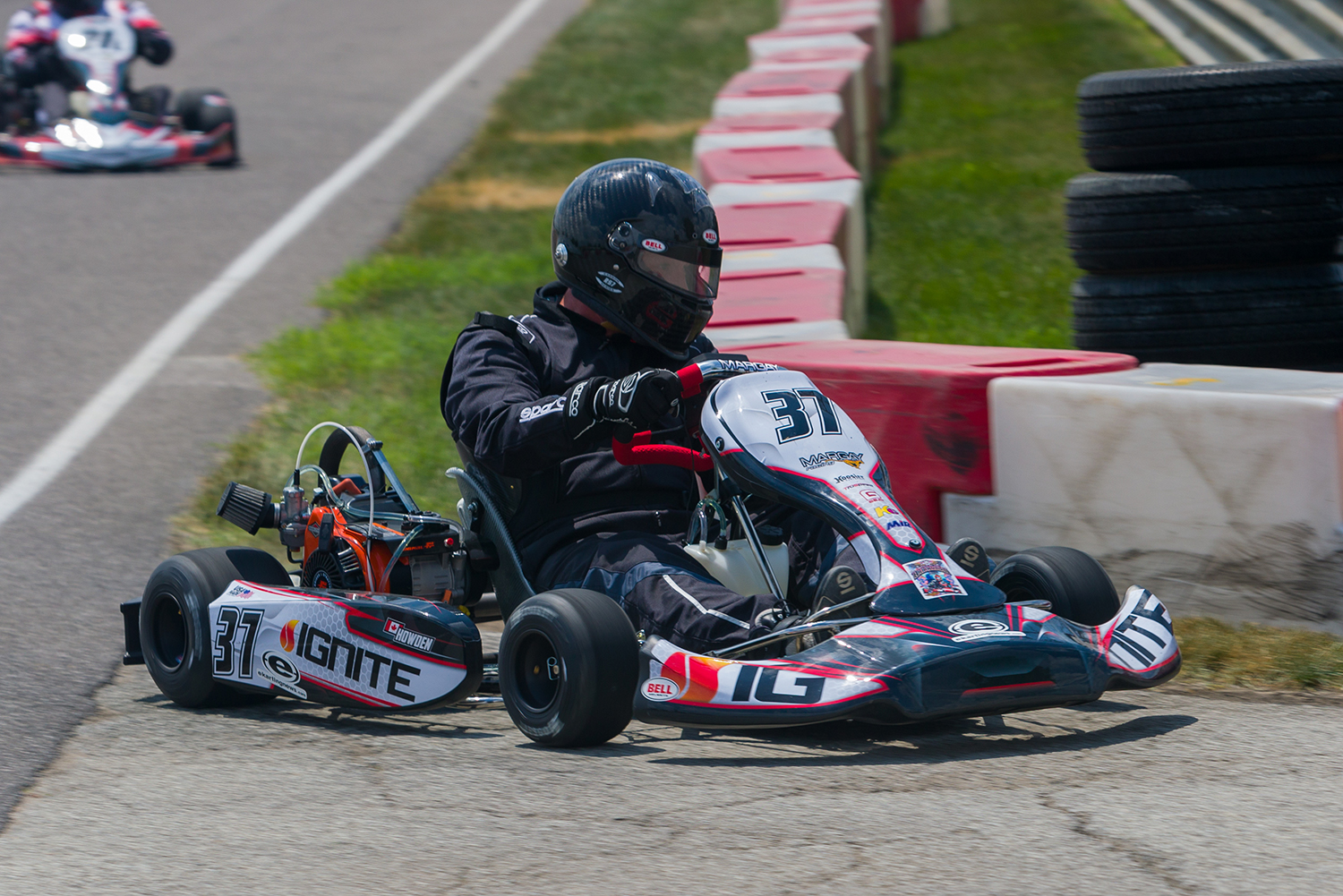 EKN Publisher and Editor-in-Chief Rob Howden experienced the Margay Ignite Arrive-and-Drive program for the first time, competing at the USAC Karting Battle at the Brickyard at the Indianapolis Motor Speedway
(Photo: Stephen Flatt)
With a new season of Margay Ignite events ready to launch for 2020 – both Ignite Majors and Ignite Challenge races – the timing is perfect for our Editor-in-Chief Rob Howden to detail his first opportunity to compete in an Ignite event. Rob participated in the USAC Karting Battle at the Brickyard at the Indianapolis Motor Speedway in July, and his detailed account of the event and his experience with Margay is provided below. The Margay Ignite Majors program kicks off on the January 10-12 weekend with the Superkarts! USA Winter Series opener at the AMT Homestead-Miami Motorplex. Used the discount code 'EKN' at the following link to get a $300 discount off their Arrive-and-Drive package, as they have just a couple remaining.
Over my 25 years as a karting journalist, I've enjoyed many opportunities to race a Margay. My first event was the Quincy Grand Prix in 1997 when, on the Saturday night of the weekend after having had one too many Miller Lites, Keith Freber and Darron Rudolph convinced me to run in Yamaha Pipe on Sunday. I started dead last in 34th and finished 12th. What a ride! Quincy was like nothing else I'd ever experienced. I then drove a Brava 1 Formula Y package for the entirety of 1998 in the OKRA Super Series at home in Ontario as a part of my 'Project Yamaha' editorial series for National Kart News. Fast forward to 2004 and I piloted a Margay in the TaG Masters class at the Rock Island Grand Prix, finishing sixth, and then 10 years later in a new Brava 4.16 in Briggs 206 Masters at the Rock in 2014. I qualified off-pole to fellow Margay driver and multi-time Rock winner Tony Neilson, and finished fourth. I also raced a Brava 4.16 at my home track – the Waterloo Regional Kart Club – for a couple of years from 2013 to 2015.
I've had my fair share of time in the seat of a Margay and, to be honest, I've always felt at home in one. But when the Ignite spec program was launched in late 2014, I was intrigued and excited. And then when the program was added to the Rock Island Grand Prix in 2015, I followed closely as our Managing Editor David Cole sampled the program for the first time. David's competed in the Rock's Ignite classes for the four of the last five years, posting a best result of fourth in 2017.
Let's be real. I'm always cheering for my man David to have success on-track, but I was starting to get a little jealous. So after IndyCar moved the date for their Iowa Speedway race two weeks deeper into July, the 2019 USAC Karting Battle at the Brickyard weekend finally opened up for me and I knew that this was going to be my chance to experience both the Ignite chassis and their Arrive-and-Drive program for myself. I made the call to Keith Freber and it was on. I was good to go and I was going to get to work with the legend Mike Birdsell to boot. This was going to be an epic weekend.
I did triple duty at the Brickyard that weekend, also racing in the Briggs 206 Masters class and with the vintage kart exhibition group in my 1982 Margay Xpert II, but my first stop on Thursday afternoon was Margay's huge circus tent that housed 67 karts and drivers for the event. I began by checking in with Margay's Sean Kennedy, signed all the documents and gave them my credit card for damage credit. It's a full arrive-and-drive program, but you of course need to pay for the replacement of any damaged parts and Margay has all drivers sign off on the parts price list and provide the form of payment. It's the price to play and I was happy to do it.
Sean then gave me a quick tour of the tent, starting with the hospitality area that served lunch on Friday, Saturday and Sunday. The meals were catered by local fast casual restaurants, and I was very pleased that they brought in a spread from three of my favorites – Chick-Fil-A, Noodles and Company and Chipotle. This added touch was a highlight for every customer under the tent. The coolers were always stocked with water and Gatorade to battle the heat, and the breakfast table included fruit and snack bars etc each morning. You couldn't ask for much more.
I was super excited to race in the Margay Ignite Masters class, which boasted a grid of 32 drivers. When I arrived at my kart, adorned with my #37, Birdsell was just wrapping up a few final prep items. We dropped the kart on the ground so I could hop in, and everything felt good. The seat was perfect with enough room to wear my Ribtect, and the pedal positioning as ideal.
Just as I did when I arrived at my pit stall, let's look at the kart itself. The Margay Ignite K3 chassis is a mixture of 1.25" (32mm) and 1.125" (28mm) tubing, and utilizes a 40mm axle set within two bearing cassettes. The chassis uses an MCP braking system and DWT Alumilite black anodized wheels with direct spindle mount fronts. Margay has completed the chassis with KG FP7 / Evo Stilo bodywork and an ES1 flat-bottom fiberglass seat. Mike had installed on a new Briggs 206 engine fresh out of the box, bolting it onto a PMI 8-degree motor mount. My Ignite package was completed with an AiMSports Mychron 4 system.
My initial on-track session on Friday was simply to learn the layout, building up my speed to full throttle in the fastest sections of the track and experimenting with braking and turn-in points in the four slower corners. The Ignite was balanced from the get-go, but I knew that once I started asking a little more from it, I'd receive more realistic feedback. Qualifying went decently well, although I did need to work past a couple of drivers, which made it tougher to lay down a truly clean, quick lap. The session was short and I logged only four laps, turning my best time on lap two to sit 11th in the order. I was still seven-tenths behind the fast guys, namely Pete Vetter, who qualified on pole.
We ran both a heat race and a Prefinal on Saturday, getting out Prefinal in before the rain came. I was not near aggressive enough at the start of the heat race, which was my first wheel-to-wheel experience of the weekend. I ended up in the fight just outside the top-10 and finished 14th. I did turn the fourth fastest lap of the race, so I knew the pace was there. The kart was good and I just needed a strong start and more consistency. The Prefinal was cleaner and I got through the opening corners well and eventually locked onto the rear bumper of Vetter to pull away from those behind us. I was able to slip past Vetter late in the run to take ninth, moving to the inside of the fifth row for the start of Sunday's final.
For the main event on Sunday, a 14-lap contest, I knew that getting cleanly through turn 2 would be crucial, and many of us at the tail end of the top-10 chatted on the grid to set a plan for an uneventful start. As is often the case, things did not play out totally as planned, but it actually worked out to my advantage. Two drivers ahead of me collided heading through the second corner – the tight right-hander around the barriers in front of the grid that led into the inner loop – and I was able to emerge cleanly into sixth position to take up a spot on the tail of the lead pack. It was now all about running clean laps, pushing the guy in front of me in an effort to drop the chase group. I locked onto the rear bumper of Vetter once again, who was in turn pushing Colin Predith. As the race played out, we were joined by Jeff Scales in a quartet running fourth to eighth and we simply raced to much over the mid-stages of the final and the front three were able to stretch away. Veteran Keith Scharf took a much-deserved win over Nick Todtenhaupt, who missed qualifying and started last in the heat race. He methodically worked his way forward and missed the victory by just 0.061 seconds. Michael Burton completed the podium.
I finished sixth behind Predith and Vetter, with Scales right behind me in seventh. Overall, I was super pleased with my performance throughout the weekend and it was a pleasure working with Mike Birdsell. I did my best to follow his final instructions on the grid…."don't screw this up". Throughout the course of the weekend, my increasing level of comfort helped by calm my approach to each race, which was a little scattered early. I lacked patience and my lack of seat time showed, but the sixth-place finish was a big positive.
I can't say enough good things about my Margay Ignite arrive-and-drive experience. From top to bottom, it was such an awesome weekend surrounded by great people. I met so many of the Ignite Challenge drivers and just enjoyed the camaraderie under the tent. If the opportunity ever arises again for me to join in on the fun, I wouldn't hesitate a second. I love this program and it's certainly provided a gateway into the sport for many. The Margay team is planning to have their Ignite Arrive-and-Drive program available for six 'Majors' in 2020, including the SKUSA Winter Series races in January and February, the Quincy Grand Prix in June, the USAC Karting Battle of the Brickyard in July, the Elkhart Grand Prix in August and the Rock Island Grand Prix on Labor Day weekend in September.
While I won't get a chance to race with the Ignite program in Homestead in just over a week, I'll be content to be on the mic and calling the action for EKN Trackside Live broadcast. There are a couple of arrive-and-driver seats left, I'm told, and if I were you, locked up somewhere cold, I'd be doing whatever I could to get to the Florida sun for some winter racing, Ignite-style.