J3 Competition and Rotax Introduce MY20 Micro & Mini Max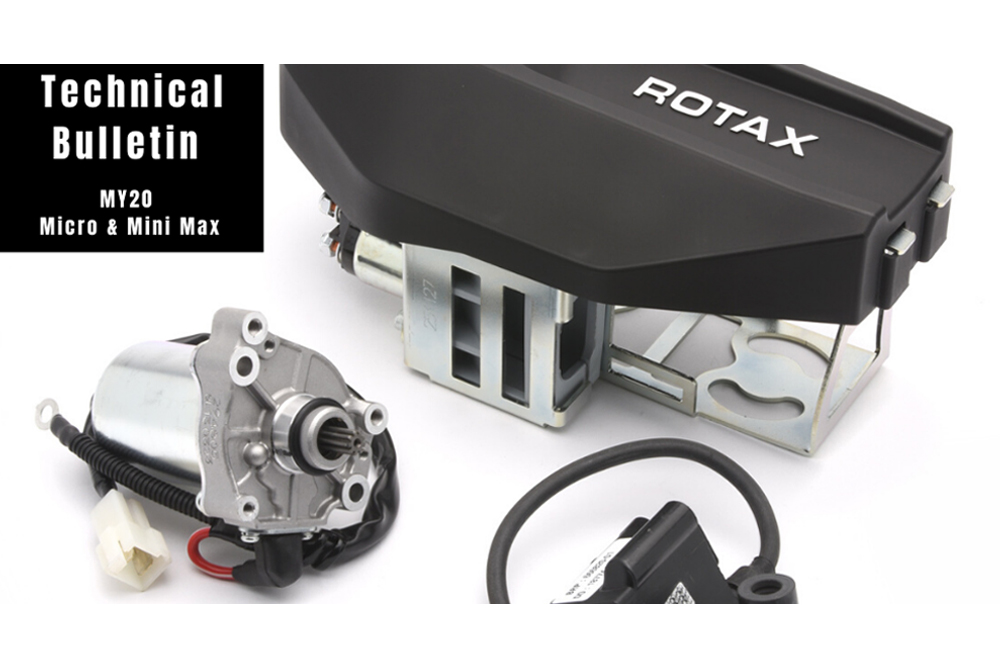 With the onset of our sport taking place predominately with younger drivers (Micro/Mini categories) its critical for the sport of karting to have a sustainable platform that creates parity alongside important cost controls and ease of ownership.  The sport of karting to many who have not grown up in the industry can be a very complicated sport with a long workaround to get information.  BRP-Rotax the world leader in two-cycle technology has recognized this since the mid-90's and thus invented the 'Touch and Go' concept for karting which has in itself taken the sport to the next level. For 2020, the Rotax brand has made a few final alterations to its Rotax Micro and Rotax Mini concepts to lower cost implications while increasing parity and the ease of ownership – Welcome the MY20 Micro and Mini Max engine package!
"The resources and efforts put forward from the staff at BRP-Rotax has been unbelievable in order to create this new offering to the market.  Built upon the existing platform, the Micro and Mini platforms are easily updated to the new package and done so at a fractional cost and the parity as seen at the 2020 Grand Finals is really unmatched." – J3 Competition
What were the objectives:
Simplify the ownership model
Enhance Parity
Create a package that installs on a 950mm (Cadet) wheelbase chassis with ease
Long Life
Ease of daily use plus a low cost to move form Micro – Mini
With all the objectives more than successfully achieved, here is how it is achieved.  Additionally, we've outlined the differences between Micro and Mini alongside explaining the different available update product kit options.
MICRO MAX MY 20
Inlet Restrictor (2)
Improved throttle response
Improved ease of carbueration for the novice and expert alike (put the jet in and drive)
Improved power curve for ease of use (wider stable power band)
Clamp on carburetor cover not
Exhaust system (1)
Reduced performance (class was too fast for many Organizations) – 0,6 to 1,0 seconds per lap
Parity improved, loop holes for manipulation eliminated, exhausts are no longer needed to be sealed
Product features
Lap time slower by 0,6 – 1,0 seconds (claims of ASN's, Micro MAX is too fast)
MINI MAX MY20
Inlet Restrictor (5)
Same as Micro MAX MY20, same features
Exhaust system (1)
Wider power band
Micro MAX MY20 external with Mini MAX MY20 specific perforated tube and isolating mat
Fits perfectly the 950 mm chassis
Exhaust socket (3)
Exhaust socket with 22 mm diameter
ECU Mini MAX MY20 (6)
Wide power band which will provide exciting racing and easy set up
Radiator and radiator support (7 and 8)
Same as Micro MAX, perfect fit for the 950 mm chassis
Product features
Combination of exhaust, ECU, inlet Restrictor and squish provide a great racing characteristic with a wide and easy to use power
Gearing easy to select (due to the wide power band).
Similar lap times as actual Mini MAX
Lighter package (small radiator and exhaust in combination with the 950 mm chassis) = more fun to drive and safer for the kids!
So, what's the difference between Micro MY20 and Mini MY20?
| | | |
| --- | --- | --- |
| Description | 125 Micro MAX MY20 | 125 Mini MAX MY20 |
| Squish | 2,4 | 1,2 |
| Exhaust socket | 18 mm (273192) | 22 mm (273196) |
| Exhaust system | 273136 | 273137 |
| (Perforated tube) | 273212 | 273211 |
| (Isolating mat) | 273982 (Jun. Sen. DD2) | 273985 (Mini) |
| ECU | 666815 (Senior) | 666818 (Mini) |
 Exhaust systems MY20
Micro and Mini exhaust systems are identical except the perforated tube and isolating
Diameter of MY20 exhaust system are calibrated on both ends (1) of the
The cover of the perforated tube of Mini MAX is marked with an "X" to identify Micro and Mini.
Q&A
Q: Is it allowed to use MY19 Micro exhaust with MY20 perforated tubes (Micro and Mini)? A: No, not RMC conform
Q: Is it allowed to use MY20 exhaust with MY19 Micro perforated tube (Rotax 273098)? A: No, not RMC conform
Perforated tube Micro MY20, Rotax 273212
Diameter (1) is calibrated and first part of the tube is not perforated.
Isolating mat for Micro MAX, Rotax 297982 (same as all other MAX engines), dimension 480 x 27
Perforated tube Mini MY20, Rotax 27211
Cover marked with "X", welded on steel mesh to cover the perforated
Isolating mat for Mini MAX, Rotax 297985 (specific for Mini MAX), dimension 490 x 180 mm.
Available Update Kits
PN# RTX.MY20Micro-Mini [Moving from a MY20 Micro Max > MY20 Mini Max
Perforated Tube
Exhaust Socket w/ Gaskets
ECU
Isolating Mat + Hardware
$335 MSRP
PN# RTX.MY19-20 Micro-Micro [Moving from a Micro Max > MY20 Micro Max
Exhaust System
Inlet Restrictor
$345 MSRP
PN# RTX.MY19-20 Mini-Mini [Moving from a Mini Max > MY20 Mini Max]
Exhaust System
Exhaust Socket w/ Gaskets
ECU
Radiator + Mounting
Inlet Restrictor
$395 MSRP