One-on-One: Greg Bell – Leading Edge Motorsports
Industry veteran motivated following major event wins in Las Vegas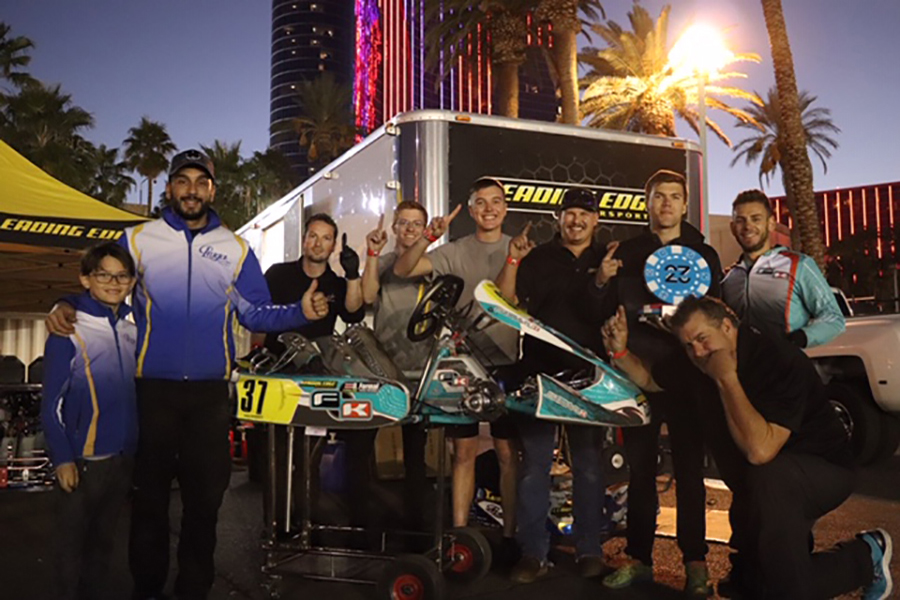 Greg Bell and his Leading Edge Motorsports team had a great deal to celebrate about in Las Vegas, having scored big shifter main event wins at both the ROK the RIO and SKUSA SuperNationals
Over the past 20 years, Greg Bell and his Leading Edge Motorsports operation have been a powerhouse in national and regional racing in the United States. From his start in the industry in the mid-90s to riding the forefront of the shifterkart wave of popularity from 1997-2005, Bell was the man orchestrating the success of drivers like Trevor McAlister, Bobby Wilson and Ron White. Most recently, he tuned Kai Sorenson to the SKUSA Pro Tour Micro Swift title in 2016 and Arias Duekmedjian to the X30 Junior crown in 2018.  This past October and November, Bell's resume expanded even more as he capped a tremendous season with Danny Formal running a Leading Edge Motorsports Formula K package, winning both the ROK Shifter main event at the ROK the RIO race and the headline KZ class at the SKUSA SuperNationals.
It was karting's version of back-to-back walk-off home runs in the World Series and Bell is now focused on 2020 and guiding his race team customers to the top of the podium.  In the shadow on this year's SuperNationals, EKN caught up with Greg to discuss his 2019 season and what he'll focus on next year.
EKN: Greg, let's start with 'congratulations' on a tremendous season with Leading Edge Motorsports.  The exclamation points to your successful 2019 campaign were those impressive back-to-back Las Vegas wins with Danny Formal at the ROK the RIO and SKUSA SuperNationals.  We're three weeks from the SuperNats win…how do you feel when you look back at the accomplishment.
Greg Bell: Rob, Joe Morgan said it best, he watched me pacing for 25 laps. I knew we had put the package together that Danny needed to WIN the race. We worked hard on every aspect, from power to handling to the balance of the tires. As I say, we went 'all in' for the month of November. How do I feel? The day of the race, I knew we had just accomplished something that was way cool. I set out to make a statement in November as to how powerful we are as a team and to cap off a great year. I remember calling my wife Molly – a truly special lady who has not divorced me for following my dreams, profitable or not – and saying in tears that we have just won the hardest class in the world to win and beat two world champion factory efforts to do so. I have goose bumps thinking about it and reading all the messages that people and industry leaders have sent me saying how cool it was to watch Danny win.
EKN: You've been the lead promoter of the Formula K and Praga brands for the last eight years, winning races and titles, but this must be the highlight for this relationship.  Having faith and belief in the material you sell is powerful, and you obviously know the equipment.  It's a big part of Leading Edge Motorsport and your program. Can you talk about this and your relationship with Petr Ptzack and the IP Karting brand?
GB: Yes, I can Rob. As you know, I'm very loyal to the brands I sell and race and the people who support us in material and believe in us to push how we do. I'm not like most companies today that make a living swapping brands and leaving an unpaid bill to stay in business. Petr and I have been through a lot together from the onset of Praga in 2011 to the IPK arsenal we use today with Formula K and Praga. Petr has been loyal to me for as long as I have to him. As for the brand, we are always working on evolving it in the American market and we have full approval to offer suggestions and to have IPK build us test chassis just as if we were the factory. It's a partnership that I have only experienced with Fausto Vitello and Trackmagic in my 25 years of being in this industry.
EKN: As you stated, you've been in this business for over 25 years. When you look back at all the success that you've had, where do these wins stack up? I mean, there have been countless race wins, accomplishments and accolades.  But back-to-back wins in the two biggest shifterkart races of the season is unreal.
GB: I have accomplished everything I have set out to do in this business, proving we are on top of our game of winning. "Just Add Talent" is something I say because I believe that our product and ability to manipulate it for each driver is second to none. I said it going into the ROK the RIO event. All the top teams and all the top drivers were entered into that shifterkart race, and if we could win that race, we would be making a statement. When we won, I was on top of cloud 9 driving home on Sunday, as to many, that was by far the biggest shifterkart race in 2019 to win. Driving home, I saw an Instagram post basically calling us out to race against the two world champions in KZ at the SuperNationals. It was a stretch to align the power partner in such a short time with Vortex Support, so I made some calls and so did Danny, and he found an engine sponsor during our drive home and we committed to Vortex that Monday, as long as we could get the entry to KZ at the SuperNats. Vortex agreed to have everything ready to win KZ (thank you to all from VORTEX who made this happen).  Honestly, it is the highlight of my career.  We are not a factory effort.  I pay for everything except chassis, as the factory helps in that area, but Danny is my driver.  I pay all logistics and expenses for Danny to race. So, hell yes, It's the biggest race win of my life….
EKN: Success is obviously a huge motivator and it's also the ultimate payback for all the hard work that is needed to succeed in this sport. And how much do these wins motivate you for 2020?
GB: Rob, I always strive to overachieve for my drivers. I'm looking for the next amazing opportunity in a driver now. With that said, we are looking to continue our mission of winning races with new drivers that have the same passion for winning as we do and will not slow down in 2020. We are going where our drivers want to go, unlike some other companies that dictate where they race. We are open minded and support our drivers in whatever they want.
EKN: You can never rest on your laurels in this sport, so what is the plan for 2020? Where will Leading Edge Motorsports be focusing its attention?
GB: That's tough, Rob.  Danny is getting a real JOB for the first time, one that comes with huge opportunity in cars and he will race for ANSA Motorsports in the Florida Winter Tour. That said, he can still can race with LEM outside of FWT, so we are discussing that now. I will be focusing on regional events with full testing, running the KPX Championship and ROK Sonoma to help grow the region in NorCal. Leading Edge Motorsports will also be doing the full Challenge of the Americas series as well as working on a logistics support program with ANSA for a few drivers at the Florida Winter Tour. We don't have anyone asking at the moment to race 175 or X30 at SKUSA, but the door is open if there is interest nationally. It's still early for this as its only December, but we're starting to form our team with some young kids, which will be exciting.
EKN:  Greg, thanks for taking the time to chat with us.  To wrap things up, we know that the team at IPK Karting in Italy was thrilled with your squad's wins on the Formula K.  What's the status on Formal's ROK the RIO and SuperNats chassis?  Are they up for sale or are they going in the wall at the shop in Lodi?  Do you have Formula K and Pragas in stock for racers to get the same equipment that won in Vegas?
GB: I appreciate the time, Rob. To answer your question, we are fully stocked with new 2019/2020 Formula K and Praga chassis, and while we have used Praga chassis in the shop, all the used shifter chassis were sold the same week we returned home. Danny's chassis will be a keepsake for years to come. It's the exact same chassis we have in stock, so it will be nice to hang it up for memories.