Formal To Join ANSA Motorsports in 2020
SKUSA SuperNationals and ROK the RIO winner to lead karting program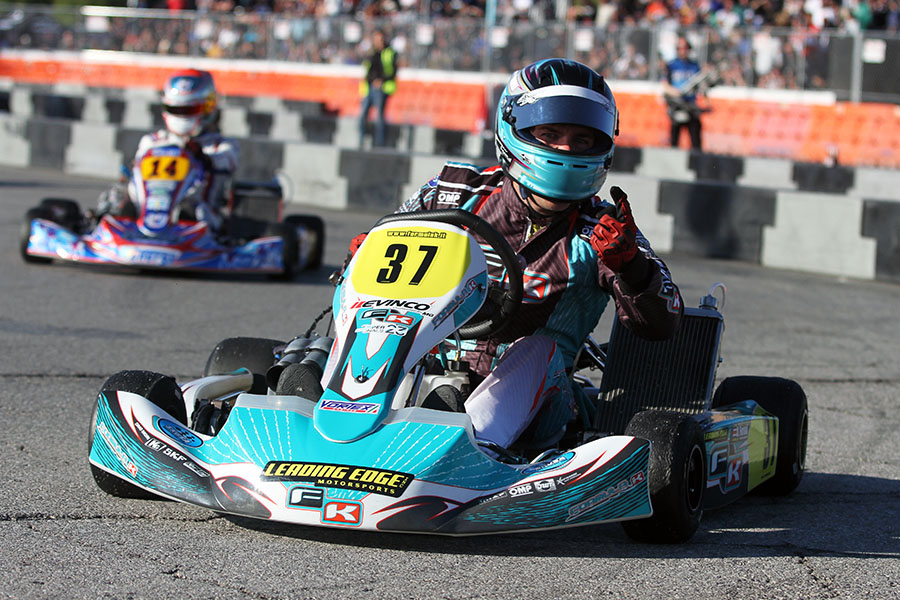 ROK the Rio and SKUSA SuperNationals winner Daniel Formal has accepted a position with ANSA Motorsports for 2020
(Photo: EKN)
EKN has learned that SKUSA SuperNationals 23 and ROK the RIO winner Danny Formal will join the ANSA Motorsports squad full-time in 2020, working and racing with both their IMSA and karting operations. Formal will be the lead driver for ANSA's newly-formed karting program, while coaching and developing other kart team drivers at major events in 2020, beginning with the Florida Winter Tour. In addition, Formal will have opportunities to drive some of ANSA's race cars, such as the IMSA Prototype Challenge LMP3 and the Lamborghini Huracan, as well as coach and drive with other ANSA customers. This is obviously a huge opportunity for Formal to move into the car racing community, where he will be able to show the obvious talents that have made him one of North American karting's biggest stars. Daniel's impressive victory in KZ over FIA KZ World Champion Marijn Kremers at this year's SKUSA SuperNationals presents a powerful calling card.

"I'm very excited, as I've been a huge IMSA follower for a long time," offered Formal. "Patrick came up to me early last year and since then, we've kind of been making plans for 2020 for car and karts stuff. I feel so blessed to be involved in such a big team and I'm just excited for what the future holds. I want to help out ANSA Motorsports on the national level of karting and also race big cars with them. I'm just really stoked."
Formal capped the 2019 karting season with two impressive wins in America's largest races. Running with Greg Bell and Leading Edge Motorsports aboard a Formula K, the duo formed powerful tandem and when asked if there would be opportunities for the 23-year-old to run with LEM on off-weekends, he told us that it remains to be discussed but that he would love to have Bell work with him under the ANSA tent at the FWT as part of an ANSA-LEM partnership.
"The 2019 season didn't start incredible in main events; we qualified pole and won heats but we just couldn't close it off," Formal added. "Halfway through the year, we started winning with Biloxi, and then we kept winning and winning and winning. It was a great end of the season and that's why I'd love to keep Greg and I together in the same program, and have him come over to work with ANSA for my races. I think it would help them too….I'm just excited for 2020."
"We are happy we were so successful with Danny in 2019," added Greg Bell of Leading Edge Motorsports, echoing Formal's sentiments. "Danny was presented with this job opportunity to race cars and head up ANSA's kart team and I am super happy for him as he now gets to live full-time in America with his wife. Honestly, it's something I wish I could have offered him but it's just not in the budget to have a full-time paid driver. So, moving forward, we are trying hard to keep Danny on FK in Florida but ultimately that is his boss' decision. Danny and I have agreed that we will still support his racing outside of Florida with Leading Edge Motorsports Inc and FK in 2020 and beyond. We are so happy for the year we've had, and the dominance we showed in 2019, winning two of the biggest shifter races in La Vegas, beating not one but two world champions and closing out the year the winningest shifter kart chassis in America."
The acquisition of Formal's skills will certainly aid ANSA Motorsports in positioning themselves as a player within the regional and national karting communities.
"We've been watching Danny the last couple years in both karts and cars in Costa Rica and we have been very impressed not only with his speed but also with his professionalism with sponsors, the media and customers," said Patrick Otto-Madsen, ANSA Co-Team Principal. "We think he can help ANSA not only as a team driver but as a coach and an ambassador especially with international customers and companies."
Formal is planning to re-locate to Boca Raton, Florida and will begin his position with ANSA Motorsports in January.