Quincy Grand Prix Adds $10,000 Purse for 50th Anniversary Race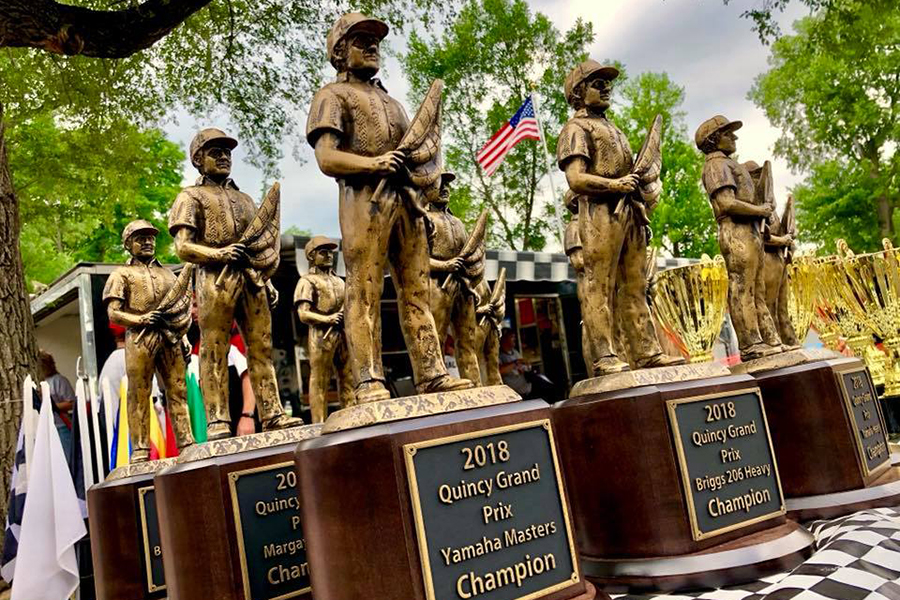 (Photo: Mark Schwigen)
Terry Traeder, President of the Quincy Grand Prix, is making an official announcement today.  In recognition of the 50th anniversary of the first Quincy Grand Prix in 1970, the 2020 Quincy Grand Prix will have a $10,000 cash purse.  The race date is June 13-14, 2020.  There will be three classes competing for the cash purse: Shifter Open, Shifter 125, Briggs and Yamaha.  There will also be 11 other amateur classes competing.  A complete list of rules and weights will be at www.quincygrandprix.com.  The online entry system will be available December 9, 2019.
In 2019, there were 319 entries and 20,000 spectators.  Rick Fulks will return as Race Director as will colorful flagman Jason Burgess, race announcer Randy Kugler, and safety chairmen Jeff and JT Miles. Margay Racing /Hoosier KartSport will again be a major sponsor and the Hoosier tire will be the tire used by all competitors.
Drivers love competing on the spectacular and beautiful 1.2-mile Quincy South Park layout. The course was repaved in 2017, creating a very smooth racing surface.  Drivers who have attended have said that the track setup and safety is the best they have seen.  The safety crew uses over 1,300 plastic barriers, 750 hay bales and 200 55-gallon barrels for driver safety. The race course is totally fenced, inside and out.
"I want the Quincy Grand Prix to be the Formula 1 of karting." – Terry Traeder.
The hospitality shown to karters by the City of Quincy is second to none, and the event is free to all spectators. One of the unique features added to the Quincy Grand Prix last year is the 'Gus VIP tent', where local residents get preferred parking, food and drinks and a great view directly on the start/finish line.
One other unique item is a specially designed trophy given to the race winners named "The Gussie." It was designed in honor of the original race founder Gus Traeder, who originated and promoted the Grand Prix race for 32 years from 1970 to 2001.
The Quincy Grand Prix is a 501c3 non profit event. For any other questions call Terry Traeder 217 242 3994 or head to quincygrandprix.com.